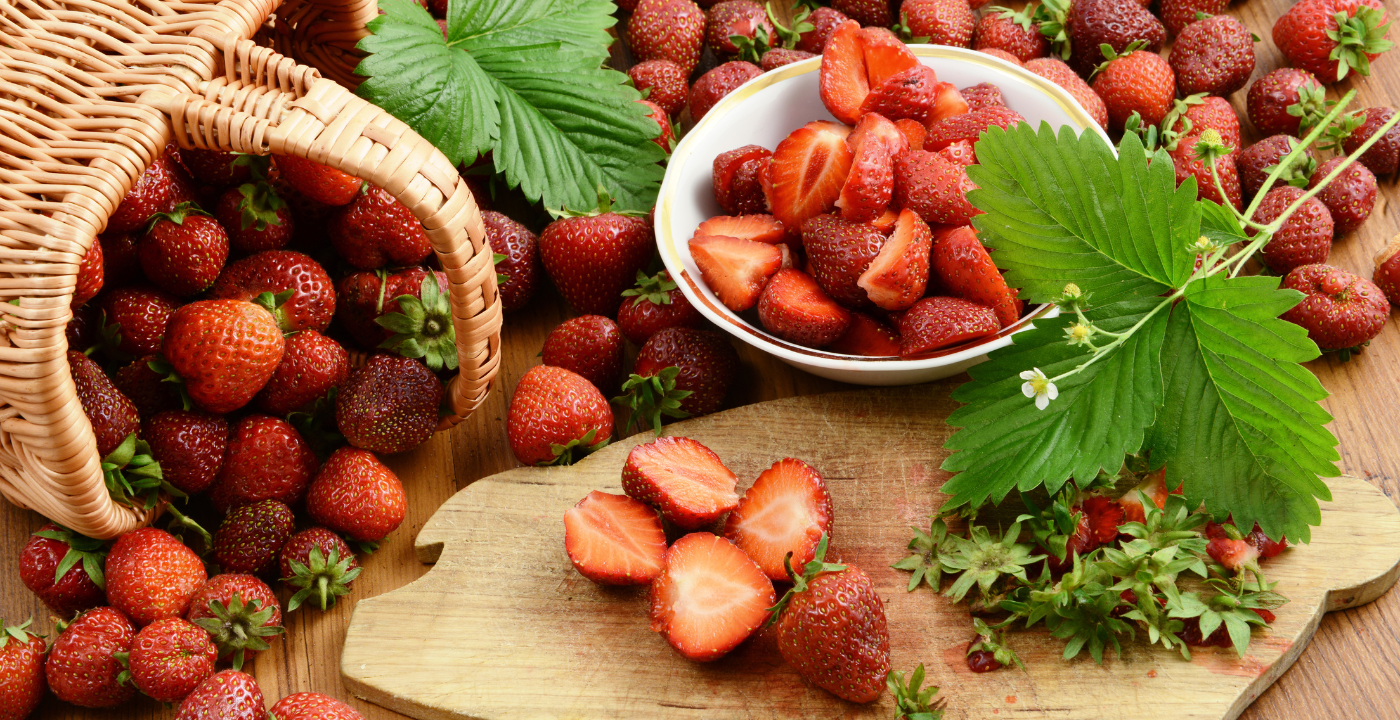 It's June, the month when it all starts to happen, produce wise! We've already seen the first strawberries hitting the shelves. So what other food beauty can we look forward to…
June is the month when it all starts to happen, produce wise! We've already seen the first strawberries hitting the shelves. So what other food beauty can we look forward to in the first official month of summer?! And what will we do with it when we get it??
VEGETABLES
First and foremost, the hunger gap is now officially over as the first new potatoes of summer have been dug from the ground. We've already tried some beautiful paper-thin skinned Queens which are just sublime with Irish butter melting on top. Who needs anything more?
Also now coming on stream for those who have tunnels are baby courgettes with yellow flower blossoms. Do like the chefs do and fill the big blossoms with a delicate prawn or vegetable mousse. Twist the tops of the petals to enclose and make a neat parcel, then dip the whole stuffed blossoms into a tempura batter and deep fry till golden and crisp. Perfect for a first course or light lunch. Add young courgettes to a risotto or use raw in salads.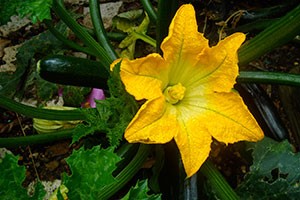 New carrots are divine. Thin and sweet, these colourful babes can rise from being a supporting act to the star of the show. Roast in the oven then douse in lemon-scented oil, season and scatter with plenty of chopped coriander before adding to a platter with other roast veggies. Serve with dips like tzatziki, tapenade, chilli creme fraiche, or Chimichurri, which is the full-on South American herby garlicky spicy version of pesto sauce. Yum.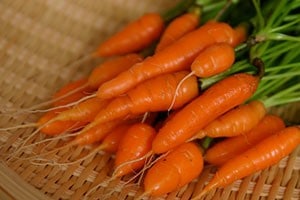 As June progresses, you will find all the greens your heart desires. Beans, peas, mangetout and broad beans should all be arriving later in the month and through July and August. These combine together to make fantastic risottos, green salads with mint and lemon, cold noodle salads with prawns and oriental flavourings. The things you can do with these is only limited by your imagination! Where to buy your fresh Irish vegetables.

HERBS
All the soft herbs of summer are now thriving in Irish polytunnels. Basil, coriander, flat parsley, curly parsley, chives, dill, fennel, tarragon, oregano and mint are all beginning to be available. Herbs brighten up any dish. Here are a few ideas:
Dill – fresh fronds add their delicate aniseedy touch to a fresh cucumber pickle. Cold poached salmon or trout loves the partnership of dill in a light vinaigrette dressing or just sprinkled on top of the fish. Dill and creme fraiche is the perfect accompaniment to smoked salmon on little summer canapes or open sandwiches.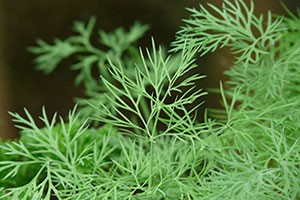 Basil is perfect for scattering over mozzarella and tomato. It adds zing to Thai curries. This large leaf Mediterranean herb is the essential ingredient in a fresh homemade pesto sauce. Mix fresh pesto with fresh beans, new season potatoes and pasta, in a traditional dish favoured for lunch by Italian farmers and land workers in Liguria, the region famous for producing basil.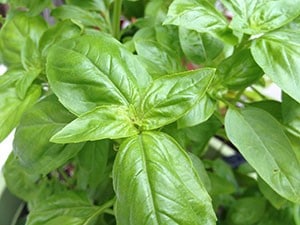 Tarragon works with roast chicken as a classic French-inspired combo. This herb is THE extra-special ingredient for a classic Bearnaise sauce to serve with grilled or pan-fried steak. Tarragon butter is beautiful drizzled over soft poached or coddled eggs. Use it also for flavouring a simple herb omelette with some chopped flat parsley as a balance.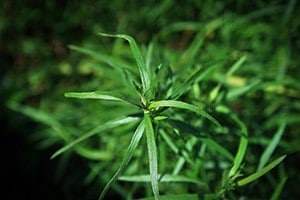 Flat parsley and coriander are superb for the Greek and Middle Eastern style summer dishes and salads now on-trend. Oregano adds a kick to a homemade pizza, works well with roast belly pork, and gives life to any tomato-based pasta dish.
Mint is a summer herb essential! Pop fresh leaves in a cup and snip finely with scissors before covering with malt vinegar, a little boiling water and sugar, to make a fresh mint sauce for roast lamb. Marry mint with peas in a summery pea and mint soup. Stir into natural yoghurt with garlic and seasoning as a cooling accompaniment to hot curries. Use it to flavour fruit salads, especially strawberries. Add fresh mint leaves to a nice big glass of Mojito! Freeze whole mint leaves in ice cubes for floating in your summer punches. Where to buy your fresh Irish herbs.
FRUIT
Irish new season strawberries are the big news of the month! Pretty soon, we will be seeing them joined by homegrown raspberries, gooseberries, blackcurrants, redcurrants and whitecurrants. A very colourful summer berry collection! Other berries will follow later in the summer.
It's time to cook with abandon as the abundance of summer kicks in this month! This is the time of year when any professional chef or enthusiastic home cook kicks his or her heels with delight as a wealth of produce comes flooding into the market. From now till September we will be seeing an array of fresh homegrown Irish produce widely available. The time of plenty begins. Make the most of it in the kitchen with our top five tips on what to look for now and what to do with it.
The big news for June is STRAWBERRIES! They started to come into season towards the end of May but from now, they will be flooding the shops in truckloads. The last couple of weeks have seen a bit of sunshine and warmth so these bright red berries are sweet and juicy with each beautiful bite.
Eat them as they come, or try our recipe for Lime Basil Posset with Shortbread and Strawberries from The Butler's Pantry.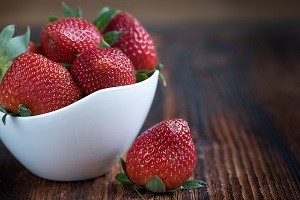 Other summer berries are also now coming into season. In June, our fruit growers will be offering up a selection of raspberries, blackberries, blueberries, gooseberries and loganberries. Check out our Irish Fruit Growers.
Use your mixed fresh summer Irish berries for these tasty Ricotta Pancakes with mixed berries from Dublin Cookery School.
Where to buy your fresh Irish fruit.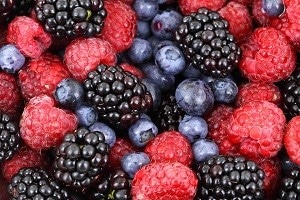 Seafood
Crab and Lobster are arriving into good fishmongers with live shellfish tanks. These crustaceans are pot caught during June and the rest of the summer.
If you're by the coast this month, you may see brightly painted little lobster or crab boats bobbing out to sea to set or collect their pots, which are secured on lines in the quieter waters of Ireland's coves and harbours.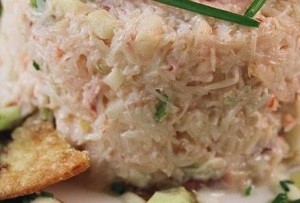 There's not much to beat the simple vibrant tastes of a fresh crab salad or cold cooked lobster served with mayonnaise, crusty bread, salad and a cold glass of good white wine! Good Food Ireland chefs also get creative with these ingredients so check out our Crab Recipes and Lobster Recipes if you feel like getting fancy in the kitchen!
Where to buy your fresh Irish Seafood.
Leafy Greens
Leafy greens and salads are becoming more plentiful as June rolls in.
Watch out for rocket, Lollo Rosso, Oakleaf Lettuce and other leaves which make up a flavoursome peppery tasting salad bowl.
Summery tastes on a plate are created with Dublin Cookery School's Roasted Nectarines, Buffalo Mozzarella Walnut Pesto & Rocket Salad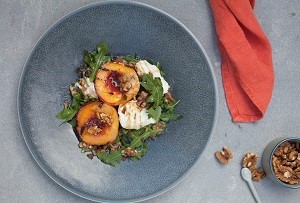 Beans
Towards the end of the month, you may find the first fresh beans and broad beans in your farmer's market or local farm shop. These are some of the most divine produce of the Irish summer, usually grown in tunnels by specialist growers and smallholders. Well worth taking the time to seek them out. Add them to salad bowls or serve them as veggie accompaniments to main courses.
Executive Chef Ed Cooney of The Merrion Hotel creates wonderful summer flavours with his Steamed Hake Fillet with New Potatoes, Rocket, Green Beans, Dandelion Leaves, Hazelnut Mayonnaise and Lemon Oil. Mmmmm…. that sounds gorgeous Mr Cooney!
Visit Our Shop