Good Food Ireland® Approved Since 2012
We stand over our recommendations. With exacting selection and regular review processes we ensure a rewarding local Irish ingredient led experience. You can count on it!
Overview
Aniar is a Michelin-starred restaurant located in Galway's West End. Its mission is to reveal the distinct and various food stuffs that make up its particular local landscape, through the farms, the wildlands and the shores that surround Galway. The natural course of the seasons dictates an ever-changing and evolving menu.
---
Dining
JP McMahon and Drigín Gaffey have created a space to showcase the diverse and great tasting foods of local producers, farmers, and fishermen in the Michelin-starred Aniar Restaurant. Each component of their dishes is treated with utmost respect. You won't find fancy descriptions on the menu here, deliberately so. You'll get the ingredients simply expressed. It won't give you any indication of the complex and exquisite cooking you are about to experience.
€€€€
We are normally pretty chatty when it comes to telling you about a restaurant. This time, though, we'll say just this: Aniar. Go there.
The Michelin-starred Aniar Restaurant connects with Tartare Café + Wine Bar and Cava Bodega in a trio of Galway restaurants owned by JP McMahon and his wife Drigín Gaffey.
Aniar means 'of the west' and in JP's words, "Aniar aims to represent food through its local landscape." He calls it a 'terroir-based' restaurant, meaning that the west of Ireland speaks in culinary tongues on every plate.
The complex and exquisite cooking meals feature sous vide and dehydration techniques that are used to exact effect. Vegetables are treated individually, with cooking methods that bring out the very best in all of them. None of the real details of whatever is on this daily-changing and completely seasonal menu will be given away until you get the plate in front of you. Only then will you appreciate the imagination, skill, passion, dedication and utter focus of the team here. What a surprise you are in for. JP has given his enthusiastic team of young chefs free reign to transform the precious ingredients of the West into an array of bewitching wonderment.
His wife Drigín was handed the job of designing a platform to showcase it all. She chose unfussy natural wood furnishings and muted blue and grey paintwork to represent the light on the water of the couple's beloved coastal city. No fancy linen other than the crisp napkin on each side plate. Posies of garden flowers and tea light candles add a romantic touch. It's unexpectedly relaxed and uncomplicated. For one very good reason: at Aniar, the food speaks.
Service is delightful – chefs take turns with waiting staff to bring out and explain each course in all its finer details. House 'snacks' of whatever is available and best, alongside house breads, freshly baked each day, form the preamble.
The wine list itself makes great reading while you wait. Cameo shots of producers and suppliers, literary quotes, concise tasting notes and suitable food matches are all here. Wines are listed by colour and style in terminology we all understand. It's Aniar's way of making good wine accessible. You can tell we really like this place. So, as we said at the start, go there. You don't want to miss this rare treat and exquisite Irish dining experience.
---
Sustainability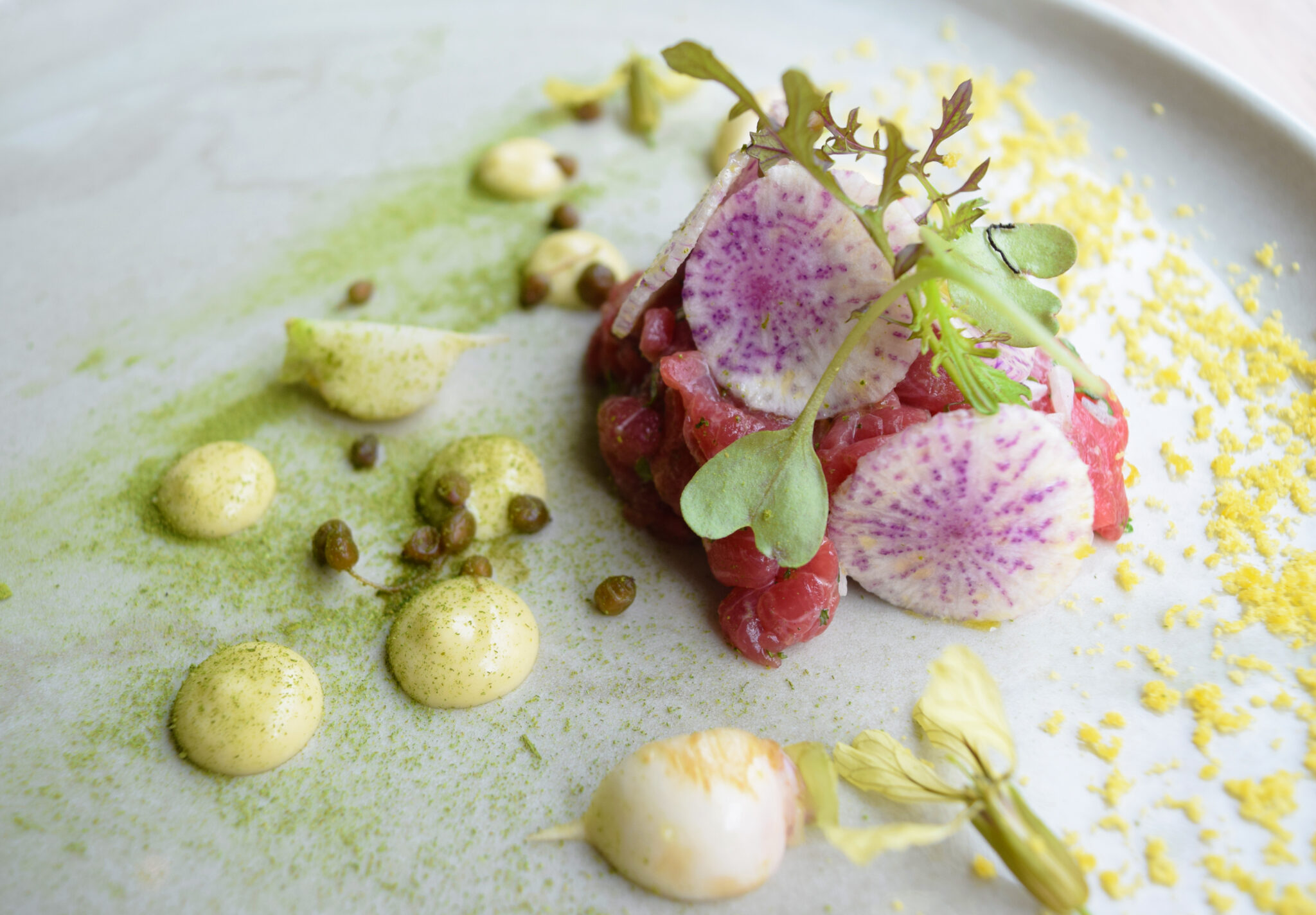 Proprietor JP is a prominent advocate for local food and food sustainability. Aniar's cookery courses include things like the seasonality of food, wild foods, and foraging in one's own local environment – all of which mirror the ethos of the restaurant itself.
---
Leave review
WHAT CUSTOMERS VALUED AND ENJOYED
There are no reviews yet. Be the first one to write one.
---
Nearby Experiences
Experiences

Accommodation

Dining

Cook & Shop

Meet the Makers