Good Food Ireland® Approved Since 2022
We stand over our recommendations. With exacting selection and regular review processes, we ensure a rewarding local Irish ingredient-led experience. You can count on it!
Overview
Located in Athboy, Co Meath, Brogan's Butchers is a very stylish shop that might be small in size but it punches way above its weight in the quality offering for its longstanding and loyal customers. Brogan's Butchers was founded by Michael Brogan in 1908 and 4 generations later the business is owned by the 4th Michael Brogan. This family business has a friendly and welcoming atmosphere, the butchers know their customer coming into the shop from the local community and the chat, banter and the helpful knowledge is the order of the day for every visitor to the shop. What makes Brogan's special, i
Read More
---
Brogans Butchers
Brogan's Butchers is a modern butcher's shop backed up by traditional methods and a very strong provenance. The secret sauce of this business is that the traceability of the quality beef is in the hands of the Brogan family from farm to shop.
The animals are picked out by Michael's Dad who is an expert on the type of animal that will deliver quality products for Brogan's customers. Michael Brogan senior finishes the cattle and sheep on their own quality assured grass pasture land in Co. Meath, it's then slaughtered and hung and dry-aged for a minimum of 21 and up to 40 days which results in quality Grade A meat.
This is produced in their own dedicated EU-approved abattoir located on-site behind the butcher's shop. Michael junior then prepares the beef & lamb in their own production kitchen that backs up the retail shop.
In addition to breaking down their own animals, Michael makes their own beef burgers, sausages and a range of ready-to-cook chicken, beef, lamb and pork dishes.

A number of years ago, Michael Junior found a written recipe for home-produced sausages from his grandfather's time. Today this is the recipe that Michael uses to make his own sausages.
The shop is also stocked with a range of products from local and Irish producers.
Brogan's Butchers stocks an exciting range of products, all geared toward what their customers want. Beef products are made from their own family farm and available in a number of cuts to suit your requirements.
Poultry, lamb and pork are also conscientiously sourced from local quality suppliers. These are then expertly finished and prepared by the Brogan's team. Moreover, they will happily give recommendations and advice on preparation and cooking so you get the best out of their quality offering.
If you're looking for something quick to pop into the oven, you'll also find a delicious selection of ready-to-go meals that are full of flavour and ideal for family weeknight meals.
---
Sustainability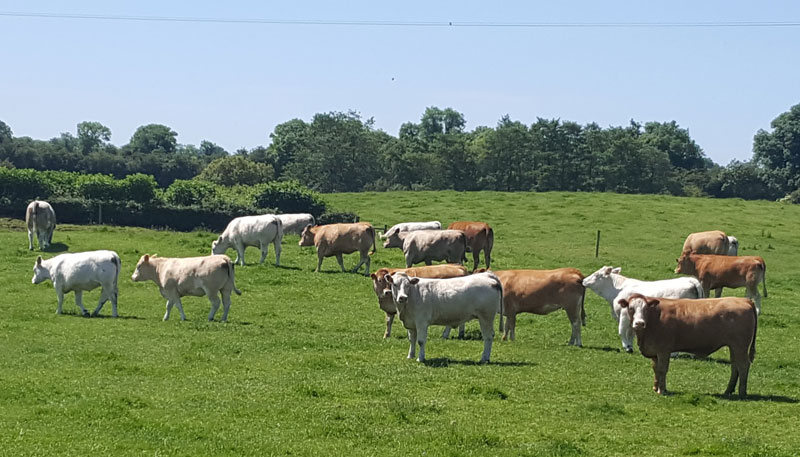 Brogan's Butchers have a number of sustainable practices in place.
Firstly, they produce much of their own products from their family farm ensuring a smooth, calm and fully traceable butchering process from rearing to what is displayed in their shop.
Moreover, all meat is wrapped in a compostable paper where possible while also using paper carrier bags. All trays are also fully recyclable.
---
Leave review
WHAT CUSTOMERS VALUED AND ENJOYED
There are no reviews yet. Be the first one to write one.
---
Nearby Experiences
Experiences

Accommodation

Dining

Cook & Shop

Meet the Makers