Good Food Ireland® Approved Since 2022
We stand over our recommendations. With exacting selection and regular review processes, we ensure a rewarding local Irish ingredient-led experience. You can count on it!
Overview
Buddy's Farm Shop is located in the Ballynun Industrial Estate on the site of Seed Potato, a national distribution business supplying potatoes and fruit & vegetables to the hospitality trade and retail customers. This generational family business is headed up by Maurice Mathews.
---
Buddy's Farmers Market
Buddy's Farm Shop is a state-of-the-art Farmers Market store located on the site of Seed Potato. Seed Potato was established by Andrew 'Buddy' Mathews (Maurice's Dad) in the early 1980's. The Matthews Family were potato traders and still are. Maurice's Dad Andrew is known as 'Buddy' by everybody and this was the inspiration for the name of the new retail store.

Seed Potato wholesale mainly potatoes and fruit & vegetables to the Irish Hospitality Trade and the Irish Retail market. During the Covid 19 business interruption in 2020/21 Maurice established a farmers market retail shop on a Saturday in the front of the Seed Potato warehouse and thus Buddy's Farmers Market was born.
Buddy's Farm Shop was opened by the Lord Mayor of Dublin Councillor Caroline Conroy who is a native of Ballymun and founding father of Seed Potato Andrew 'Buddy' Mathews in September 2022.
Buddy's Farmers Market is a new state-of-the-art retail shop. Buddy's features a wide selection of locally grown Irish produce. You'll be impressed with the large selection of fresh produce presented and waiting to be picked up. Most of the Irish produce for sale in Buddy's is from growers within a 50km catchment area.
A center piece of the shop is the photographic display recording the 42-year time line of the Mathew's family business. Peppered throughout the photographs is clever old Dublin sayings e.g. (There's people dying that never died before), (Take your time and hurry up), (I'll see you when I get my glasses). You get a real sense of local with all these elements brought so thoughtfully together.
The Farmers Market runs in keeping with the seasons so expect to find a great choice of locally focused produce conscientiously sourced.
---
Other Facilities
A very popular draw to Buddy's Farmers Market is the in-house bakery and coffee shop. The bakery is run by Michelin star Chef Udo Whitman and his team. Early visitors can expect to see and smell fresh Sourdough & house Baguettes, Sourdough Loaves', Brown Loaves'. etc.
The fresh bread is available for sale in the shop and used for fresh savory snacks on the coffee shop menu. You can also expect a selection of fresh pastries, scones, sweet treats, cookies and dessert gateaux. There is a coffee bar and seated area for visitors to relax.
There's also another hot food element to Buddy's Farmers Market. This comes in the form of delicious Woodfired Pizza. Enjoy fresh pizza made to perfection with a tasty range of toppings.
---
Sustainability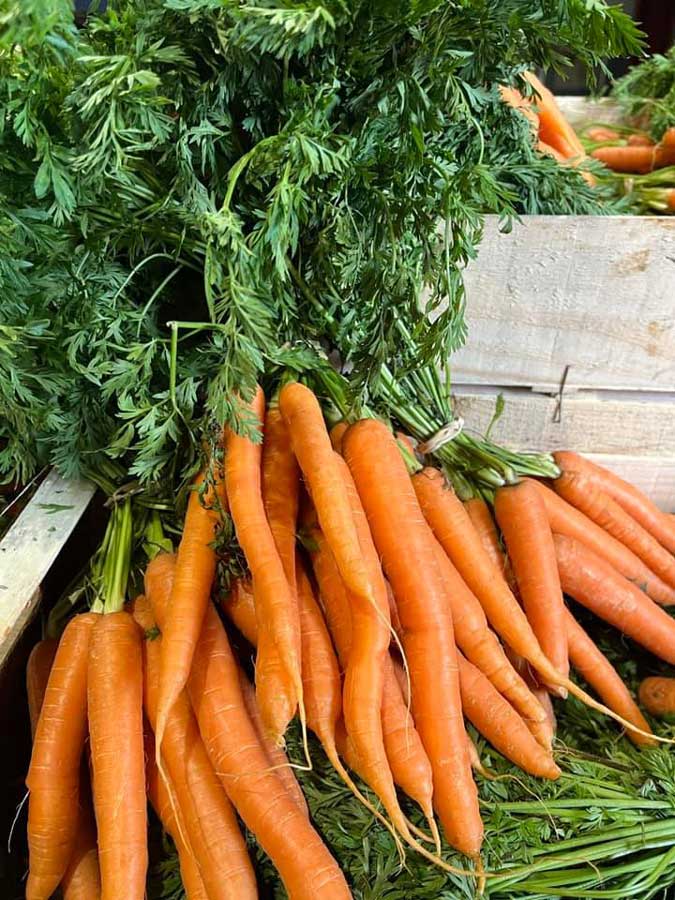 Buddy's Farmers Market sources it produce from local producers, the majority of which is within a 50km radius in order to limit air and travel miles by a priority.
There is a developing movement within the business to eliminate plastic packaging. Buddy's work with their suppliers on this to reduce plastic packaging with the aim to eliminate it altogether in the future.
Buddy's also wishes to reduce their carbon footprint and reduce the effect business operations have on the environment. This will be achieved by a tree planting program that the owners of Buddy's Farmers Market are committed to.
Moreover LED light fittings are fitted throughout the warehouse and the shop.
---
Leave review
Best veg around
Buddy's is the only place to shop for all your fresh fruit and veg. The fresh bread and cakes and pizzas are amazing too! Their store is top class, the produce is simply amazing quality, and the staff are all fantastic and always have a smile to greet you. Highly recommend!!
---
Nearby Experiences
Experiences

Accommodation

Dining

Cook & Shop

Meet the Makers