Good Food Ireland® Approved Since 2021
We stand over our recommendations. With exacting selection and regular review processes we ensure a rewarding local Irish ingredient led experience. You can count on it!
Overview
Family Butcher Shops have always played a major role in Irish towns and Irish food culture in general. Age old traditions of butchering are passed on to each generation, ensuring this vital service continues in the future. This is definitely the case with Higgins Family Butchers, who continue to have a growing impact on their town of Sutton, Dublin. The Higgins family have been running their business for over 100 years and have amassed four generations of expertise, providing their customers with only the best top-quality meat and poultry that is so perfectly prepared. In recent times Higgins Family Butchers have
Read More
---
Family Master Butcher Shop
Higgins Family Butchers is a fourth generation Master Butchers located in the urban town of Sutton, Co. Dublin. For many years this butcher shop has been an integral part of the retail offering of the town, providing top quality produce to customers across a range of fresh meat and poultry, ready to cook meals and more fresh produce from local suppliers.
Rick Higgins is the Owner and Proprietor, having learned everything from the generations that ran the business before him, soaking up each and every detail and insight passed onto him. What is felt from the get go when talking with Rick, is that quality is of the utmost importance, something that is ensured and practiced each and every day in the butcher shop by Rick and his dedicated team.
Rick has spent a massive amount of time sourcing his meat and poultry from specially selected small batch Irish farming producers, ensuring that customers enjoy only the best produce all year round. This passion for high standards and quality local food is shared with his team as they uphold these values in the day-to-day operations.
Daily deliveries of produce are carefully inspected by the team before they're accepted into the shop, all to make sure the quality remains consistent throughout.
Higgins Family Butchers have established a reputation for dry aging the meat on the bone. Visitors to the shop are given first hand experience of this as the witness the quality dry ageing process in action, the fresh meat is proudly displayed hanging in glass fronted 'aging chambers' before it is cut and portioned off into retail sizes.
Rick uses the tagline 'It's aged tested' when happily discussing this tried and tested process. Furthermore, Rick gives so much credit to the legacy of the family business, stating that four generations worth of expertise and knowledge has gone into perfecting this age tested customer offering.
Rick and his team have worked tirelessly on creating a great retail environment for customers. Specially selected cuts of beef, pork, lamb and poultry are displayed behind pristine glass refrigerators so you can inspect and select what you'd like. The team will happily give suggestions on seasoning and cooking your meat, making sure you get to savour the taste to the maximum.
You'll also find a selection of specially prepared ready to go meals that have been seasoned and prepared and ready to pop into the oven. Just what you need after a busy day, a wholesome meal all the family can enjoy. Fridges and shelves are also stocked with fresh and ambient produce from local suppliers along with a wine selection, allowing you to get your bulk of shopping in the one place instead of going from shop to shop.
Furthermore, Higgins Family Butchers have also branched out into offering fresh coffee, pastries and snacks, all of which can be enjoyed in the outdoor seating area. Ample parking is available directly next to the shop. All these elements seamlessly come together to create an enhanced customer experience that is stress free and enjoyable.
The Higgins Family Butchers' range includes all the favourite cuts of beef, pork, lamb, and poultry. They're dry aged range is created using a traditional method perfected by generations of practice ensuring you enjoy a delicious experience when cooking at home.
The Higgins range also features breakfast meats along with gourmet sausages that are the ultimate comfort food at dinnertime. Fresh Irish duck and free range chicken are also available. Items can also come in a box format so that you can enjoy a selection of products to use throughout the week. Higgins Family Butchers are all about quality and enjoying their products in a convenient way.
---
Other Facilities
For many businesses, 2020 saw a challenge like no other, as customers stayed close to home, looking for an e-commerce solution for their food and drink needs. Rick, always with an eye to customer behaviour and needs, something that has ensured the survival of the business over the years, developed a new online shop and click & collect service.
Consumers can now order the full Higgins Family Butchers range of produce online and have it delivered right to their door. Deliveries within the Dublin area are fulfilled directly by their own delivery vans and drivers.
For nationwide delivery, they have developed a superior eco-friendly insulted box using a Woolcool product (made from sheep's wool) which ensures that produce remains at optimal conditions upon delivery to your door by a reliable courier service.
---
Sustainability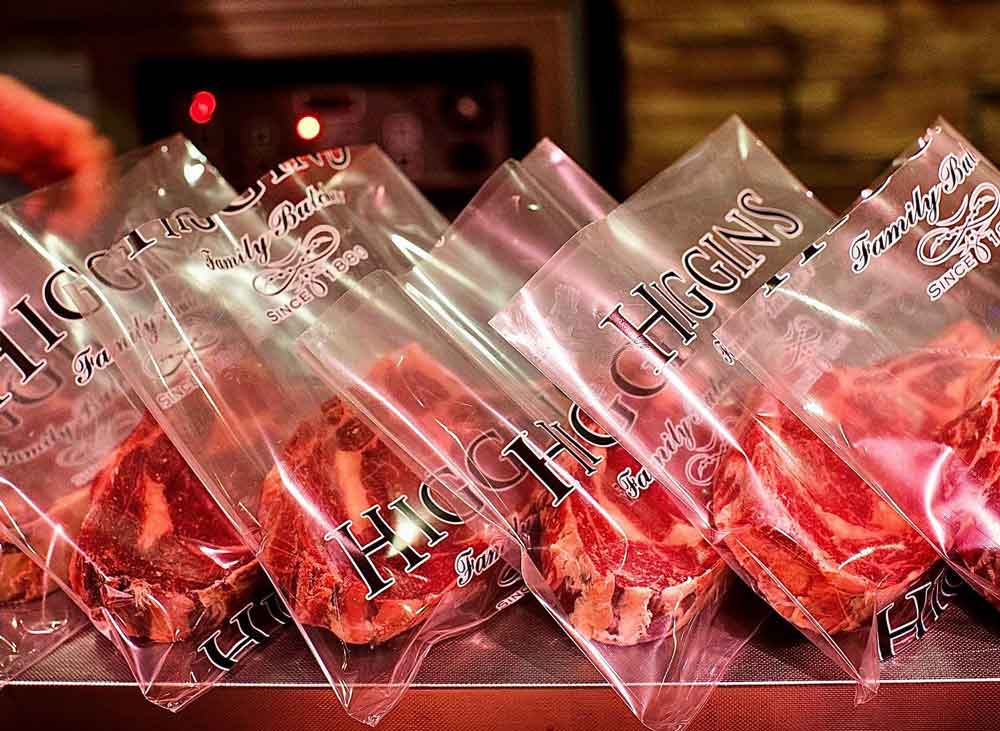 Sustainability and eco friendly practices are at the forefront of operations at Higgins Family Butchers. In store and for deliveries they use specially created insulated eco-friendly packaging.
Rick Higgins and his team carefully sourced packaging that would match the quality of their produce while also keeping to mind environmental implications.
The produce sold in Higgins Family Butchers is all specially selected sourced conscientiously from small Irish batch farmers, in support of the local economy.
---
Leave review
WHAT CUSTOMERS VALUED AND ENJOYED
There are no reviews yet. Be the first one to write one.
---
Nearby Experiences
Experiences

Accommodation

Dining

Cook & Shop

Meet the Makers