Good Food Ireland® Approved Since 2021
We stand over our recommendations. With exacting selection and regular review processes, we ensure a rewarding local Irish ingredient-led experience. You can count on it!
Overview
Roughty Foodie is a 3rd generation business founded by the Murphy family, who have cultivated quite a reputation for excellence over the years. It was established in 1961 by Michael & Peggy Murphy and was known back then as 'Roughty Fruit King'. In the early years, the business operated at 3 different stall locations in the famous English Market, specialising in fresh fruit and vegetables. The business has now evolved to the 'Roughty Foodie' and is run by Margo Ann Murphy from one prominent location in the world-famous English Market in Cork City.
---
The Roughty Foodie Shop
A shopping visit to The English Market in Cork is an exciting and wonderous experience offering the customer a choice of local and Irish food.
There is a special atmosphere in The English Market. It has a character all its own that you would say is 'pure Cork'. There's always a warm welcome and fun banter on hand to be experienced when you visit any of the stalls.

This large indoor food market is located between the Grand Parade and Princes St in Cork City Center. It's open Monday – Saturday 8am – 6pm. As you enter through the large entrance gates, the classic tiled walkways take you through to the market.  Every stall has its own exciting branding and unique personality.
The Roughty Foodie is a large stall located in a prominent location in the Market. The stall is designed in such a way that visitors can walk through and around the stall at multiple points.
The Roughty Foodie is an excellent and vibrant food emporium offering the best of Cork and Irish produce.
Awarded businesswoman of the year in 2017, Margo Ann Murphy is passionate about food. It truly is an education to talk to her about her much loved suppliers and featured food producers. During our visit, Margo Ann explained that:
"The food and the producers are the heroes of my business my stall is a showcase for food produced in rural Ireland".
As we chatted to Margo Ann, a delivery was being made of West Cork strawberries from Bushby's in Rosscarbery. Clearly putting the stall's ethos into practice.
The Roughty Foodie stall first and foremost specialises in food produced in Cork, for example, there is always a small range of fresh seasonal fruit, herbs and speciality vegetables like asparagus. These would change with the seasons. The shelves are laden with preserves, chutneys, raw honey harvested locally, Cork cheeses & salamis, free-range eggs, chocolates, biscuits, crackers, porridge oats and more.
Recognising that The English Market is a tourist attraction in Cork, Margo Ann has developed a range of gifting boxes of different products for visitors to buy at different price points.
Roughty Foodie also carries a range of local and Irish craft products, such as seaweed cosmetic products and beeswax candles.
You will always find a small and quality range of fresh Cork produced flowers on the stall too.
Roughty Foodie is an upmarket shopping experience rooted in all things local and authentic. They do not compete with the large supermarkets.
When visiting Cork, make sure to call by The Roughty Foodie. Margo Ann and her team will happily provide you with a true Cork food retail experience!
---
Other Facilities
For many businesses, 2020 saw a challenge like no other, as customers stayed close to home, in response to these new challenges The Roughty Foodie offers a range of Hampers that can be delivered throughout Cork and the rest of Ireland.
Customers can order these Hampers through The Roughty Foodies Online Shop for delivery or "Click n Collect".
---
Sustainability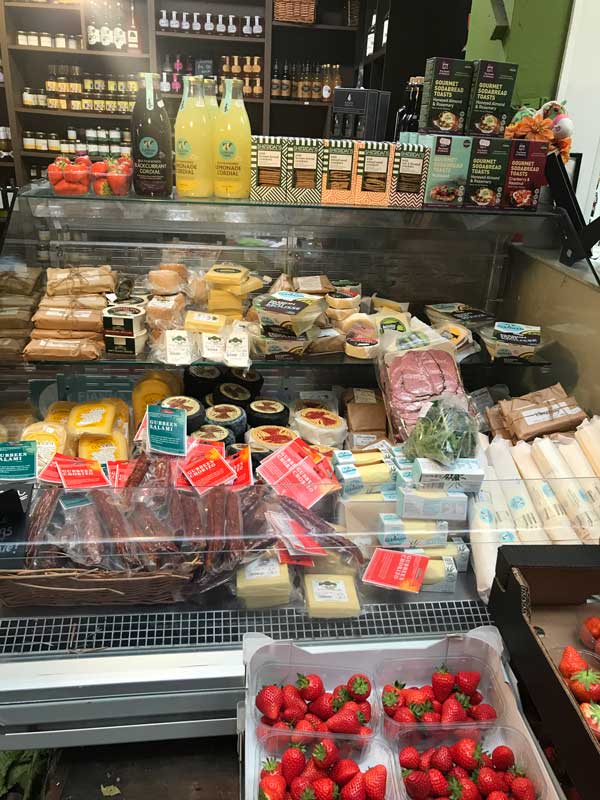 The Roughty Foodie sources all its produce from small local producers who are committed to fresh organic production methodologies and sustainability.
Fresh vegetables are not sprayed
---
Leave review
There are no reviews yet. Be the first one to write one.
---
Nearby Experiences
Experiences

Accommodation

Dining

Cook & Shop

Meet the Makers