Good Food Ireland® Approved Since 2021
We stand over our recommendations. With exacting selection and regular review processes, we ensure a rewarding local Irish ingredient-led experience. You can count on it!
Overview
A delectable seafood offering is combined with stunning scenery at Sligo's latest food & drink wonder, Fish & Bean Seafood Café. Seafood lovers and good food lovers, in general, will find dining at Fish & Bean a breath of fresh air (no pun intended!) Fish & Bean is located 8km from the very centre of Sligo on a stunning stretch of coastline at the Yacht Club at Rosses Point. Chef & Proprietor, David Mullan operates a café and restaurant service which places a keen emphasis on local seafood and other locally sourced produce. One of the highlights of a visit to Fish & Bean is the awe
Read More
---
Dining
Chef & Proprietor Dave has local in mind with the food & drink offering at Fish & Bean Seafood Café. You'll find a menu full of local flavours, leaving you with an authentic taste of Sligo. 

Dave added to his experience as a chef by training at fellow Good Food Ireland® Member, Ballymaloe Cookery School. All of these wonderful influences come together to showcase a great offering at this charming eatery.
€€
Fish & Bean sits above the marina with views out across Sligo Bay and brings an invigorating dining offering to the local area. As mentioned before, local food and seafood, in particular, is the star attraction at Fish & Bean. The daily menu options are presented on a large blackboard from which diners can choose from a number of delicious options.
Some dishes are house favourites and are always present while you'll also get dishes that are changed and added each day. The menu is very much dependent on what is in season and what is available on that day from local fishermen and fish suppliers. Specials from day to day include Lobster and Crab Brioche along with Crispy Squid and so much more.
Local suppliers are conscientiously name-checked on the menu and these include fresh greens producer Knocknarea Farm.
Dave relishes this daily change of menu. He experiments with different flavours and techniques something that you will reap the rewards of when you get that very first bite! A general rule at Fish & Bean is that if it's not fresh it's not on the menu.
The day we had the pleasure of visiting, Dave served us a mouthwatering large goujon of fresh haddock and two fresh Cony Island Oysters dipped in a light tempura batter accompanied by house-made lemon aioli. What a way to produce an oyster!
What better way to wash down your plate of oysters than with a glass of local brew. The Fish & Bean drinks offering is also very much locally focused. You'll find local craft brewers on the menu along with local Kombucha and juices.
You'll have a choice of indoor or outdoor dining (when the weather obeys) with a visit to Fish & Bean. The open-fronted balcony looks out onto Sligo Bay. Amazing seafood and scenery, what a fabulous food & drink experience!
---
Sustainability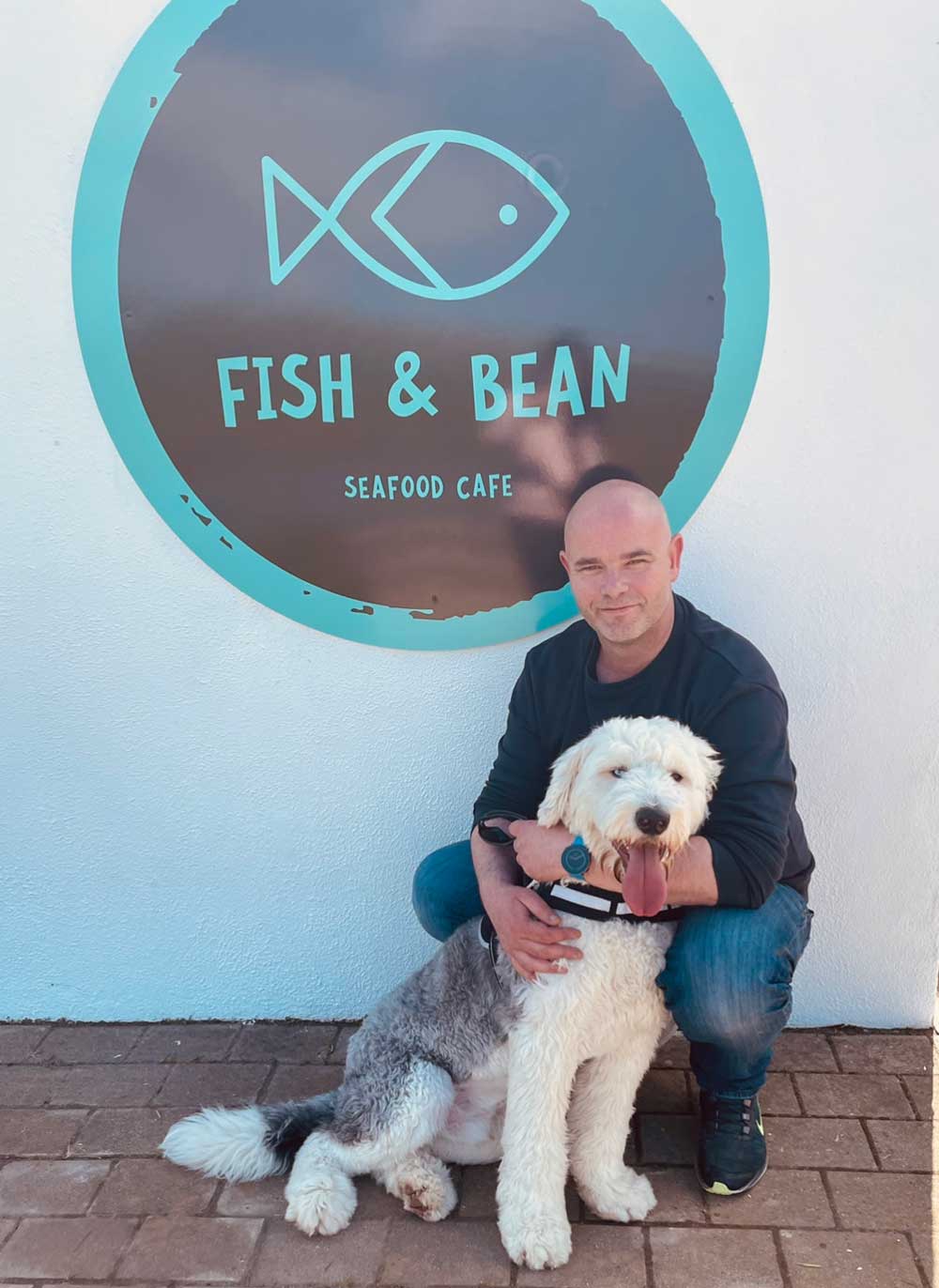 Sustainable practices run throughout the day to day operations at Fish & Bean Seafood Café. For example, the team try to use as many recyclable materials such as glass and aluminium cans for their drinks offering. The use of plastic is at a minimum at just 4% of their drinks.
All packaging within the business and takeaway offering is compostable while their coffee is sourced from a Dublin based coffee roaster that is also committed to moving towards zero carbon.
Furthermore, in terms of waste, Fish & Bean provide customers with bins to dispose of their waste and these are clearly sorted into general waster, recycling, compost etc.
Another integral sustainable practice includes disposing of used cooking oil. Fish & Bean work with a Wexford based company that takes away their used oil and re-sell it for other purposes.
While this business may be small in nature their attitude to sustainability is immense.
---
Leave review
WHAT CUSTOMERS VALUED AND ENJOYED
Amazing food by the sea
Delicious fresh fish and chips, the smash burger is amazing. Great location and stunning views from the seated area inside with delicious food to match
---
Nearby Experiences
Experiences

Accommodation

Dining

Cook & Shop

Meet the Makers