Good Food Ireland® Approved Since 2021
We stand over our recommendations. With exacting selection and regular review processes, we ensure a rewarding local Irish ingredient-led experience. You can count on it!
Overview
Gourmet Food Parlour is a group of 6 family restaurants that stretch from the Dublin suburbs all the way to Salthill in Galway. Founded by businesswoman Lorraine Heskin, this restaurant is located in the beautiful south Dublin town of Dun Laoghaire. Here you'll find a fun and lively dining space that is all about enjoying good food and creating treasured memories amongst family and friends.
---
Dining
Gourmet Food Parlour in Dun Laoghaire provides an exceptional casual dining offering throughout the day and into the evening. Local ingredients are utilised across a tasty menu featuring light bites, satisfying mains and delicious sweet treats.

The Dun Laoghaire Parlour is the first in a growing chain of six outlets. The other outlets are:
Gourmet Food Parlour – Malahide
Gourmet Food Parlour – Skerries
And the first store outside of Dublin is Gourmet Food Parlour – Salthill, Galway.
€€
The Gourmet Food Parlour in Dun Laoghaire marked the start of a fantastic journey for founder Lorraine Heskin and her team. The original restaurant was located in Cumberland Street and was small in nature. It was here that Lorraine nurtured and actioned her impressive business model of providing an exceptional dining and retail delicatessen offering.
It was by no means smooth sailing as the founding of the business came in the midst of a period of recession. Not to be deterred, Lorraine changed and adapted to suit the times, offering a Tapas influenced food and drink dining offering. Moreover, the business thrived and weathered the recession. This resulted in the opening of the second restaurant in Swords. The success continued on from there.
In 2015 the Dun Laoghaire restaurant moved to larger premises on Crofton Road across from the Dart Station and located just a hop, skip and a jump from the nearby popular pier.
Accommodating 90 guests along with having a full bar licence, Gourmet Food Parlour Dun Laoghaire offers a fabulous and varied dining experience across the day. The restaurant is designed around the New York City vibe that Lorraine fell in love with during her time living in New York. Bright open space with a mish mash of dining furniture gives a calming and eclectic atmosphere.
Locals and visitors alike to Dun Laoghaire can often be found here, popping in after their morning or afternoon stroll on the pier in search of a hearty and nutritious meal.
The food ethos at Gourmet Food Parlour is based on fresh food using local and Irish ingredients which includes a delicious range of in-house baked treats and desserts.
The menu features a mouth watering selection of breakfast dishes including an Irish Farmhouse Plate, Gourmet Food Parlour's take on a full Irish breakfast, there's also a veggie version nicely named the Woodland Plate. For something sweet indulge in a stack of Buttermilk Pancakes. Yum!
At lunchtime, choose from a range of freshly prepared sandwiches and salads created using fresh ingredients such as halloumi, goat's cheese, bacon, turkey and chicken along with so much more. Just what's needed to beat that afternoon slump.
For something more substantial there's also a selection of hot dishes from burgers and curries to a range of delicious pizza.
---
Facilities
The beauty of Gourmet Food Parlour is that they can easily provide the freshest food in a number of convenient ways, whether through in-restaurant dining, takeaway and even catering.
€€
Gourmet Food Parlour has a thriving catering service that caters for both private and corporate customers. Their catering offering has gained quite a reputation with clients including the Irish Olympic team. They cater to both small and large events, the perfect choice when you've got an upcoming family event or celebration.
The catering menu features the very best of the Gourmet Food Parlour's offering, including breakfast dishes, sandwiches, salads, hot dishes, desserts and more.
---
Sustainability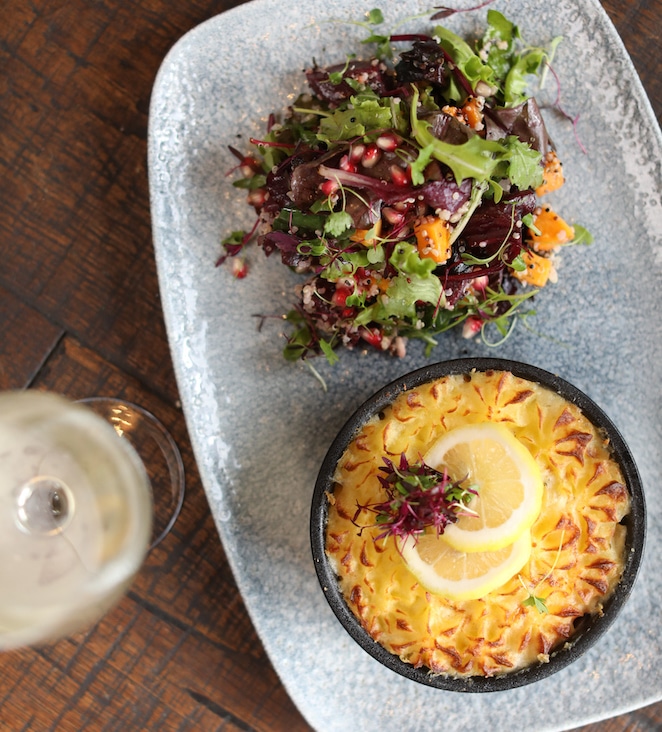 The Gourmet Food Parlour is very conscious of its impact on the environment and has actioned a robust sustainability plan that so far has reduced the company's carbon footprint by 40% so far.
Some of the steps they have taken include using recyclable material across their packaging including wooden takeaway cutlery and paper straws.
Customers can also purchase reusable coffee cups and water bottles.
Furthermore, staff well being is also a key element in the sustainability plan. The company has designed their training programmes to give staff a comprehensive understanding of customer service along with other skills centred around healthy & safety, food safety and management.
---
Leave review
WHAT CUSTOMERS VALUED AND ENJOYED
There are no reviews yet. Be the first one to write one.
---
Nearby Experiences
Experiences

Accommodation

Dining

Cook & Shop

Meet the Makers