Good Food Ireland® Approved Since 2021
We stand over our recommendations. With exacting selection and regular review processes, we ensure a rewarding local Irish ingredient led experience. You can count on it!
Overview
Gourmet Food Parlour in Skerries is 1 of 6 sister restaurants located across Dublin and Galway. Each location offers diners a delicious experience full of freshly prepared food produced using top quality local ingredients. Their Skerries restaurant is located in the town centre and is very popular with families, community groups and visitors celebrating special occasions.
---
Dining
Gourmet Food Parlour is here to serve you a fabulous meal throughout the day. You'll find a menu that covers breakfast through to lunch and dinner and of course don't forget those tempting sweet treats and desserts.
The food ethos of Gourmet Food Parlour is all about using high-quality ingredients with a focus on local. Pair this with exceptional customer service and you've got a wonderful dining experience for guests.

€€
Gourmet Food Parlour in Skerries was opened in 2017 and is a member of a collection of restaurants founded by businesswoman Lorraine Heskin in 2006. The restaurants are styled on Lorraine's experience of New York City dining where she worked for a number of years in the hospitality industry. The first restaurant in Dun Laoghaire set the tone for the company, providing guests with a dining experience centred around local food at affordable prices paired with excellent customer service.
Located in the town centre of the busy suburb of Skerries, Gourmet Food Parlour is very popular with locals and visitors alike. Guests are enticed in by the lively and casual vibe of the restaurant along with a menu that offers plenty of choice.
Open Wednesday through to Sunday, the restaurant runs across two stories, accommodating 100 guests indoors and a further 12-15 guests in their boutique outdoor courtyard. Perfect for catching that much-needed sunshine when the weather is good.
When visiting Gourmet Food Parlour in Skerries you'll enjoy plenty of choice no matter the time of day. Breakfast features popular staple meals including a full Irish breakfast, with vegan and vegetarian options too. You'll also find a selection of breakfast sambos too if you're grabbing a quick bite to eat and coffee to go.
Throughout lunch and dinner, you find an exciting selection of meals from fresh salads and sandwiches to hot dishes. Options include a creamy chicken supreme featuring black pudding along with a selection burgers from chicken to Hereford Beef. Gourmet Food Parlour in Skerries is unique in that they have a delicious range of pizza on their menu. Currently, there's a choice of 3 types.
For families, there's also a dedicated children's menu and a ½ portion option from the full restaurant menu with a drink included for junior guests.
---
Facilities
From private dining to takeaway and catering, the Gourmet Food Parlour food & drink offering is extremely accessible for customers who want a top-quality dining experience.
€€
Gourmet Food Parlour has a thriving catering service that caters for both private and corporate customers. Their catering offering has gained quite a reputation with clients including the Irish Olympic team. They cater to both small and large events, the perfect choice when you've got an upcoming family event or celebration.
The catering menu features the very best of the Gourmet Food Parlour's offering, including breakfast dishes, sandwiches, salads, hot dishes, desserts and more.
---
Sustainability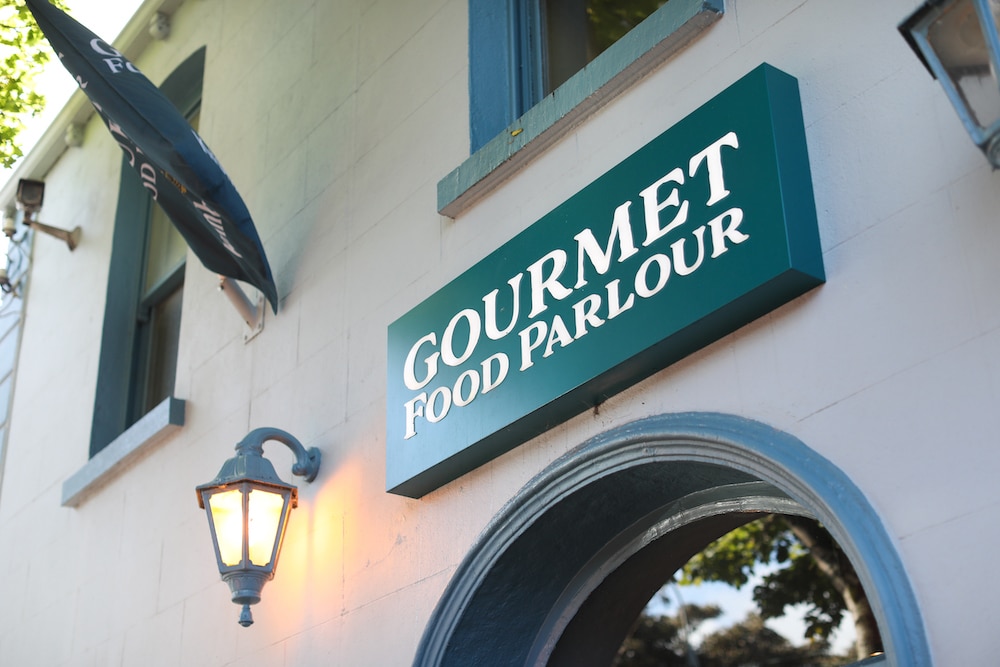 Recognising the immediate impact of the climate crisis on the locality, Gourmet Food Parlour has been very proactive in reducing down the company's carbon footprint. These engagements include using fully recyclable material in their takeaway packaging. Also, there are no plastic straws in sight!
For coffee lovers, Gourmet Food Parlour has also produced its own reusable coffee cups along with water bottles reducing down waste.
So far Gourmet Food Parlour has reduced its Carbon Footprint by 40%.
They also run comprehensive staff training courses and well-being initiatives. Ensuring that their dedicated staff are fully equipped for any eventuality.
---
Leave review
WHAT CUSTOMERS VALUED AND ENJOYED
There are no reviews yet. Be the first one to write one.
---
Nearby Experiences
Experiences

Accommodation

Dining

Cook & Shop

Meet the Makers