Good Food Ireland® Approved Since 2021
We stand over our recommendations. With exacting selection and regular review processes we ensure a rewarding local Irish ingredient led experience. You can count on it!
Overview
Founded in 2006, Gourmet Food Parlour is a collection of 5 restaurants across Dublin and 1 in Galway. Each have restaurant has top quality ingredients and fantastic customer service in common. The Swords restaurant is the 2nd restaurant to be founded and has become a much loved dining spot for locals and visitors alike in this Dublin suburb.
---
Dining
Dining at the Gourmet Food Parlour provides its customers with a local food experience featuring an exciting and versatile menu full of tasty dishes that range from breakfast favourites to wholesome sandwiches and salads along with hot dishes full of flavour.

€€
The Gourmet Food Parlour restaurant in Swords marks the continuation of this successful dining enterprise first founded by Lorraine Heskin in 2006. Lorraine's vision was to create a food and drink offering that was all about creating healthy and quality meals at affordable prices. The success of this venture has been remarkable.
The Gourmet Food Parlour in Swords follows the fun, lively and relaxing atmosphere that is found in all the company restaurants. Lorraine was influenced by her time in New York City and has captured this city vibe and incorporated into the Gourmet Food Parlour offering.
The Swords restaurant opened its doors in 2007 and at first was a small dining space that quickly built a loyal following. This success resulted in two expansions that has allowed for the restaurant to grow its customer base and food & drink offering.
Customers can expect a modern restaurant beautifully designed. You'll be welcomed and eased into your dining experience with a cocktail reception bar. The restaurant also features a parlour room that seats 2—25 guests and is perfect for special occasion and private dining.
The ethos at Gourmet Food Parlour is based on fresh food using local ingredients, fresh in-house baked options, new dish innovation and popular signature dishes complemented with exceptional customer service.
Open 7 days a week serving breakfast through to dinner, Gourmet Food Parlour Swords has an exciting menu made up of wholesome dishes prepared fresh and with care. Start off your day with a tasty breakfast with a choice ranging from an indulgent eggs benedict to a filling breakfast wrap, there's also vegan options which include a vegan sausage sambo.
Lunchtime provides a selection of fresh salads bursting with flavour along with sandwiches that include the favourite ham and cheese sambo featuring famous Dubliner Cheese. You can also choose options with more spice from Cajun chicken to Louisiana chicken.
All breads and desserts are expertly created in-house providing you with the freshest of food.
Mains include a range of tasty burgers, curries and pasta dishes. Something to suit all tastes that all the family will enjoy.
---
Facilities
The Gourmet Food Parlour offering is wide and extensive, providing a top quality food offering for its customers in a convenient way. One such branch of their offering is the Catering service.
€€
The Gourmet Food Parlour provides an excellent catering service for both private and corporate customers.
Their extensive catering menu covers all requirements across breakfast, lunch, dinner and desserts along with platters and canapés. Pick and choose from different elements, menus can be tailored for your requirements and budget.
---
Sustainability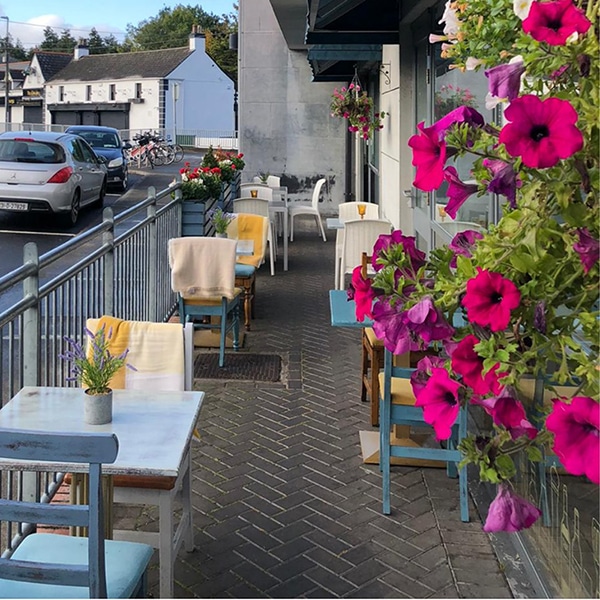 Sustainability is a key factor in the day to day operations at the Gourmet Food Parlour in Swords. All takeaway packaging is fully recyclable and this also includes wooden takeaway cutlery and paper straws. Re-usable coffee cups and water bottles are also available to purchase in the restaurant.
The Gourmet Food Parlour also provide new staff with a comprehensive training course centred around customer service, food safety and health and safety.
So far Gourmet Food Parlour has reduced its carbon footprint by 40%.
---
Leave review
WHAT CUSTOMERS VALUED AND ENJOYED
There are no reviews yet. Be the first one to write one.
---
Nearby Experiences
Experiences

Accommodation

Dining

Cook & Shop

Meet the Makers