Good Food Ireland® Approved Since 2020
We stand over our recommendations. With exacting selection and regular review processes we ensure a rewarding local Irish ingredient led experience. You can count on it!
Overview
Located in the bustling town of Gorey, the Hungry Bear is the place to enjoy an exciting and vibrant breakfast or lunch. A truly wonderful daytime dining experience!
---
Dining
From breakfast to lunch, the food at the Hungry Bear is full of variety and delicious flavours that will have you spoiled for choice. A winning combination of homemade baked goods along with a selection of top local suppliers makes the Hungry Bear a lovely local dining hotspot.
€€
The enticing aroma of freshly brewed coffee and a warm greeting from staff await you as you enter the Hungry Bear Cafe and Restaurant. Established in 2018 by Chef & Proprietor Ken Reddin, this lively dining space provides visitors with great tasting food in a casual dining setting.
Located just off the bustling Main Street of Gorey, the Hungry Bear offers plenty of dining space across two floors. The bright open space with plenty of natural light, catchy tunes playing in the background along with great service from staff provide a cheery atmosphere that will lift your spirits. Just what is needed for a brilliant meal!
Ken Reddin and his team have created something special with the food offering at Hungry Bear. Breakfast and lunch favourites are present on the menu but are given the Hungry Bear unique touch and style. Food is presented on stylish and vibrant plates that make the food pop off the plate; it will have you taking a quick snap to show off on your Instagram page.
Providing an all-day breakfast and lunch menu, the menu is peppered with a selection of homemade fresh food options. All food is cooked to order. Those who have a soft spot for pancakes won't be able to resist their American Style stacked Buttermilk Pancakes, served with a choice of fresh fruit, compote, local bacon and maple syrup.
You'll also find the Hungry Bear Breakfast features all the staples of a proper Irish fry up with O'Neills sausages and bacon along with fried potatoes, portobello mushrooms and more. Delicious! A tasty veggie option is also available. Other breakfast options include French Toast, Homemade Granola and Eggs Benedict.
Lunch options vary from light quick bites to larger meals depending on your appetite. Their Kilmore Quay Seafood Chowder is the height of comfort food and will warm you up in no time. Choose from an exciting selection made sandwiches all of which are made with breads baked in house and served with a choice of soup, salad or fries.
The Fresh Fish Finger Wrap elevates a childhood favourite food to new and delightful levels. Gluten free wraps, bread and penne are available as substitutes. You will be salivating over the selection of burgers on the menu from, chicken to beef and even vegan, all of these are seasoned with a variety of complimentary ingredients that are so satisfying.
The Vegan Buddha Bowl, just one of plenty vegan options is packed full of flavour and veggies and served with warm flatbed. Check out their daily specials as well as browsing the menu for your choice.
The Hungry Bear caters for the new and ever-changing tastes of the modern diner. The vegan and vegetarian friendly dishes on their menus are plentiful and exciting for customers to enjoy. You can also order for takeaway if you're on the move but looking for good food. A must visit dining spot when visiting Gorey, that will suit all tastes.
---
Sustainability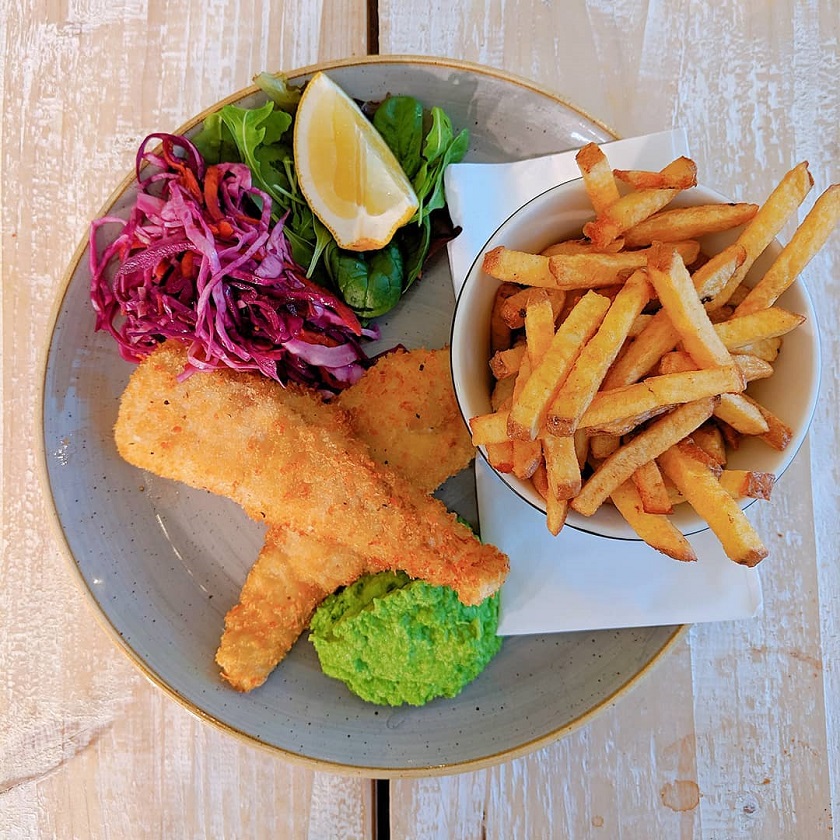 Local producers are ever present on the Hungry Bear menus. Ingredients are sourced conscientiously with local ingredients taking precedence. All food is cooked to order with breads all made in house.
---
Leave review
There are no reviews yet. Be the first one to write one.
---
Nearby Experiences
Experiences

Accommodation

Dining

Cook & Shop

Meet the Makers