Good Food Ireland® Approved Since 2021
We stand over our recommendations. With exacting selection and regular review processes we ensure a rewarding local Irish ingredient led experience. You can count on it!
Overview
On the banks of the Garavogue River you'll find Koha Street Kitchen, a compact food truck that packs quite a punch with its tasty food offering. Chef and Proprietor, Sascha Viertel and his wife Ceara have created a much loved dining experience that combines Sascha's native New Zealand culinary influence with all the best local ingredients from Sligo and beyond.
---
Dining
Outdoor dining has stepped up a notch in Sligo as Koha Street Kitchen serves locals and visitors alike a delicious menu of local ingredients that can be enjoyed on the go or simply when sitting by the riverside taking in the views and fingers crossed, the Irish sunshine!

€
In recent times the trend of outdoor dining has grown in popularity as diners look more to open areas to meet up with family and friends. This phenomenon has resulted in a fabulous selection of food trucks that are now dotted across the country in city spaces to scenic spots and everywhere in between.
One such delightful food truck that is making a name for itself, is Koha Street Kitchen located near the Blue Lagoon, on the banks of the Garavogue River in Co. Sligo. Kiwi native Sascha Viertel and his wife Ceara are at the helm of this compact yet highly impressive operation.
Sascha combines his New Zealand culinary influences with the top quality local ingredients that surround the Sligo region and beyond. These wholesome ingredients are used in a menu that offers something new and exciting for diners, including a selection of daytime and evening specials that often sell out quick as a flash.
Burgers and toasties are taken to the next level when you visit Koha Street Kitchen. Sascha elevates these much-loved comfort food items by combining his creativity and skill with flavours with fresh ingredients.
Recent highlights include a juicy beef brisket toastie served with Irish cheddar and a fried egg along with a melt in your mouth marinated Irish rump steak burger with garlic mayo, Irish smoked cheese, beer battered onion rings, crisp lettuce, tomato and fries.
The ingredients have been carefully balanced and complimented to give you a burst of delicious flavour upon that very first bite. The satisfaction will be so good, it'll have you returning for more and more.
These specials are supplemented by a daytime and evening menu that is more of what you love about Koha Street Kitchen. Kick off your day with a breakfast toastie made up of fresh sourdough bread, bacon and sausage, fried egg and that special addition of Ballymaloe Relish from fellow Good Food Ireland® member Ballymaloe Foods. The Triple Cheese Toastie is oozing with three types of delicious cheese, the magic ingredient includes Sascha's special chutney.
In the evening time, fish lovers will be treated to Koha's popular Fish Tacos, which include beer battered fish served in a taco with crisp lettuce and flavourful salsa. There's also great burger options and the traditional fish and chips produced from Killybegs Haddock.
For those who enjoy a sweet treat, you'll find fresh bakes and fluffy pancakes on the menu throughout the day. Coffee is organic and Irish Roasted, like the food it's also top quality.
When the weather is good, make sure to grab one of the picnic tables surrounding the food truck, you'll enjoy your own hot food Irish picnic. Good food, fresh air and scenic views, you can't ask for more.
---
Sustainability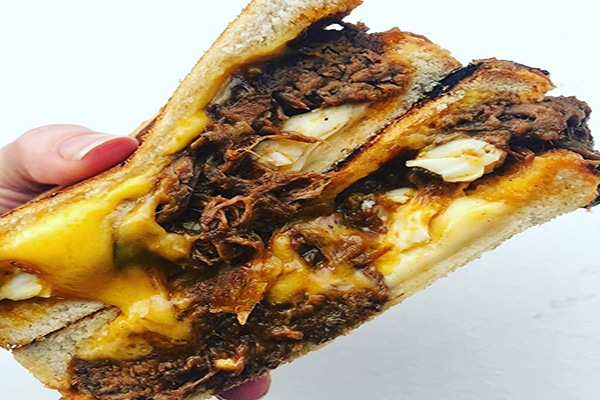 The food and drink offering at Koha Street Kitchen very much has local in mind. Meat and fish are sourced from local suppliers and the fresh coffee served each day is organic and Irish Roasted.
Furthermore, the vast majority of packaging is compostable making recycling all the easier.
Sascha and Ceara also strive to make sure that the local area remains litter free, providing extra waste disposal bins outside of what is already provided by the local council.
---
Leave review
WHAT CUSTOMERS VALUED AND ENJOYED
There are no reviews yet. Be the first one to write one.
---
Nearby Experiences
Experiences

Accommodation

Dining

Cook & Shop

Meet the Makers