Good Food Ireland® Approved Since 2021
We stand over our recommendations. With exacting selection and regular review processes, we ensure a rewarding local Irish ingredient-led experience. You can count on it!
Overview
Danny Parker opened Parker's restaurant at Roscrea Golf Club in 2010. He quickly developed a successful business following from club members and guests. In addition to the golf club footfall business, Parker's became a destination for family occasions, celebrations and Sunday lunch. Parkers offer a bar food menu or a full menu in the 60-seater Parkers restaurant. A successful relationship has grown between the Club and Parker's over the years both complementing each other to offer a friendly welcome to club members and visitors. Parker's restaurant including an outdoor terrace is situated overlooking the
Read More
---
Dining
Upon visiting Parker's Restaurant, we were met with the delightful aroma of fresh-baked bread coming out of the oven. Chef and Proprietor Danny explained that on a daily basis the morning routine included baking fresh bread and fruit scones. You'll get first hand experience of this if you have the pleasure to visit Parker's for breakfast.

€€
Situated in Rosecrea Golf Club, Parker's Restaurant brings together golf leisure and delectable dining all under the one roof. Parker's has cultivated an impressive following between locals and visitors to Roscrea not to mention golf enthusiasts around Munster and beyond.
A visit to Parker's Restaurant provides you with a delicious dining experience strongly influenced by local flavours and ingredients. Danny's ethos is all about sourcing all meat from a local butcher (Harding's in Birr), while the fruit and veg are supplied by Keeling's. Danny and his culinary team utilise this exceptional produce in a number of delicious ways.
Browse an extensive menu which is full of plenty of choice. The menu is sprinkled with innovative elements along with traditional and favourite dishes which include melt in your mouth roasts with all the trimmings along with steaks, burgers and who can forget the ever favourite good old fish and chips. There's also a selection of daily specials to shake things up.
Parker's is open 7 days a week offering a breakfast and all-day menu along with a Sunday lunch menu. Breakfast a real treat at Parker's. American Style fluffy pancakes are served up with crispy bacon and maple syrup. For something more savoury, try the eggs benedict featuring creamy hollandaise sauce, bacon and breakfast muffins. Yum!
Danny also aims satisfy the expectation of the golf market but doing it with a twist. During our visit to Parker's we got to experience the restaurant's innovation through their 'I Ain't no Vol-au-Vent' dish which features chicken, mushroom and cream sauce presented in an arancini style fritter dipped in breadcrumbs and with a tomato and pepper coulis and garnished with a balsamic rocket salad… Delicious!
Dining restrictions in recent times like many other restaurants posed a challenge for Danny and his team. His quick action and adaptability resulted in a very popular takeaway offering. Luckily Danny was able to retain his kitchen team and developed very quickly an online offering for customers to click/call and collect or deliver. This quick and efficient business pivot brought Parker's takeaway offering provided loyal customers with the opportunity to enjoy Parker's food at home along with gaining new customers at the same time.
On the day of our visit, the phone and the online booking platform was on the go nonstop, as we were leaving at 1.00 pm, Danny had 20 orders on the board. A positive measurement of the business offering from which orders were from a catchment area up to 50km from the restaurant.
Looking to the future, Danny plans to continue the takeaway service offering from a dedicated premise in the centre of Roscrea which will be branded 'Parker's in Town'.
---
Sustainability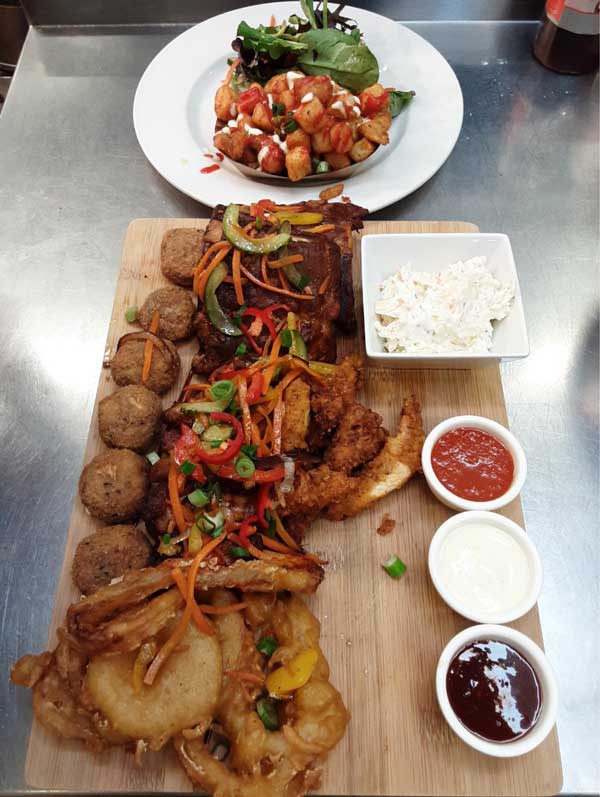 Compostable packaging and cutlery are used for their takeaway service.
Little Hill Animal Shelter. Danny has worked with the animal shelter to rehome battery hen's, this has been a very successful venture providing Parker's Restaurant with a steady supply of eggs from the ranging free hens. Top hen Sheila has been the leader of this happy hen project for Danny.
---
Leave review
WHAT CUSTOMERS VALUED AND ENJOYED
There are no reviews yet. Be the first one to write one.
---
Nearby Experiences
Experiences

Accommodation

Dining

Cook & Shop

Meet the Makers