Good Food Ireland® Approved Since 2021
We stand over our recommendations. With exacting selection and regular review processes, we ensure a rewarding local Irish ingredient-led experience. You can count on it!
Overview
The Bakery Shack is a mother-son run bakery and coffee trailer located directly across from The Franciscan Friary in Rossnowlagh, Co Donegal. The area is tranquil and stunning with beautiful garden walks to enjoy at the Friary and partial sea views over the Atlantic Ocean.
---
Dining
Julie and David make for a strong team with Julie running the bakery aspect of the business and David a keen coffee enthusiast running their coffee trailer which is parked in their outdoor dining area.
What customers can expect from this artisan bakery is a 'go-to destination' for fresh-baked sweet and savoury treats, homemade soups and main courses, we recommend that you check out the display counter as fresh options are introduced as they come available from the kitchen. The other highlight is exceptional fresh barista coffees from the 'Hot Box' trailer operated by David at the front of the bakery.

The decor is minimal with a country farmhouse feel. There is a relaxed vibe at The Bakery Shack with a young team on hand to offer assistance.
In line with regulations, the floor is marked clearly with entering and exit signs while perspex glass protects customers and staff all along with the countertop.
€
The bakery menu consists of various seasonal sweet and savoury pastries, scones, sandwiches with specials including salads, seafood chowders and frittatas. The menu changes through the day as new items are brought out of the kitchen.
Julie has a magical touch when it comes to baking. Everything she touches transforms into culinary gold. This is obvious when we hear about the popularity of these baked goods that they cannot keep on the shelves.
The humble scone is a favourite treat for many of us and this is also the case at The Bakery Shack. Julie's white chocolate and raspberry scones are flying out the door while the apple and cinnamon scones are very popular too.
For the autumn and winter months, The Bakery Shack's nourishing and flavoursome Irish organic vegetable soup with wheaten bread is always a must-try winter warmer treat.
To get a true taste of the region, make sure to try Julie's delicious potato bread, a traditional Irish speciality served with smoked bacon and eggs. Ideal for a leisurely weekend brunch.
On our visit, we tried a few items from their counter including the Clonakilty black pudding sausage roll, Filligans chilli jam + Fermanagh black bacon + mozzarella brunch pastry, chocolate brownie and baileys cheesecake with a chocolate biscuit base.
Julie is using many local and Irish suppliers. She sources what she can locally include fruit and vegetables from Donegal Fruit & Veg, milk and cream from Donegal Creameries, eggs from Pattons, seafood from O Reillys and relishes from Filligans while sourcing butter from Kerrygold or similar, black pudding from Clonakilty Black Pudding and bacon from Fermanagh.
Julie uses loose leaf tea from S.D Bells tea and coffee specialist in Belfast and Carrow Coffee from Co. Sligo.
The menu includes an extensive offering with vegan, vegetarian, GF and lactose-free options all available.
---
Facilities
While operating as an outdoor and takeaway dining space, The Bakery Shack also has a retail offering on-site.
There is a small retail section at The Bakery Shack with tea, coffee and coffee equipment for sale as well as some skincare and spa products from a local supplier in Rossnowlagh.
There is no dedicated car park however there is a large space along the front of the shop to cater for parking.
On one side of the shop, there is a large covered terrace area whilst there is a substantial open space at the other side of the shop which they hope to make more diner friendly over the next few weeks with more tables and canopies.
---
Sustainability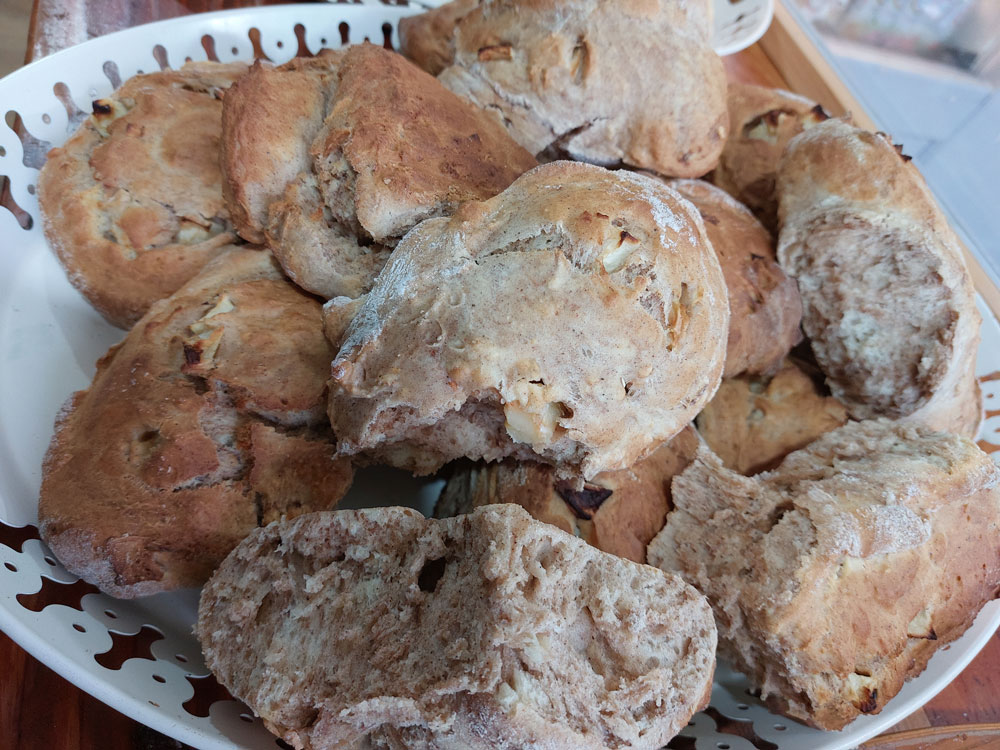 Julie and her son David are striving to be more eco-friendly each day. The packaging used for their takeaway service is sourced from suppliers as biodegradable and recycle where possible.
Waste from the Bakery operation is gathered and separated for recycling.
---
Leave review
Best breakfast baps ever
We found the Shack on local recommendation and it is superb. Great sausage rolls and after a very wet and blowy night in the camper van we enjoyed the best breakfast baps ever – good fried bacon, sausage, and egg in a brioche bap with relish. And excellent coffee. If it was local (we were down from Belfast) we would travel every day to try out the astonishing range of savoury and sweet offerings
Next time we're down that way we will return!!
The shack
I love this place and travel down from Enniskillen every week I love their bacon and Brie panini coffee is in a league of its own I love the ambience of the surroundings and the staff are so friendly this place is a must-do for everyone
---
Nearby Experiences
Experiences

Accommodation

Dining

Cook & Shop

Meet the Makers