Good Food Ireland® Approved Since 2021
We stand over our recommendations. With exacting selection and regular review processes, we ensure a rewarding local Irish ingredient-led experience. You can count on it!
Overview
Located in the beautiful Mayo destination town of Westport, The Towers Bar & Restaurant is a landmark property on the quay front, on the water's edge of Clew Bay. The Quay area in Westport has developed into a classy location, populated with a variety of vibrant hospitality businesses. The town end of the Quay marks the main entrance to Westport House which is currently undergoing a major rejuvenation and will re-emerge as a major tourist destination. The Towers Bar and Restaurant is located at the Louisburgh end of the Quay, a striking feature of the property is the natural local stone cladding and the
Read More
---
Dining
Fresh local seafood is the hero food on the menu at The Towers Bar & Restaurant.
Signature dishes on the menu include; Steaming Hot Mussels from Killary Harbor, and local Oysters from Padraig Gannon's farm in Westport.
The day we visited The Towers, Chef produced a house-cured salmon Gravlax with crumbed Cnoc Dubh Goats Cheese finished with pickled cucumber & pear and crushed roasted hazelnut on fresh leaves, such a great blend of delicious flavours.
There are also menu options for diners looking for something other than seafood for example; homemade beef burger, pork belly, stout braised beef cheek and steaks. Diners indeed get an authentic taste of the food of the region and this also includes appearances from local breweries on the drinks menu!

The Towers Gastro Pub is bang on trend offering a selection of craft beers from the local Mescan Brewery which is based in Westport. The bar team have created a selection of superb cocktails for guests to enjoy, so you'll be provided with an all-round food & drink experience when visiting this popular seafront town.
Diners can expect quality fresh local food and a very professional service from an enthusiastic team at this classy gastropub in a cool setting. This is a family-friendly destination, throughout the summer months supervised children's activities are available in the outdoor park area across from the restaurant.
€€
The menu at The Towers Pub & Restaurant may vary depending on the availability of local and seasonal produce.
The menu offers a varied choice of local Seafood from simple Fish and Chips to Mussels and Calamari but caters for all tastes with a range of Poultry, Pork and Beef dishes.
---
Services
The Towers Bar and Restaurant is open 7 days a week from 12 noon.
There is a lot of local car parking available directly beside the restaurant.
Westport is serviced by a daily train service from Dublin.
The Great Western Greenway runs from Westport to Achill and is a popular cycling trail for families to enjoy.
The Towers Bar & Restaurant is located in the shadow of Croke Patrick, this is a popular walking trail to the summit and on fine days reveals a spectacular viewing point across Clew Bay, the starting point for this walking trail is at Murrisk, 10km from The Towers.
Indoor dining. Large indoor dining space.
Outdoor Dining. Beautiful outdoor garden with a large covered dining area.
Click and collect service is available.
---
Sustainability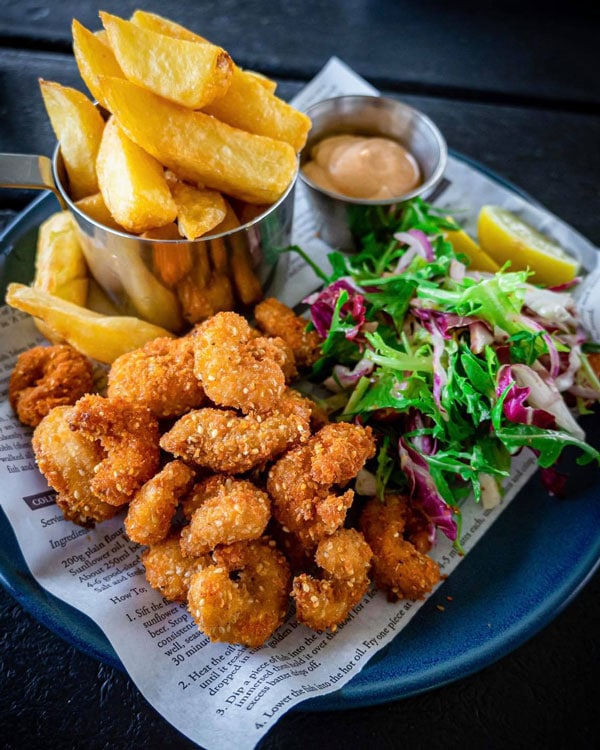 There's a strong element of sustainability running through the business operations at The Towers Bar & Restaurant. For example, takeaway containers are fully compostable and this is supplemented with wooden cutlery. A robust recycling system is also in place.
Furthermore, suppliers are asked to minimise the packing of fresh food deliveries, while the packaging is also decanted on delivery and cardboard is returned to the suppliers.
To reduce energy consumption, The Towers has been refitted with LED lighting along with refrigeration that is fitted with low energy motors.
All staff are trained in operational recycling practices. The Towers are currently implementing a 'Green Team' chosen from all departments to aid the efficient implementation of environmental practices and to bring forward practical new operational initiatives to management.
On an annual basis, The Towers nominate and work with a local community group to support their fundraising needs.
---
Leave review
WHAT CUSTOMERS VALUED AND ENJOYED
There are no reviews yet. Be the first one to write one.
---
Nearby Experiences
Experiences

Accommodation

Dining

Cook & Shop

Meet the Makers