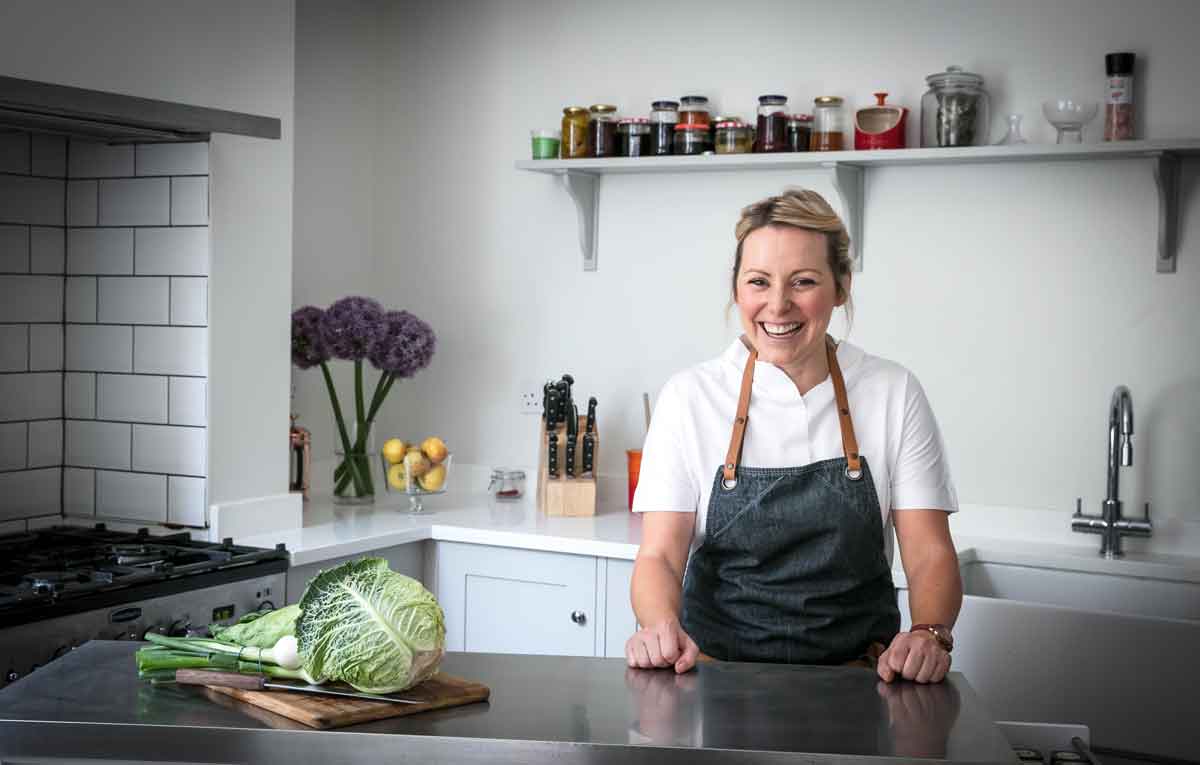 Anna Haugh in her Kitchen.
Dublin-born chef, restaurateur and TV presenter Anna Haugh, talks to Jillian Bolger about opening Myrtle, her restaurant in London, and the people and places that have inspired her.
What was the first dish you ever learned to cook?
The first proper dish was the Sunday roast, from start to finish. My mother was very good at showing all of us how to cook
What are your most vivid food memories from childhood?
Growing up in Dublin, we always had really weird food that I thought was normal but also felt may be that it wasn't. Tinned octopus, exotic olives, different cheeses, weird vinegar. One of my favourite sandwiches was jarred mussels in Marie-Rose sauce. Not exactly wild now, but also not average sambo for a kid!
Who has been the biggest influence on the way that you cook?
Shane Osborn made a very strong impact on me around the tasting of food, the double-checking. Phil Howard did too, with his approach to flavour combinations and the weird and wonderful logic of flavour.
How long were you dreaming of opening your own restaurant?
Since I started cooking. I wasn't sure it would ever happen. To be a restaurateur is completely different to being a head chef. There's a calmness and pressure that is very satisfying to me.
What dishes have been most successful at Myrtle?
Our Irish Carlingford oysters are a very popular way to start a meal. We serve them with a simple lemon dressing that marinates for a week or so, and when we dress the oyster it all marries together to complement it, rather than cancel out its beautiful sweet and salty delights. For main courses, our braised Irish beef-stuffed boxty with roasted fillet and our Clonakilty black pudding wrapped in potato spaghetti with Bramley apple are both popular. Chocolate carrageen mousse is our most popular dessert.
What do you love most about being a chef?

Every single thing! Yes, the hours can be long and managing staff can be trying but more times than not it all comes to add up as a wonderful day.
What's your favourite Irish ingredient?
There are so many! Irish beef is a no-brainer. It's beautiful. I only use Irish cheeses and love Cáis na Tíre in place of Parmesan. Taylor's of Lusk smoked garlic should be used in every household. It's amazing in its simplicity and perfect flavour.
Where do you love to eat in Ireland?
I try to eat in new places but also spend a huge amount of time in people's homes (when I come home from London) as the time you spend with loved ones is so important. My father has always interrogated some poor fishmonger with questions and requests before I arrive, so there's usually a fridge full of scallops, mackerel and sometimes turbot and also some beautiful steaks or duck. They love me cooking and there aren't another two humans on this earth I'd rather cook for. But restaurants I always make time for are Pichet, Etto, The Winding Stair, Delahunt, Bastible… Dublin is brimming with talent. It's been a long time since I've been back to Chapter One but I'll be going there on my next visit.
What's your favourite kind of junk food?
3-minute noodles.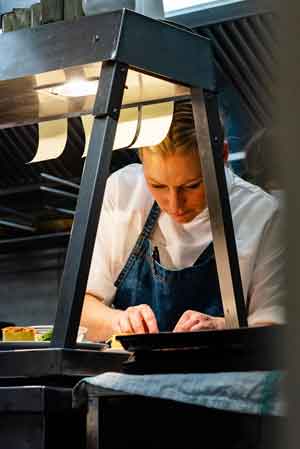 What is the most memorable meal you've ever enjoyed?
My second 3-star experience at Pierre Gagnaire in Paris. The attention to detail was incredible. The staff were so friendly we couldn't believe it. The food was something I'd love to have again but the innocence of dining while being a trainee chef is the best dining experience. Everything is new, exciting and yet to be discovered and understood.
Do you own many cookbooks?
Far more than I should! Books are like dining experiences: the younger you are the more wide-eyed you are while reading them. I believe Phil Howard's two cookbooks are two food bibles all chefs should have. You can hear him say every word written on the page.
Name your 5 desert island ingredients
Caraway, smoked garlic, black pudding, tomatoes and pineapple.
When we can travel again, what international restaurant are you dreaming of dining in?
My mother and father's kitchen, from a pot, as I cook them up something delightful with Bob Dylan playing in the background, chatting to both of them and a glass of nice wine in my hand. This is truly heaven to me.
What's the one thing you'll always order if you see it on a menu?
Sweetbreads.
It's your dream dinner party. Who is cooking for you and which 5 guests will join you at the table?
It has to be my closest friends and my siblings. If I had to choose someone from a magical list, it would be (American poet) Maya Angelou. Her life was incredible. She was funny and humane. I imagine she would be a great laugh and very engaging.
Myrtle Restaurant is located in Chelsea and offers Modern European cooking with an Irish influence using the finest Irish produce. 

Explore & Book
Food & Drink Experiences
Vintage Afternoon Tea At Newbridge Silverware

What You'll Get The Good Food Ireland® Vintage Afternoon Tea at Newbridge Silverware with a Museum of Style Icons visit & a 20% Discount Voucher for Newbridge Silverware Shopping Included, and free car parking. Domo's restaurant in Newbridge...

The Gourmet Food Parlour Dinner Special Two Course

What You'll Get Your choice of two starters, two mains @€20.00 and two Coole Swan Coffees. Offer available Thursday to Saturday 5 pm – 9 pm and Sunday 5 pm – 8 pm Offer excludes the 10oz Ribeye – available for an additional €8.00...