The best road trips along the Wild Atlantic Way are planned around the local seafood, writes Jillian Bolger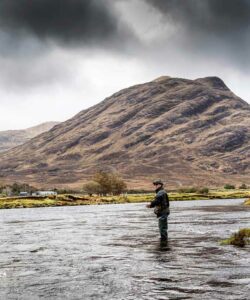 On a journey from Donegal to Cork, hugging the curves of Ireland's West Coast, the Wild Atlantic Way weaves its way through nine counties and three of the four Irish provinces. Over the course of some 2,500 km, snaking around bays and over hills, past mountains and overlooking headlands, through pretty villages and towns, you're never far from two constants, staggering scenery and incredible seafood.
Plucked from the roaring waters and powerful waves, fishermen toil and travail to harvest the ocean riches on our shores. From fishing harbours to fishmongers, markets to smokehouses, chefs and producers serve up the West coast's marine bounty that is celebrated the world over.
Whether you plan to picnic on crab salad, tuck into fish and chips by the ocean, cook up a dish of mussels or scallops at home or learn about the intricacies of oyster farming or salmon smoking, there's no finer place to discover the joys of Irish seafood. From tide to table, here's a selection of what's on offer on the wondrous Wild Atlantic Way.
Irish oysters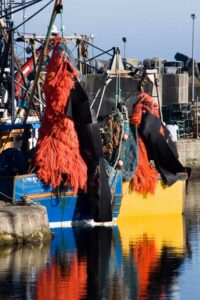 Unashamedly luxurious, it's difficult to imagine a time when oysters were so plentiful, that they were eaten by the masses. Overfishing in the 1800's changed that, reducing their supply and elevating the noble shellfish to a sought after delicacy.
Today, Ireland has a thriving oyster industry and is one of the few European countries where oysters still flourish on wild, self-sustaining native oyster beds. Of the two species grown in Ireland, the flat native oyster grows naturally on tidal sea beds and is also cultivated in managed plots. In the late 1970s, declining native stocks saw the introduction of the Pacific Gigas and oval, frilled shaped oyster that is now the main species in Ireland. Unlike the native Irish oyster, Gigas are available all year, but, like their smaller wild cousins, they are best when there's an R in the month.
Reared in hatcheries, oysters get their nourishment naturally from the sea in exactly the same way as wild oysters, feeding on rich Atlantic plankton. Delicious and highly nutritious, Gigas and native oysters have very different flavours, reflecting the distinct characteristics of the bays where they've been harvested.
Freshly shucked with a squeeze of lemon, Tabasco and shallot vinaigrette, these glistening gems deliver a wonderful tang of the Atlantic Ocean.
Try: Reallt na Mara from Kerry, Achill Oysters from Galway, or a platter served on ice and seaweed from one of our famous seafood restaurants or hotels.
Irish mussels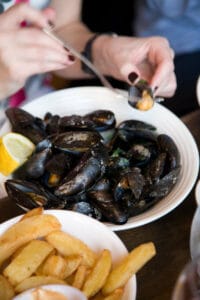 A pot of Irish mussels freshly steamed in dry cider with shallots and parsley is a quintessential taste of Ireland. Simple and quick to cook, they make a delicious addition to creamy seafood chowder. Pillowy soft, the glossy beauties grow naturally in Irish inlets and are prized for their creaminess and sweet briny flesh.
Like oysters, mussels draw their nourishment by filtering plankton from the rich waters where they grow. Farmed on long lines in sheltered bays, wild mussels naturally attach themselves to ropes that are suspended in the water from buoys. With a low environmental impact,  you'll find mussel farms dotted all along the Wild Atlantic Way, their wares starring on menus from gastro pubs to food trucks, and always a popular choice.
Mussels have been part of the Irish diet for centuries. In Cromane in County Kerry, Emmet Casey, co-founder of Realt na Mara Shellfish, recalls an industry that dates back to the 19th century, "when local fishermen consigned quantities of mussels to the UK market. Bord Iascaigh Mhara (BIM) constructed a purification plant in Cromane in 1940, to facilitate the direct entry of mussels to the UK market. Here our great-grandfathers, grandfathers and fathers worked."  Today their oysters and mussels thrive in the pristine waters of Castlemaine Harbour, one of Ireland's many outposts producing highly prized shellfish.
Try: Reallt na Mara mussels from Kerry.
Smoked salmon
Most ubiquitous of all Irish seafood, smoked salmon, often served alongside a slice of home-baked soda bread and a wedge of lemon is the ultimate seafood snack. Dwindling stocks and strict regulations make wild salmon a rare and expensive treat, with organically farmed salmon widely available.
The best-smoked salmon comes from a selection of family-run smokehouses along the coast. Here it's a hands-on affair, with time and tradition essential parts of the process. Salmon are filleted by hand and deboned before salting and smoking take place.
At Connemara Smokehouse, picturesquely positioned at the water's edge at Bunowen Pier, Graham Roberts uses beechwood for the smoking process, which can last up to 10 hours, before being moved to a cold room where it's left overnight before slicing. Prized wild salmon is caught locally, with organically sourced from Clare Island, off the west coast of Mayo.
Connemara Smokehouse also produces silky gravadlax, something that Ummera Smokehouse in West Cork is also celebrated for. Alongside his speciaL smoked salmon, Anthony Cresswell cures his own exquisite gravadlax here,  creating a traditional Swedish dish that relies on the best quality salmon. Using a house blend of sea salt, cane sugar, fresh dill and a dash of organic whiskey, it's a real treat on a seafood platter or open sandwich.
Salmon aficionados will enjoy discovering the differences between hot and cold smoked salmon. The former is a delicacy that's become a signature favourite at The Burren Smokehouse, a family-run business set up in 1989 by Brigitta and Peter Curtin in Lisdoonvarna, Co Clare.
Their hot smoked salmon draws on Brigitta's Swedish heritage, using different marinades. Drier and flakier than the more commonly found cold smoked salmon, its texture is closer to a piece of grilled salmon. During the hot smoking, process temperatures rise as high as 80°C, following the Scandinavian model. If you get a chance to sample hot and cold smoked salmon side by side, you'll discover what a delicious and natural pairing they make.  Better yet, tuck into them by the sea with a peerless view of the wild Atlantic Ocean. Sheer perfection!
Try: Smoked salmon from Connemara Smokehouse in Galway, Burren Smokehouse in Clare and Ummera in Co Cork.
Visit Our Shop

Explore & Book
Food & Drink Experiences
Good Food Ireland® Picnic for Four – Co. Clare

What You'll Get The prelude to a great day out exploring the outdoors is having a tasty and satisfying picnic to enjoy on your travels. For families or small groups looking to explore the beauty of Co. Clare and enjoy some great local and homemade...

Mountain Lamb Farm Tour & Tasting on Achill Island – Co Mayo

What You'll Get Immerse yourself in the longstanding tradition of Blackfaced Mountain Sheep farming with an adventurous experience on Achill Island. The high hills and coastal splendour of Achill is home to this famous variety of sheep. You'll...

Unique Seafood Experience, Oyster Farm Tour & Tasting – Co Sligo

What You'll Get Enjoy a unique seafood experience when you tour a Sligo oyster farm with your guide Aisling. The experience offers an immersive guided tour and visits the working oyster farm on the shores of Sligo Bay, overlooked by the majestic...