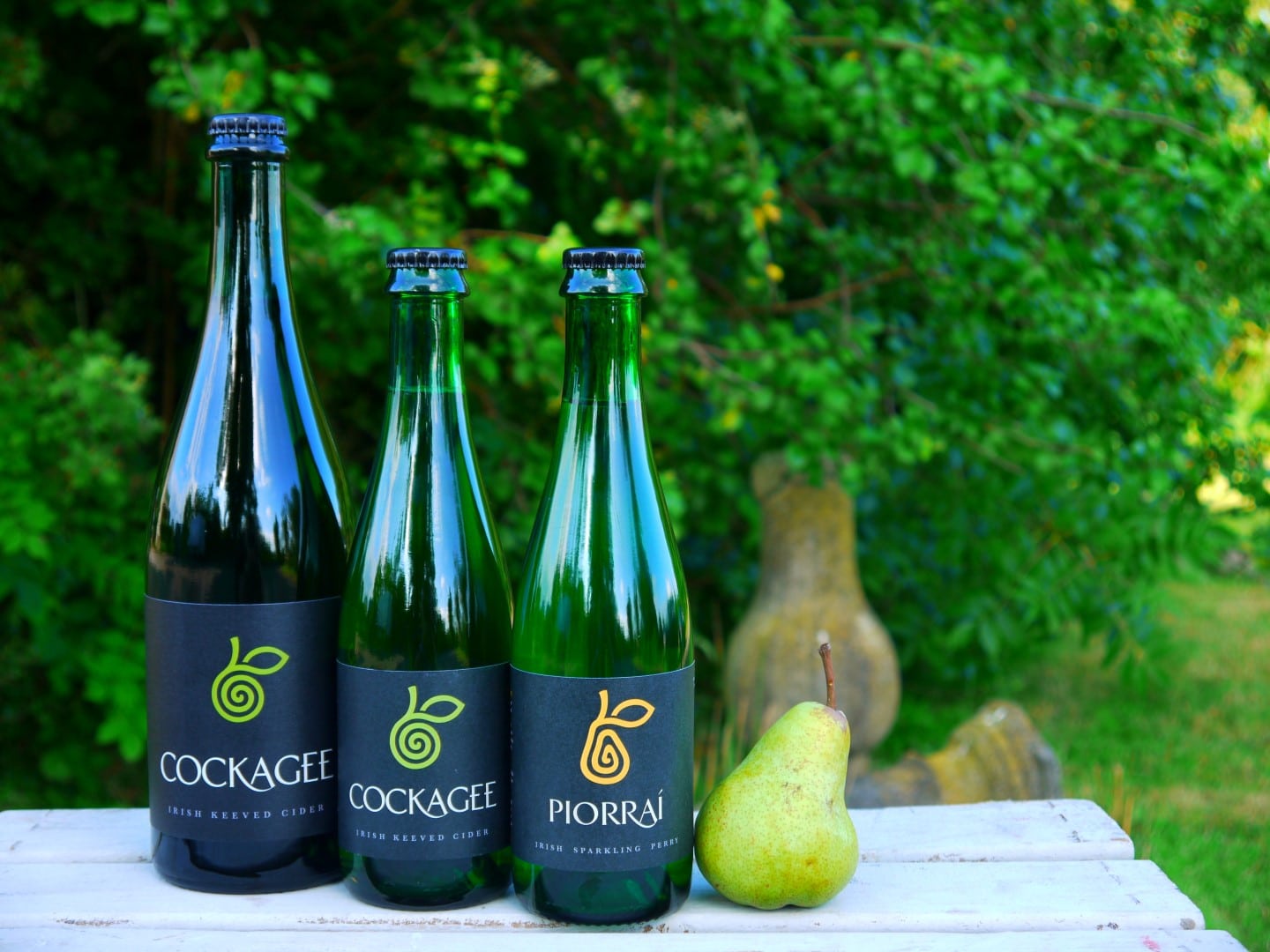 Cockagee Craft Ciders
It takes patience and up to 15 different apple varieties to make Cockagee, the delicious craft cider, as John Wilson finds out.
Once the sun comes out people start to drink cider. That means things start to get busy for cider makers like Mark Jenkinson, who founded The Cider Mill in Slane, Co. Meath back in 2012. His infatuation with apples goes back much further than this, however.  "I was growing apples long before then on a small scale and had been making cider for ten years prior to that. I had always had an interest in apples, fermentation and cider. I used to make beer too, but I was always more into the farming side of things with my smallholding of ten acres of orchard."
His four ciders, and his perry, are all keeved – given a long, slow fermentation – and bottled without filtration, pasteurisation, sweetening or carbonation. It was the traditional way to make cider and brings a depth and complexity that sets his ciders apart from commercial products and many craft ciders too.
Where most commercial producers would grow five or six varieties of apple, Jenkinson has an incredible collection of 120 different varieties – or more. "I haven't counted recently," he laughs, "but I am a serial apple collector!" All are grown organically and biodynamically. "I have English, French and Irish varieties; it is more of a heritage orchard. The majority are cider apples, but I have others that I use in my ciders too. Apples grow well here in Ireland; we have a good climate, but damper and more prone to fungal disease than South-West England."
There is usually a blend of 10-15 different varieties in Cockagee, his best-selling cider. For the Ciderkin he uses only dessert apples giving it a fruitier taste. "Cider apples give a more robust full-bodied style. Ciderkin is more sessionable so you are better off using dessert apples." Does he have favourites? "Well for cider I use a lot of Dabinett and Kingston Black, two traditional Irish / English varieties. Caty is a lovely eating apple, and I am very fond of the nice old commercial varieties like Lord Lambourne and Laxton's Superb that go back a hundred years."
Visit Cockagee Website
His real obsession, however, is the elusive Cockagee, an Irish variety that was once hugely popular but thought to be extinct. "It was the Chardonnay or Pinot Noir of its day. There were poems, novels and plays written about it. It seems to have been as important as stout or whiskey and was sold into the royal household at four to five times the price of normal cider. Jenkinson believes he's found it again – and Irish Seed Savers agree – and he's planted 40 or 50 trees in his orchard. The name he says is an Anglicised version of an Irish phrase 'cac a gheidh', which in 'old' Irish means 'goose turd', a shade of green or yellow on the skin of the apple.
There are four ciders in the range; the award-winning rich, full-bodied Cockagee, the refreshing lower-alcohol (4% abv) Ciderkin, a delicious aged reserve cider called Lámhóg (6%) and Hiberno (8.5%) which is aged in Atlantic Irish single malt whiskey casks. He also produces an excellent full-flavoured perry called Piorraí. All of the ciders are popular but Cockagee is the best known. "It is a favourite with many people," Jenkinson tells me. "It's not too sweet, but lush, lightly tannic and has good acidity. It has got everything going for it."
Jenkinson becomes evangelical talking about cider. "It is the forgotten Irish drink, older than beer and older than whiskey. It was our national drink, the wine of the land – of our land. It was very important to our culture. The craft cider industry is very important to the environment – Irish craft cider makers use only Irish produce – unlike other drinks. The orchards sequester carbon in the same way as a forest."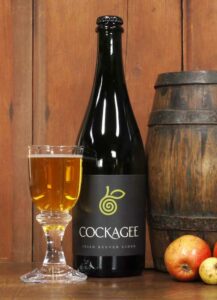 Craft cider producers have a battle convincing consumers to switch from sweeter mass-produced ciders. "It's an upward hill, but more and more people are becoming aware of it. Many people still see cider as cider, all the same, unlike beer and wine where everyone knows there are differences. Consumers aren't always aware of the massive array of ciders out there. But interest and consumption have been growing massively in Europe, the UK and the USA. We usually follow so we'll get there."
Jenkinson argues that cider is not simply a sunny weather drink. We should be drinking it with our meals. "Cider is great with food. It depends on the style – fruity ciders are great for curries, fish and chips, even pizzas, whereas rich more tannic ciders go well with meats (cider is one of the best matches for pork) and even steak. Shellfish, creamy pasta dishes go better with fruitier styles. Cider goes really well with cheese – it is magic with blue cheese," he says.
Jenkinson hopes to reopen for tastings, but is waiting until things are properly open. "I had planned to open the farm, a visitor centre, and a museum," he tells me, "but Covid put paid to that. But we have been working with Bord Failte as part of the Boyne Valley and Ireland's Ancient East."
Craft cider is one of the only alcoholic drinks made exclusively from Irish ingredients. It is environmentally friendly and has a long and noble history in this country. Good craft cider is a complex refreshing drink and a great alternative to wine. We should be drinking more of it. The Cider Mill ciders are available in specialist off-licences around the country and through some branches of SuperValu.
Visit Our Shop

Explore & Book
Food & Drink Experiences
Good Food Ireland® Picnic for Four – Co. Clare

What You'll Get The prelude to a great day out exploring the outdoors is having a tasty and satisfying picnic to enjoy on your travels. For families or small groups looking to explore the beauty of Co. Clare and enjoy some great local and homemade...

Mountain Lamb Farm Tour & Tasting on Achill Island – Co Mayo

What You'll Get Immerse yourself in the longstanding tradition of Blackfaced Mountain Sheep farming with an adventurous experience on Achill Island. The high hills and coastal splendour of Achill is home to this famous variety of sheep. You'll...

Unique Seafood Experience, Oyster Farm Tour & Tasting – Co Sligo

What You'll Get Enjoy a unique seafood experience when you tour a Sligo oyster farm with your guide Aisling. The experience offers an immersive guided tour and visits the working oyster farm on the shores of Sligo Bay, overlooked by the majestic...