What You'll Get
Witness the magic of distilling with a visit to Wild Atlantic Distillery located in the north-west of Ireland. Brian and Jim, your hosts will give you a warm welcome with a complimentary drink waiting at your arrival. Following this, listen in as these passionate distillers regale you with the traditions of distilling in this region and the skill and methods in producing the perfect Irish beverage.
Enjoy a walk around the distillery taking in the amazing copper sills and casks of whiskey before getting the option to label your own bottle to take away with you.
---
What's Included
Meet Brian and Jim, the people behind Ireland's newest distillery.
The brothers-in-law are passionate about traditional and craft distilling.
Enjoy a complimentary drink on arrival.
Hear the amazing story of the creation of Wild Atlantic Distillery.
See how their Irish Whiskey & Vodka is made and feel free to get hands-on with a tasting.
There's also the option to experience labelling your own bottle.
---
Meet Your Host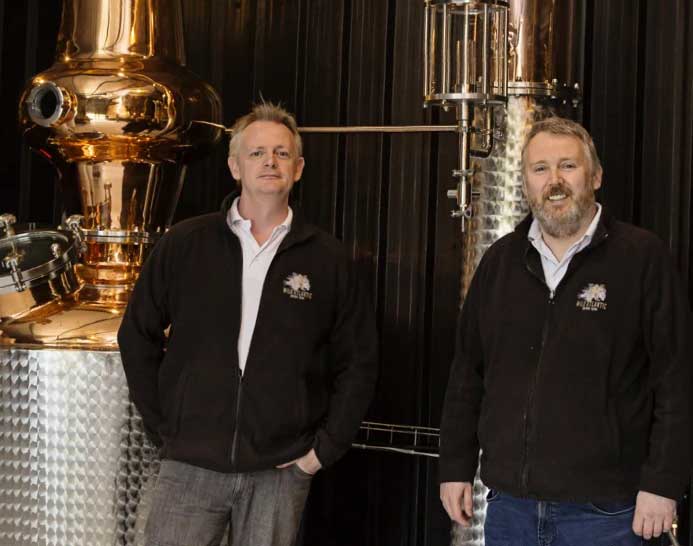 Brothers in-law, Brian and Jim, run Wild Atlantic Distillery and are keen to share their love of distilling with visitors to the Tyrone based distillery.
The region has a longstanding tradition of distilling something that Brian and Jim are passionate about preserving well into the future. You'll get an expert view on distilling in the fun and interactive environment of Wild Atlantic Distillery.
---
Leave review
There are no reviews yet. Be the first one to write one.
---
Key Information
Free on-site parking.
Alcohol served
Strictly over 18's
Experience available between 10.00am – 5.00pm Monday to Saturday
To book, simply contact the experience provider directly to arrange your preferred date and time.
€18 Per Person
Suitable for
View on Maps
I have been gifted a Good Food Ireland® Experience but it has no date on it. How do I redeem it?
Click on the link in the email you received and it will bring you directly to the Experience on the website. You then choose the date you would like to book the Experience and input the unique code on check out and you will then be issued with an E-Voucher to confirm your booking. Enjoy your Good Food Ireland® Experience.
If the Experience I have been gifted no longer exists on the website how can I redeem my voucher?
Log on to
www.goodfoodireland.ie
to explore all of the Experiences available. The E-Voucher will have a monetary value on it as well as a unique code and this can be used to purchase another Experience.
What do I do if I need to change my Experience for one of a higher or lower value?
Should you choose an Experience of a higher value than the one you have been gifted you will be prompted to input your E-Voucher unique code and then to pay the balance with a credit or debit card. If the Experience is of a lower value the residual balance from your Experience E-Voucher will remain on your E-Voucher for future use.
What do I need to do if I am unable to avail of a gifted Experience that has been pre-booked for a specific date?
We understand that circumstances change and, in this case, you must contact us by email at
[email protected]
giving your name, the date of the Experience and the unique code on the Experience E-Voucher or telephone
+ 3535 (0) 53 9158693
no later than 48 hours prior to the actual date of the Experience. Failure to do this will result in the voucher becoming invalid and it cannot be replaced or refunded.
How long is my Experience E-Voucher valid for?
Provided your Experience E-Voucher is not a Pre-Booked Experience for a specific date at a specific venue it is valid for a period of 5 years from date of purchase.
Can I use my gifted Experience E-Voucher for anything else?
You can use the monetary value of the E-Voucher against any product on the online shop provided your voucher is not for a Pre-booked Experience on a specific date and venue.
What do I do if my Experience is cancelled by the Experience Provider?
In the unlikely event that your Experience is cancelled by the Experience Provider you can then use your E-Voucher to book another Experience or to purchase items on the online shop on
www.goodfoodireland.ie
Are Good Food Ireland Experiences suitable for all ages?
Good Food Ireland® offers a very diverse range of Experiences. It is important to familiarise yourself with the details of the Experience prior to booking it. Each Experience will be different with its own restrictions or limitations i.e., some might not be suitable for children under a certain age, some might feature a walk on uneven terrain or some may include alcohol. This should be taken into consideration when making a booking.
---
Nearby Experiences
Experiences

Accommodation

Dining

Cook & Shop

Meet the Makers
---