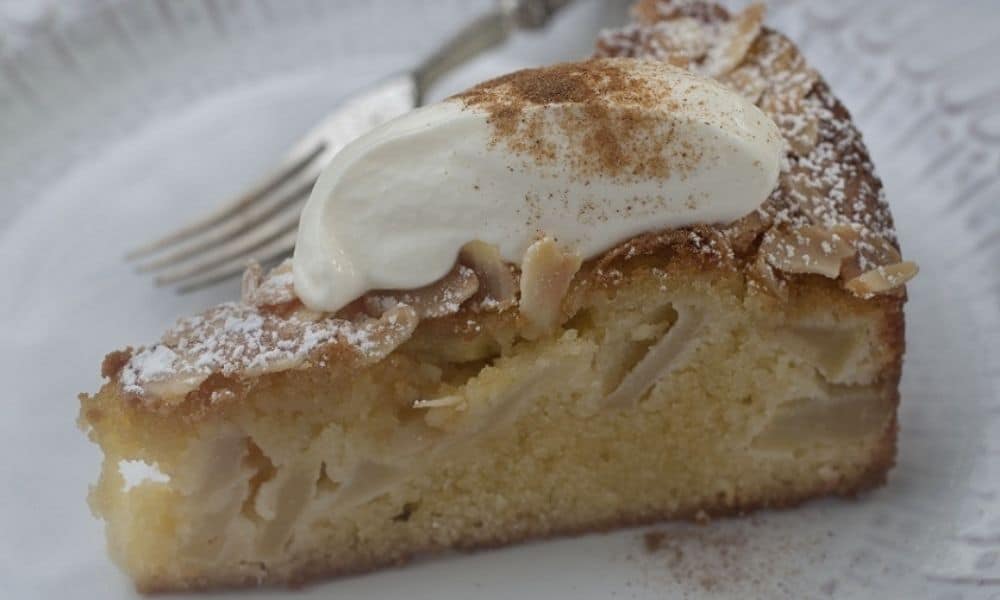 Dublin Cookery School, Blackrock, Dublin
Ingredients
FOR THE CAKE
220 g caster sugar
110 g self-raising flour
110 g ground almonds
1 tsp baking powder
3 eggs, beaten
140 g butter, melted
2 medium cooking apples, peeled, cored and cut into slices or chunks
TO DECORATE
Buy A Voucher
ADDITIONAL EQUIPMENT
20 cm springform pan with a removable base
Method
This is a delicious Apple Cake that combines the sweetness of almonds, with the tartness of cooking apples to create a slice of cake that is melt-in-the-mouth memorable. Simple to make, it's the perfect dessert for the colder months bringing you warmth and comfort with every flavoursome bite. It's straight from Lynda Booth at the Dublin Cookery School, who was shown it by an old-time friend, who won €1000 for the creation's recipe. So there you have it, this is a valuable apple cake recipe if ever there was one. 
Preheat the oven to 160°C, 140°C Fan, 325°F, Gas 3. Line the cake tin with a circle of bakewell/parchment paper on the base. Butter and flour the sides of the cake tin and shake out the excess.
Mix the sugar, flour, ground almonds and baking powder together in a bowl. Add the beaten eggs and melted butter and stir well.
Put one-third of the batter into the cake tin. Place a layer of apples over the batter and then spoon the rest of the batter on top. Sprinkle the surface with flaked almonds. Bake in the oven for about 50-55 minutes, or until a skewer inserted into the centre comes out clean.
Turn out onto a wire tray and leave to cool. This is delicious served as a cake with afternoon tea, or with a good dollop of cream for dessert.
A truly special Apple Cake Recipe. We hope you enjoy Biddy's delicious creation! 
Visit Our Shop

You may also like
Realt na Mara Oysters with Mignonette Sauce

Realt na Mara Shellfish was founded in 2015 by Micheál Sugrue and Emmet Casey. From their farm just outside of Killorglin Micheál and Emmet produce a range of high quality Irish Mussels and Irish Oysters. The unique environment lends itself to the...

Realt na Mara Steamed Mussels with White Wine Sauce

Founded in 2015 by Micheál Sugrue and Emmet Casey, Realt na Mara Shellfish produces a delicious range of Cromane Irish Oysters and Cromane Irish Mussels. Nutrients, taste and texture from the MacGillycuddy Reeks and the local Laune, Caragh and Maine...