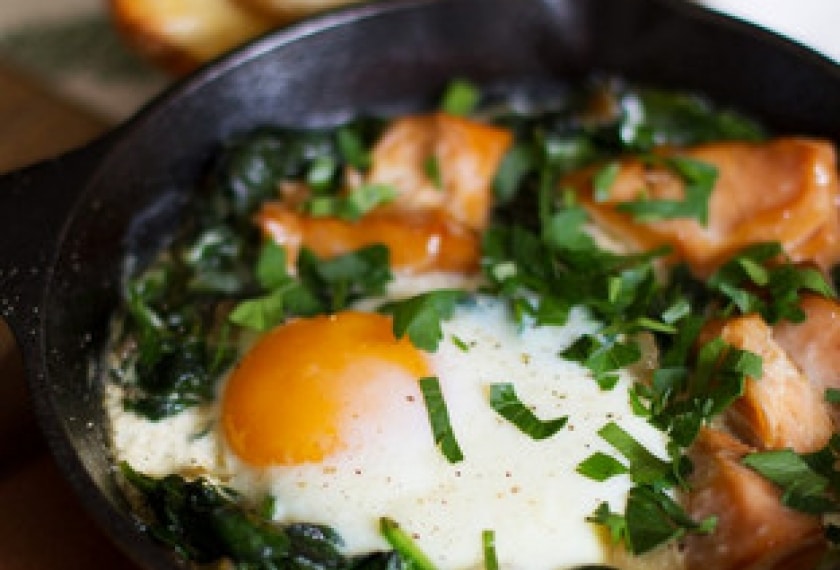 Ingredients
2 tbsp. olive oil
2 tbsp butter
1 leek (trimmed, halved, cut into semi-circles)
10oz/300g baby spinach
4oz/120g Burren Hot Smoked Irish Organic Salmon, spiced
1/4 cup or 60g heavy cream
1 tblsp fresh parsley, dill or chives
4 Large Eggs
Method
Heat the oven to 350°F/175°C. Place the rack in the middle of the oven. Prepare one big heat proof frying pan (or four small 6-9 inch skillets) by greasing it (them) including the side with 1 tablespoon of the olive oil.
Heat remaining olive oil and butter in another large frying pan. When the foaming of the butter decreased, add the bits of leek and cook for 4 to 5 minutes until softened. Add the spinach by the handful and stir after each addition, and season with salt. Cook until the spinach is wilted, another 4 to 5 minutes, by turning it frequently.
If using four skillets, divide the spinach among them, otherwise transfer it to the heat-proof frying pan. Leave any excess liquid behind. Flake the salmon onto the top of the spinach. Make four deep indentions into the spinach and break an egg into each one. Pour the cream over the whole of the pan.
Bake the spinach and eggs until the egg white are set, about 10 to 15 minutes. Sprinkle the herbs over the spinach and serve with toasted bread.

You may also like
Simnel Cake

Ballymaloe House is home to the cooking dynasty of the Allen family, so you know you are in for a gastronomic treat when you dine here. This elegant country house has all the elements you will need to enjoy a relaxing full of great hospitality and of...

Traditional Roast Beef Dinner

The suburbs of Cork City are home to a little secret. Located near Douglas, just a short drive from the centre of the Rebel City, Maryborough Hotel and Spa is set in a private estate of mature grounds and gardens. You can sense the 300 years of history...