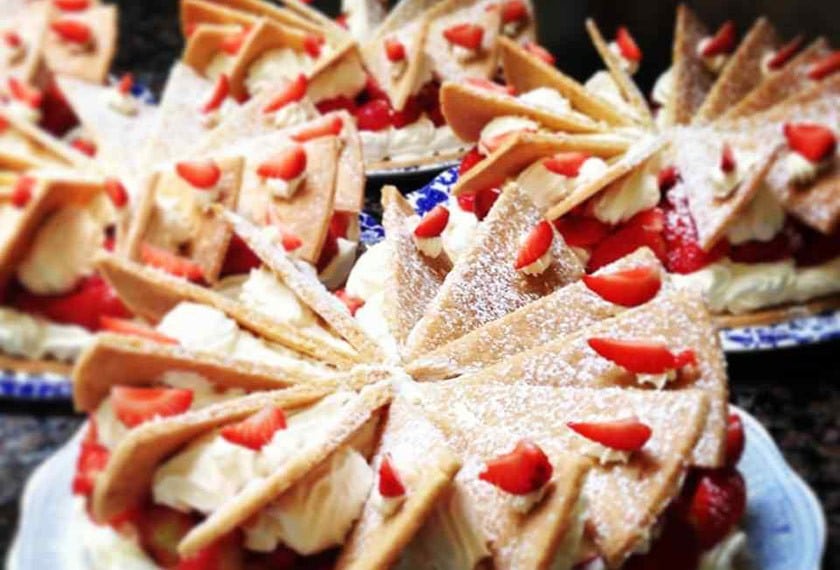 Ingredients
Shortbread:
6 ozs (175g/1 1/4 cups) flour
4 ozs (110g/1 stick) butter
2 ozs (50g/1/4 cup) castor sugar
1/2 lb (225g) strawberries
8 fl ozs (250ml/1 cup) Chantilly cream – whipped sweetened cream
1 teaspoon icing sugar
1/4 teaspoon pure vanilla extract
Garnish:
6 – 8 whole strawberries and fresh mint leaves

Method
Rub the butter into the flour and castor sugar as for shortcrust pastry. Gather the mixture together and knead lightly. Rest for a few minutes if you have time.
Roll out into 2 circles 7 inches (17.5cm) in diameter, 1/4 inch (7mm) thick.
Bake in a preheated moderate oven 180°C/350°F/regulo 4, 15 minutes approx or until pale golden.
Remove and cool on a rack. One circle may be marked with a knife into wedges while still warm, to facilitate cutting later.
Shortly before serving sandwich with chantilly cream and halved sugared strawberries.
Sieve icing sugar over the top and decorate with rosettes of cream, whole strawberries and fresh mint leaves.
Note: Individual strawberry shortcakes may be made with 3 inches (7.5cm) discs of shortbread.
Cut the strawberries lengthways and brush with red currant jelly if available.

You may also like
Rhubarb Martini

What a delight to see rhubarb fabulously starting to make its presence known in the garden. As we are leaving our caves, and with more sunny days, we decided to share this easy and seasonal drink with you.