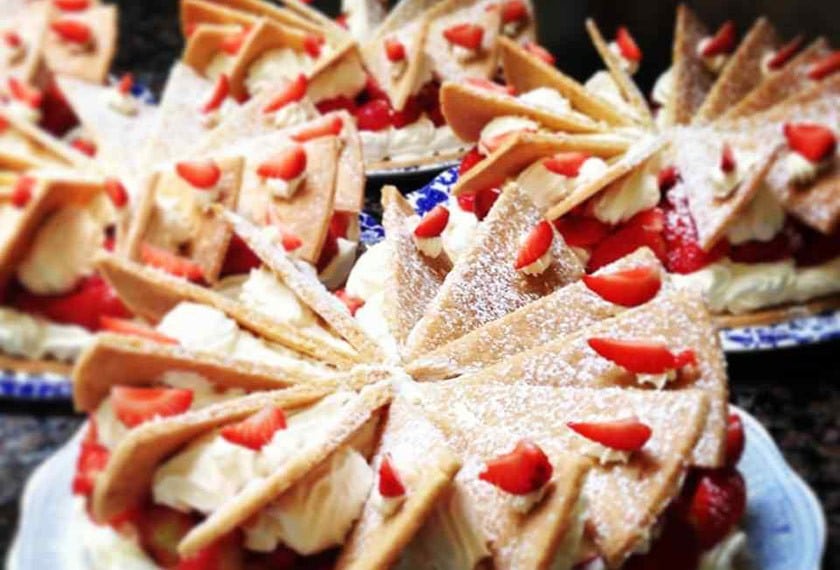 Ingredients
Shortbread:
6 ozs (175g/1 1/4 cups) flour
4 ozs (110g/1 stick) butter
2 ozs (50g/1/4 cup) castor sugar
1/2 lb (225g) strawberries
8 fl ozs (250ml/1 cup) Chantilly cream – whipped sweetened cream
1 teaspoon icing sugar
1/4 teaspoon pure vanilla extract
Garnish:
6 – 8 whole strawberries and fresh mint leaves
Method
Rub the butter into the flour and castor sugar as for shortcrust pastry. Gather the mixture together and knead lightly. Rest for a few minutes if you have time.
Roll out into 2 circles 7 inches (17.5cm) in diameter, 1/4 inch (7mm) thick.
Bake in a preheated moderate oven 180°C/350°F/regulo 4, 15 minutes approx or until pale golden.
Remove and cool on a rack. One circle may be marked with a knife into wedges while still warm, to facilitate cutting later.
Shortly before serving sandwich with chantilly cream and halved sugared strawberries.
Sieve icing sugar over the top and decorate with rosettes of cream, whole strawberries and fresh mint leaves.
Note: Individual strawberry shortcakes may be made with 3 inch (7.5cm) discs of shortbread.
Cut the strawberries lengthways and brush with red currant jelly if available.

You may also like
Simnel Cake

Ballymaloe House is home to the cooking dynasty of the Allen family, so you know you are in for a gastronomic treat when you dine here. This elegant country house has all the elements you will need to enjoy a relaxing full of great hospitality and of...

Traditional Roast Beef Dinner

The suburbs of Cork City are home to a little secret. Located near Douglas, just a short drive from the centre of the Rebel City, Maryborough Hotel and Spa is set in a private estate of mature grounds and gardens. You can sense the 300 years of history...