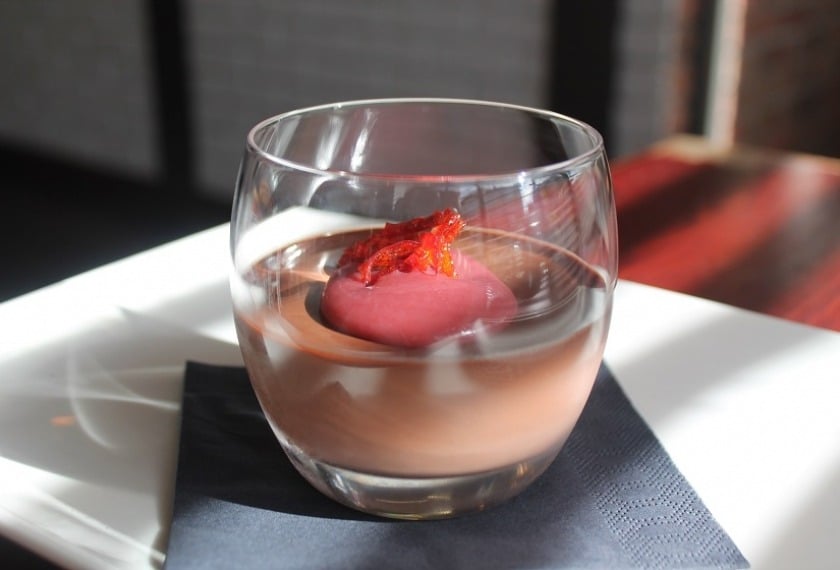 Ingredients
600ml fresh Wexford cream
400ml of Wexford milk
120g castor sugar
100gm cocoa powder
1 tsp of chilli powder
6 gelatine leaves
Raspberry curd
240g Irish butter
200g castor sugar
220g of Wexford raspberries blended and strained to remove seeds
4 egg yolks
Candied chilli
½ cup of water
½ cup sugar
1 red chilli de-seeded
Method
Soak gelatine in cold water for about 5 mins.
Mix the cream, milk, sugar, cocoa & chilli powder together, bring to the boil, take off heat and add the softened gelatine, poor in to glasses or moulds, and leave to cool then refrigerat
Raspberry Curd:
Blend raspberries, drain through a muslin cloth or fine strainer. Mix the egg yolks sugar & raspberry puree together simmer until it begins to thicken remove from heat add the butter, leave to cool & set.
Candied Chilli :
Mix water & sugar together bring to the boil over a high heat to make sugar syrup add the strips of chilli and simmer for 5 mins. Remove chilli from the syrup leave to cool on baking paper till cool & crisp.

You may also like
New Season Irish Carrot Cake

International Guest Chef Fred Cordonnier. Recipe baked by Aisling Boggan from team Good Food Ireland.