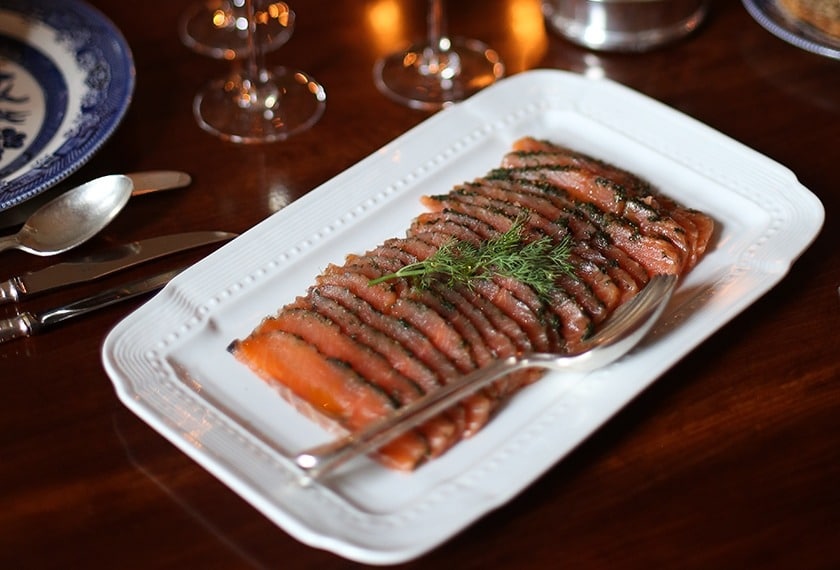 Ingredients
2 sides of salmon (organic or wild) with the skin on.
10 dried juniper berries.
5cl Bertha's Revenge gin.
2 teaspoons Maldon sea salt.
2 tablespoons sugar.
2 teaspoons of freshly ground pepper.
4 tablespoons chopped fresh dill
Dill-Mustard Sauce Ingredients:
1 large egg yolk
2 tablespoons of French mustard
1 tablespoon white sugar
1/4 pint sunflower oil
1 tablespoon white wine vinegar
salt/pepper
Method
Using a pestle and mortar, crush the juniper berries and then all the gin to make a paste.
In a separate bowl, mix the salt, sugar, pepper and dill together.
Lay out one side of salmon on clingfilm and spread on the gin and juniper paste.
Next, sprinkle the salt and sugar mixture over the paste, ensuring it is evenly coated.
Please the other side of salmon on top of the salmon with the cure, like a sandwich, skin side up.
Wrap all the salmon well in the clingfilm, do this twice to make it tighter and to avoid any leakage. Place in a container and refrigerate.
Turn the salmon gravlax over every day for 3 days. It will be ready on day 4.

You may also like
New Season Irish Carrot Cake

International Guest Chef Fred Cordonnier. Recipe baked by Aisling Boggan from team Good Food Ireland.