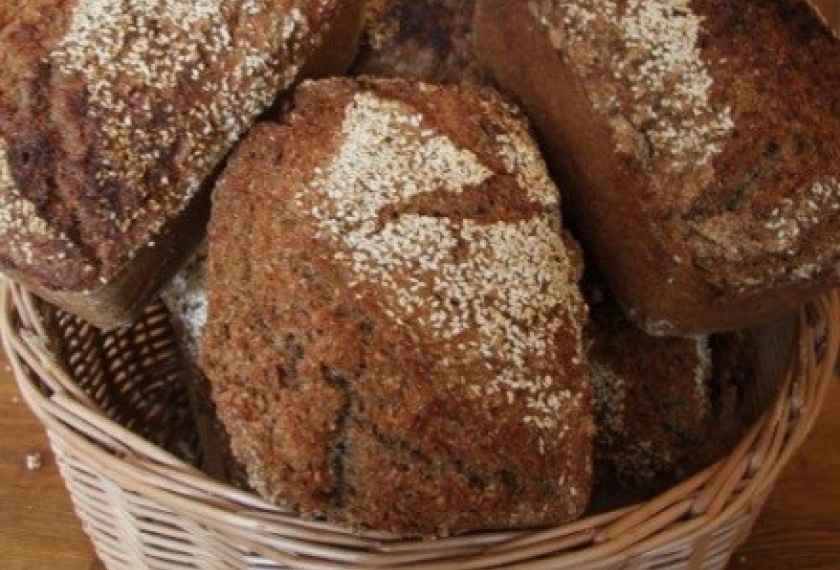 Ingredients
20g Fresh Yeast
1 generous teaspoon of treacle
1/2 pint luke warm Black Rock Stout
500g Wholemeal Flour (250g Coarse and 250g Extra Coarse)
1 teaspoon of salt
1/4 pint approx of lukewarm water
Sesame seeds
2 lb loaf tin (brushed melted butter or oil and lined with white flour)
Method
Turn oven to 200 degrees for a fan oven or 220 for a conventional oven.
Crumble the yeast into a container. Spoon in the treacle (leave the spoon in). Add a 1/4 pint of lukewarm water. The water should be above body temperature (if it's too hot you will kill the yeast). Leave aside for ten minutes, while the yeast is activated by the warmth and feeds off the treacle.
Heat the Black Rock Stout on the hob, being careful not to boil it. Should be above lukewarm.
While this is heating, you can measure out the flour and salt into a large bowl. Mix with your hand, making a hole in the centre. After ten or so minutes the yeast mixture should be frothing at the top. Now stir this mixture vigorously and pour into the hole in the centre of the flour. Pour the Black Rock Stout into bowl.
Now it's time to get sticky. Using your hand in a circular motion from the centre, mix the flour with the liquid. Mix well being sure not to leave any dry flour. The mixture should be like wet cement. Pour into the buttered and floured loaf tin. Sprinkle with sesame seeds (a mixture of black and white sesame seeds looks great). Fennel seeds work well too.
Allow to rise in the heat of the kitchen for five to ten minutes, 'til the dough is nearly level with the lid of the tin.
Place in the oven for forty minutes. Cook for a further five minutes out of the tin.

You may also like
Simnel Cake

Ballymaloe House is home to the cooking dynasty of the Allen family, so you know you are in for a gastronomic treat when you dine here. This elegant country house has all the elements you will need to enjoy a relaxing full of great hospitality and of...

Traditional Roast Beef Dinner

The suburbs of Cork City are home to a little secret. Located near Douglas, just a short drive from the centre of the Rebel City, Maryborough Hotel and Spa is set in a private estate of mature grounds and gardens. You can sense the 300 years of history...