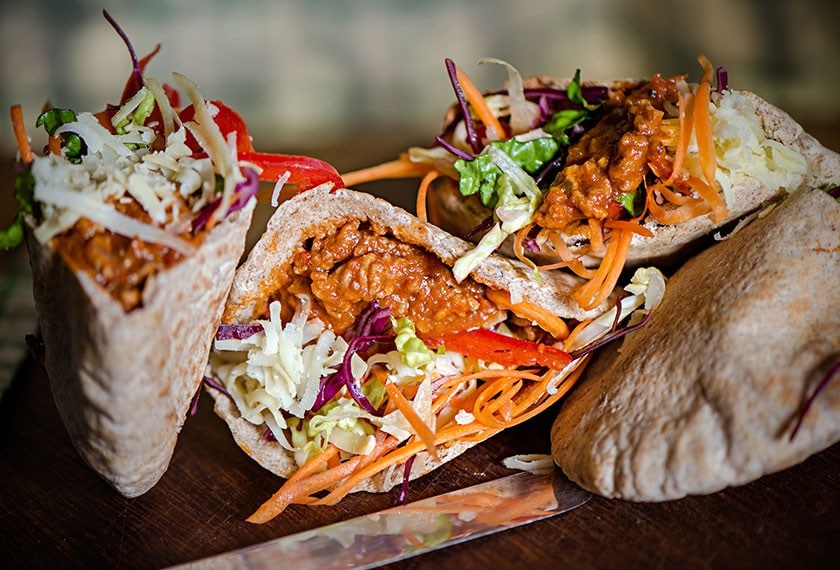 Ingredients
Bolognese Pita Pockets with Shredded Lettuce, Red Pepper & Grated Cheese:
1 x 380g Bolognese Sauce
A little olive oil
225g lean minced beef
4 whole-wheat pitas
Shredded cos or iceberg lettuce
1 red pepper, finely sliced
A little mature cheddar cheese

Method
This is a quick and easy after-work or school idea, fill the pitas with Bolognese, shredded lettuce, red pepper and a sprinkling of cheddar. Try adding grated carrot for crunch and a little jalapeno for an extra kick.
Heat a little olive oil and cook the mince through in a saucepan on the hob, add the Bolognese Pasta Sauce and stir until bubbling. Toast the pitas. To create the pita pockets, open the pitas and add a little of all the fillings. Experiment with different fillings, Bolognese is great with a whole array of veg.
Visit Our Shop

You may also like
Irish Seafood Chowder

Bill Kelly is the fourth generation to head up this hotel, and we think it really sums up Rosslare. It has been such an integral part of this beachside location and now International Europort since 1895, that to imagine the place without it is unthinkable....

Tips for Cooking Irish Hereford Prime Steak

Farmer-led and owned, Irish Hereford Prime was founded in 1997 with the aim of promoting Irish Hereford Beef as a premium brand associated with quality and produced with sustainable methods. Since is formation, Irish Hereford Prime has gained a reputation...