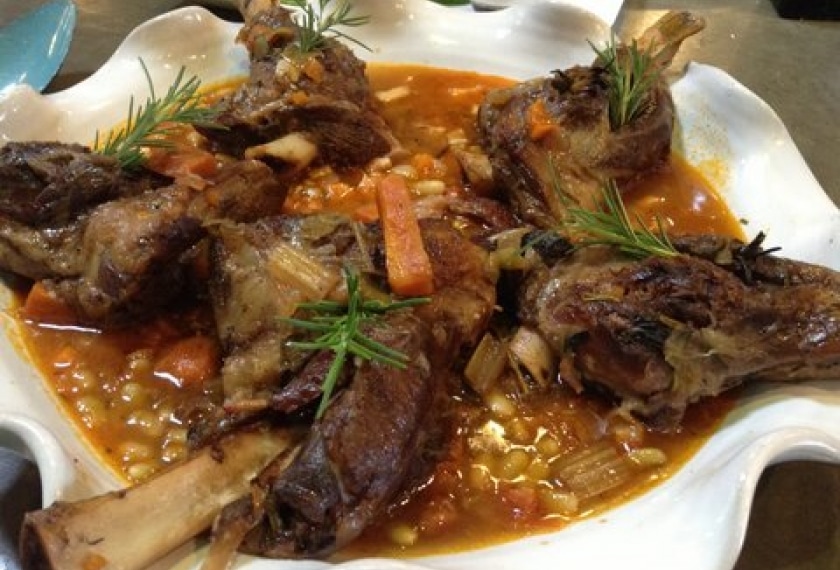 Ingredients
6 lamb shanks,1 kg approx.
12 small sprigs of rosemary
12 slivers garlic
8 anchovy fillets, halveds
salt and freshly ground black pepper
Braising Ingredients:
1 oz (25g) goose fat or duck fat or olive oil
2 carrots, roughly chopped
2 celery stalks, roughly chopped
1 leek, roughly chopped
1 onion, roughly chopped
1 head garlic, halved horizontally
7 fl ozs (200ml/scant 1 cup) bottle good red wine
5 fl ozs (150ml/generous 1/2 cup) chicken or lamb stock
1 sprig of thyme
2 sprigs of rosemary
2 bay leaves
2 strips of dried orange peel
Garnish sprigs of rosemary and garlic
Sauce:
4 oz (110g) streaky bacon, cut into lardons and blanched
2 tablespoons (2 American tablespoons + 2 teaspoons) extra virgin olive oil
1/2 carrot, finely diced
1/2 celery stalk, finely diced
1/2 onion, finely diced
6 cloves garlic
4 very ripe tomatoes, peeled and diced or 1/2 x 14 oz tin of tomatoes + juice
2 sprigs of thymeleaves from 2 sprigs of rosemary, chopped
1 x 14oz (400g) tin flageolet beans, drained or 4-7 oz (110-200g) dried flageolet beans, soaked overnight and then boiled rapidly for 20 minutes
Method
Preheat the oven to 150ºC/300ºF/Gas Mark 2.
Remove most of the fat from each shank, then scrape the meat away from the bone to loosen it. Make 2 deep incisions in each joint and insert a sprig of rosemary and a sliver of garlic wrapped in half an anchovy fillet into each incision. Season the meat with salt and black pepper. Heat the goose fat in a heavy sauté pan or casserole and sauté the meat in it until well browned on all sides.
Remove the meat from the pan. Add the carrots, celery, leeks, onion and garlic and cook over a high heat until well browned. Add the red wine to the pan and bring to the boil, stir for a minute or two. Add the chicken stock, herbs and orange peel to the pan, then place the lamb shanks on top. Cover and cook in the oven for 4 hours.
Meanwhile, make the sauce. Heat the olive oil in a saucepan and brown the bacon in it. Then reduce the heat and add the carrot, celery, onion and garlic and cook for 8 minutes approx. or until the vegetables have softened. Add the chopped tinned tomatoes, herbs, flageolets and enough stock to half cover the beans.
Cover and simmer for 45 minutes – 1 hour. When the lamb has finished cooking, remove the thyme, bay leaves and orange peel.
Taste and correct seasoning. Serve the lamb shanks on a hot deep dish with the beans and vegetables poured over and around. Garnish with sprigs of fresh rosemary and thyme.

You may also like
Simnel Cake

Ballymaloe House is home to the cooking dynasty of the Allen family, so you know you are in for a gastronomic treat when you dine here. This elegant country house has all the elements you will need to enjoy a relaxing full of great hospitality and of...

Traditional Roast Beef Dinner

The suburbs of Cork City are home to a little secret. Located near Douglas, just a short drive from the centre of the Rebel City, Maryborough Hotel and Spa is set in a private estate of mature grounds and gardens. You can sense the 300 years of history...