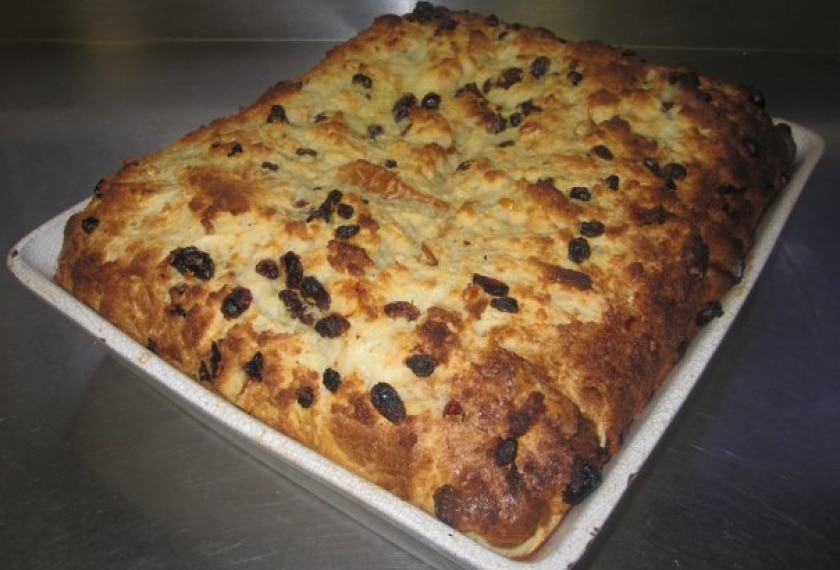 Ingredients
1 White Sliced Pan, 1-2 days old
8 eggs, whisked
1 l milk or 3/4 l milk, 1/4 l cream
200g white sugar
100g butter
100g mixed dried fruit
Method
Tear up the bread by hand (always a nice stress reliever).
Put all of the ingredients, into a large bowl and mix thoroughly.
Now if you have a wet gloopy mixture which looks like it could never amount to much then it's perfect.
Pour into high sided oven tray. Allow to rest for half an hour.
Half fill a bigger oven tray with water and place the tray of Bread Pudding into it (the water evaporates in the oven and keeps the pudding from drying out).
Put into an oven at 200°C for about 50 minutes. And hey presto …

You may also like
Realt Na Mara Oysters With Burren Smoked Irish Salmon Purée

This delicious recipe is from Burren Smokehouse a highly acclaimed, award-winning traditional smokehouse located in the Clare village of Lisdoonvarna, close to the Cliffs of Moher.

Spinach & Irish Greek Style Cheese Rolls

This delicious recipe if from McCormack Family Farm, a Father and Sons team with a taste for excellence and passion for produce has excelled in creating a range of products that is both innovative and commercial in nature.