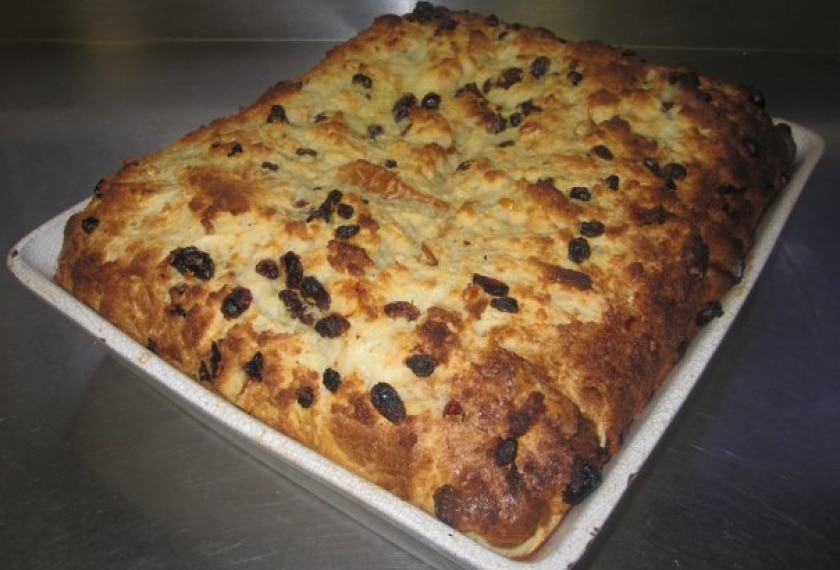 Ingredients
1 White Sliced Pan, 1-2 days old
8 eggs, whisked
1 l milk or 3/4 l milk, 1/4 l cream
200g white sugar
100g butter
100g mixed dried fruit
Method
Tear up the bread by hand (always a nice stress reliever).
Put all of the ingredients, into a large bowl and mix thoroughly.
Now if you have a wet gloopy mixture which looks like it could never amount to much then it's perfect.
Pour into high sided oven tray. Allow to rest for half an hour.
Half fill a bigger oven tray with water and place the tray of Bread Pudding into it (the water evaporates in the oven and keeps the pudding from drying out).
Put into an oven at 200°C for about 50 minutes. And hey presto …

You may also like
New Season Irish Carrot Cake

International Guest Chef Fred Cordonnier. Recipe baked by Aisling Boggan from team Good Food Ireland.

Greek Yogurt, Lemon Zest and Pistachio Pancakes

Since 1990, the Faughnan family of Dromod, Co. Leitrim have been ensuring the traditional Irish food, boxty remains a key part of Irish food culture with their Dromod Boxty food business.