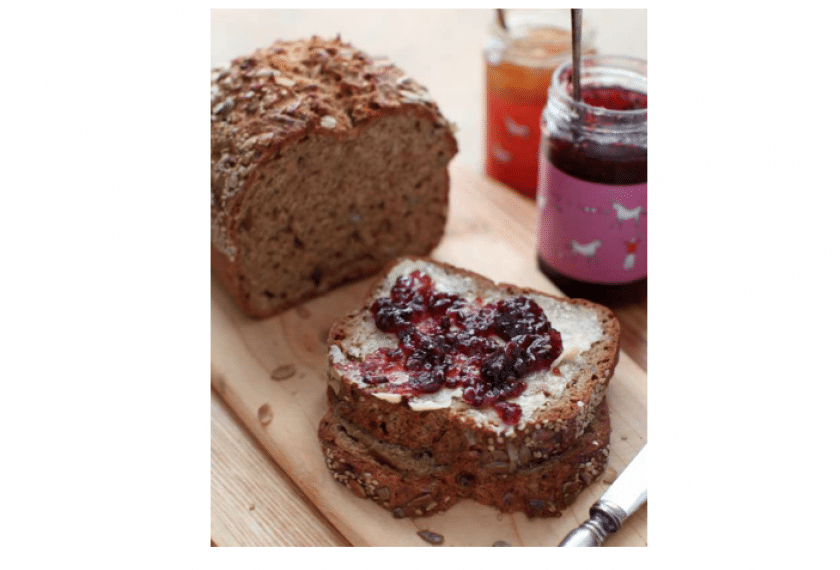 Ingredients
125g strong white flour
125g brown flour
50g sunflower seeds, plus extra for topping
50g sesame seeds, plus extra for topping
50g pumpkin seeds, plus extra for topping
50g pinhead oatmeal
1 tablespoon baking soda
Pinch of salt
20g olive oil
300ml buttermilk
Method
Preheat oven to 180°C/350°F/gas mark 4.
Grease a 900g loaf tin. In a large mixing bowl, combine all the dry ingredients, mixing well. Add the oil and half the buttermilk, stir well to mix and add the rest of the buttermilk bit by bit. You're looking for a moist consistency but don't want it to be too wet or sticky. Transfer the mixture to the greased loaf tin. Score the surface with a sharp knife. (Because we include a little white flour in our recipe, the bread will rise more than traditional soda bread. It needs to be scored to rise evenly.) Scatter the top with extra seeds and bake for about 60 minutes or until a toothpick inserted in the bread comes out clean. Allow to cool a little before transferring to a cooling rack to cool completely.

You may also like
New Season Irish Carrot Cake

International Guest Chef Fred Cordonnier. Recipe baked by Aisling Boggan from team Good Food Ireland.