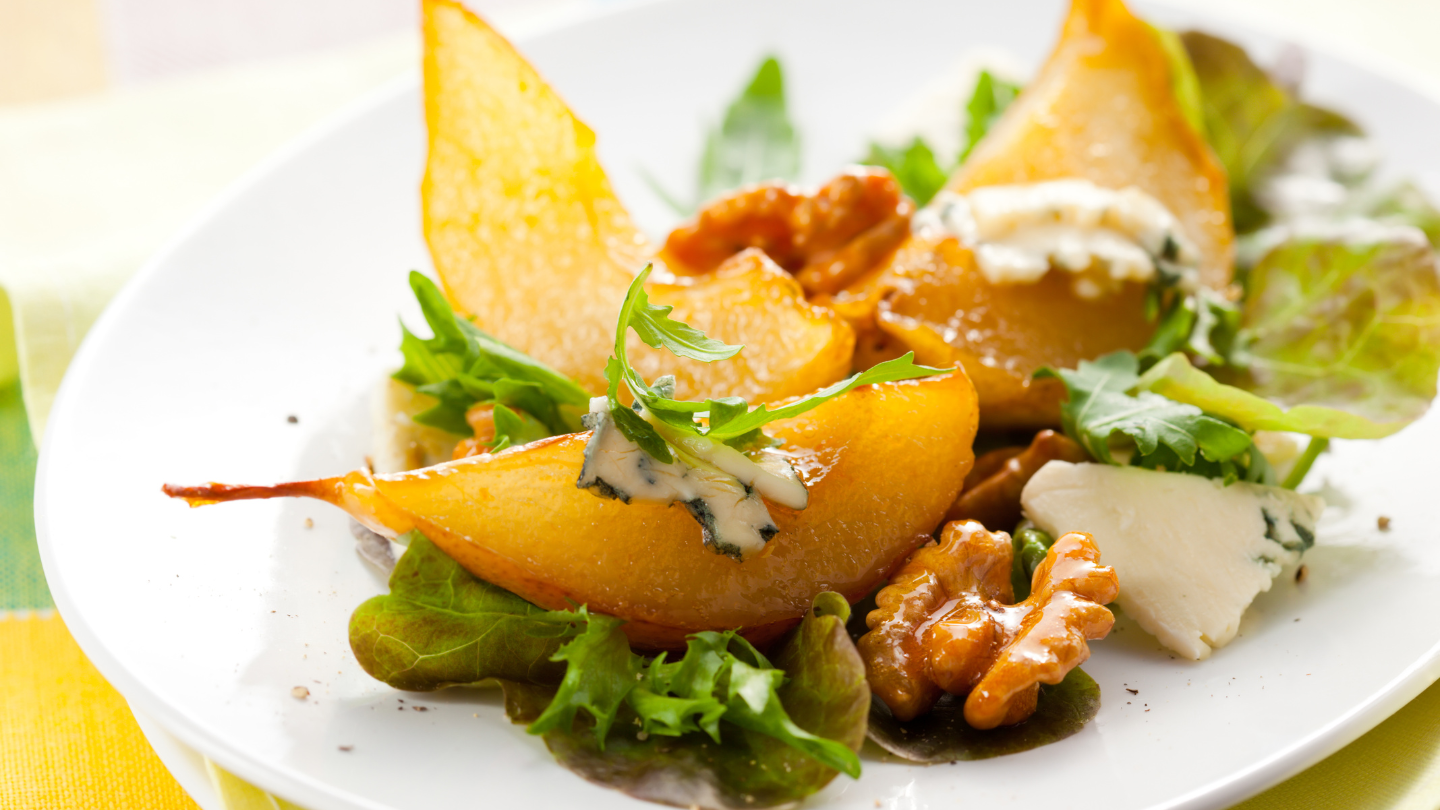 Ingredients
2 pears peeled cored and sliced into wedges (8 per pear)
50g Butter
1 tbsp light brown sugar
100g walnuts or pecans
200g blue cheese/gorgonzola
A generous bowl of mixed baby salad leaves
Fresh coriander leaves
Buy A Voucher
Method
Place the butter and sugar in a wide pan over medium-high heat.
Add pears once sugar is dissolved and reduce heat slightly.
Toss pears around until slightly softened and caramelized to a golden brown.
Remove from the heat and keep warm.
To make the dressing, place the balsamic vinegar in a saucepan with the icing sugar.
Bring to the boil and simmer until reduced, and syrupy. Test by placing a spoonful on a cool plate to see if thickened. Cool slightly before dressing salad.
Toast nuts in an oven at 180C for 7-10minutes, tossing once halfway through.
SERVING:
Arrange a small number of salad leaves on each plate. Place 4 caramelized pear wedges around the leaves then crumble some of the blue cheese/gorgonzola over each. sprinkle over some toasted nuts and fresh coriander leaves and top with a drizzle of balsamic dressing.
Visit Our Shop

You may also like
White Chocolate Soup

Noel McMeel is a chef from Northern Ireland, who is the executive head chef at Lough Erne Golf Resort and Hotel in Enniskillen, County Fermanagh.

Chicken, Mushroom, Potato and Thyme Winter Stew

A perfect, slow-cooked chicken, mushroom, potato and thyme stew recipe, that feeds a party. Consider preparing this hearty dish, full of tender meat pieces and mouth-watering vegetables a day ahead to allow it to develop best, rich flavour.