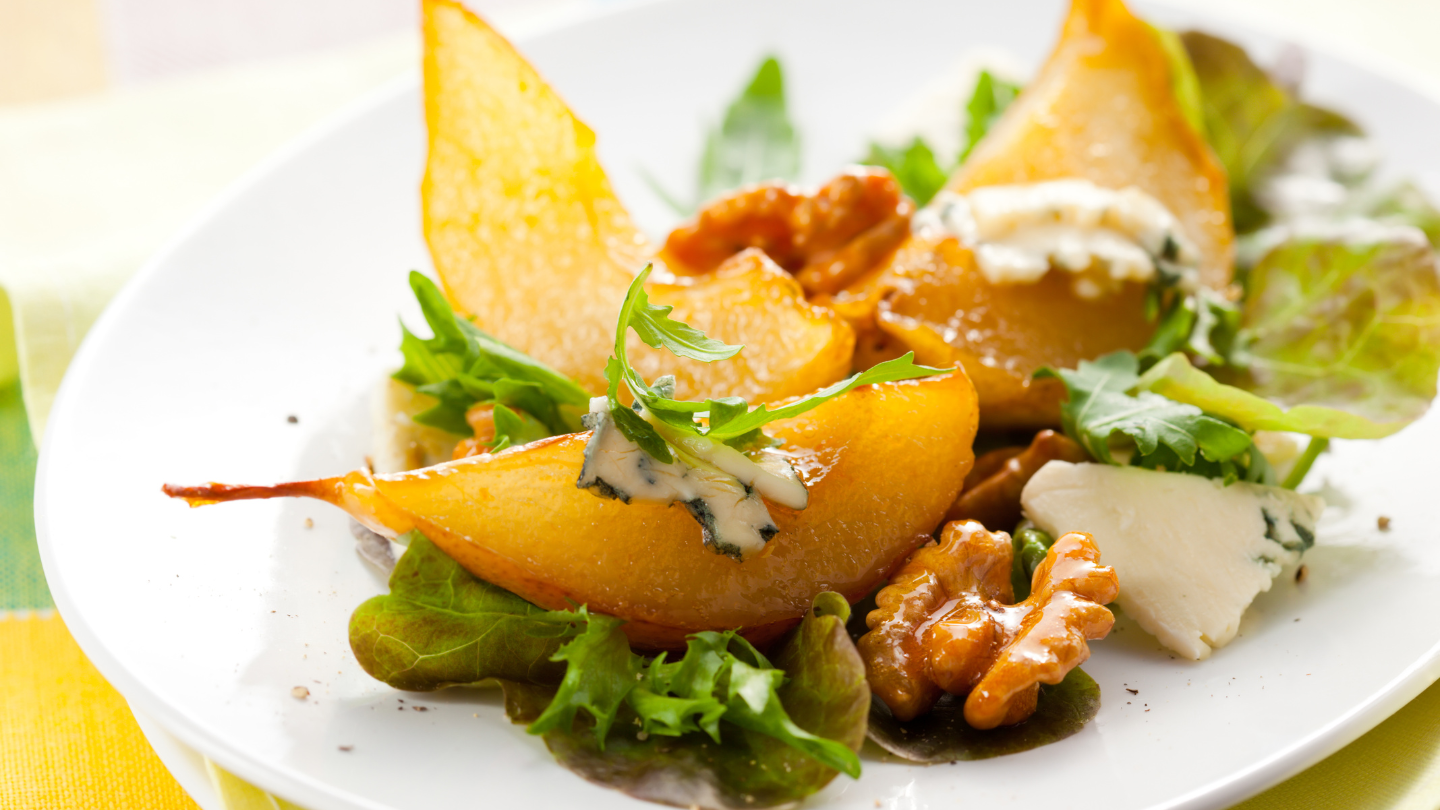 Ingredients
2 pears peeled cored and sliced into wedges (8 per pear)
50g Butter
1 tbsp light brown sugar
100g walnuts or pecans
200g blue cheese/gorgonzola
A generous bowl of mixed baby salad leaves
Fresh coriander leaves
Buy A Voucher
Method
Place the butter and sugar in a wide pan over medium-high heat.
Add pears once sugar is dissolved and reduce heat slightly.
Toss pears around until slightly softened and caramelized to a golden brown.
Remove from the heat and keep warm.
To make the dressing, place the balsamic vinegar in a saucepan with the icing sugar.
Bring to the boil and simmer until reduced, and syrupy. Test by placing a spoonful on a cool plate to see if thickened. Cool slightly before dressing salad.
Toast nuts in an oven at 180C for 7-10minutes, tossing once halfway through.
SERVING:
Arrange a small number of salad leaves on each plate. Place 4 caramelized pear wedges around the leaves then crumble some of the blue cheese/gorgonzola over each. sprinkle over some toasted nuts and fresh coriander leaves and top with a drizzle of balsamic dressing.
Visit Our Shop

You may also like
Raspberry Fool

Irish Raspberry Fool is one of the simplest desserts, made with just 3 ingredients. All you need to do to enjoy this mouthwatering dessert from Ballymaloe Cookery School is to swirl pureed raspberries togheter with fresh whipped cream.

Green Gooseberry and Elderflower Compote

Recipe from Ballymaloe Cookery School. When I'm driving through country lanes in late May or early June, suddenly I spy the elderflower coming into bloom. Then I know its time to go and search on gooseberry bushes for the hard, green fruit, far too...