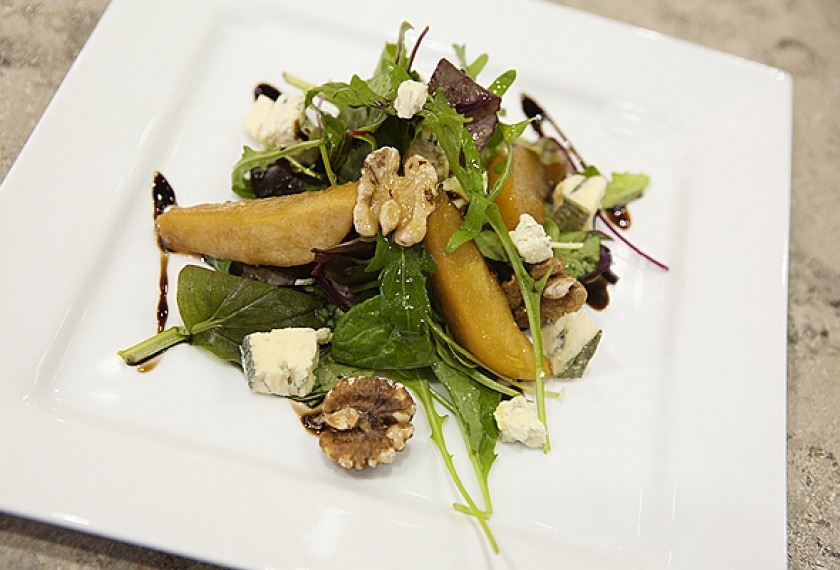 Ingredients
2 pears peeled cored and sliced into wedges (8 per pear)
50g Butter
1 tbsp light brown sugar
100g walnuts or pecans
200g blue cheese/gorgonzola
A generous bowl of mixed baby salad leaves
Fresh coriander leaves
Buy A Voucher
Method
Place the butter and sugar in a wide pan over medium-high heat.
Add pears once sugar is dissolved and reduce heat slightly.
Toss pears around until slightly softened and caramelized to a golden brown.
Remove from the heat and keep warm.
To make the dressing, place the balsamic vinegar in a saucepan with the icing sugar.
Bring to the boil and simmer until reduced, and syrupy. Test by placing a spoonful on a cool plate to see if thickened. Cool slightly before dressing salad.
Toast nuts in an oven at 180C for 7-10minutes, tossing once halfway through.
SERVING:
Arrange a small number of salad leaves on each plate. Place 4 caramelized pear wedges around the leaves then crumble some of the blue cheese/gorgonzola over each. sprinkle over some toasted nuts and fresh coriander leaves and top with a drizzle of balsamic dressing.
Visit Our Shop

You may also like
Realt na Mara Oysters with Mignonette Sauce

Realt na Mara Shellfish was founded in 2015 by Micheál Sugrue and Emmet Casey. From their farm just outside of Killorglin Micheál and Emmet produce a range of high quality Irish Mussels and Irish Oysters. The unique environment lends itself to the...

Realt na Mara Steamed Mussels with White Wine Sauce

Founded in 2015 by Micheál Sugrue and Emmet Casey, Realt na Mara Shellfish produces a delicious range of Cromane Irish Oysters and Cromane Irish Mussels. Nutrients, taste and texture from the MacGillycuddy Reeks and the local Laune, Caragh and Maine...