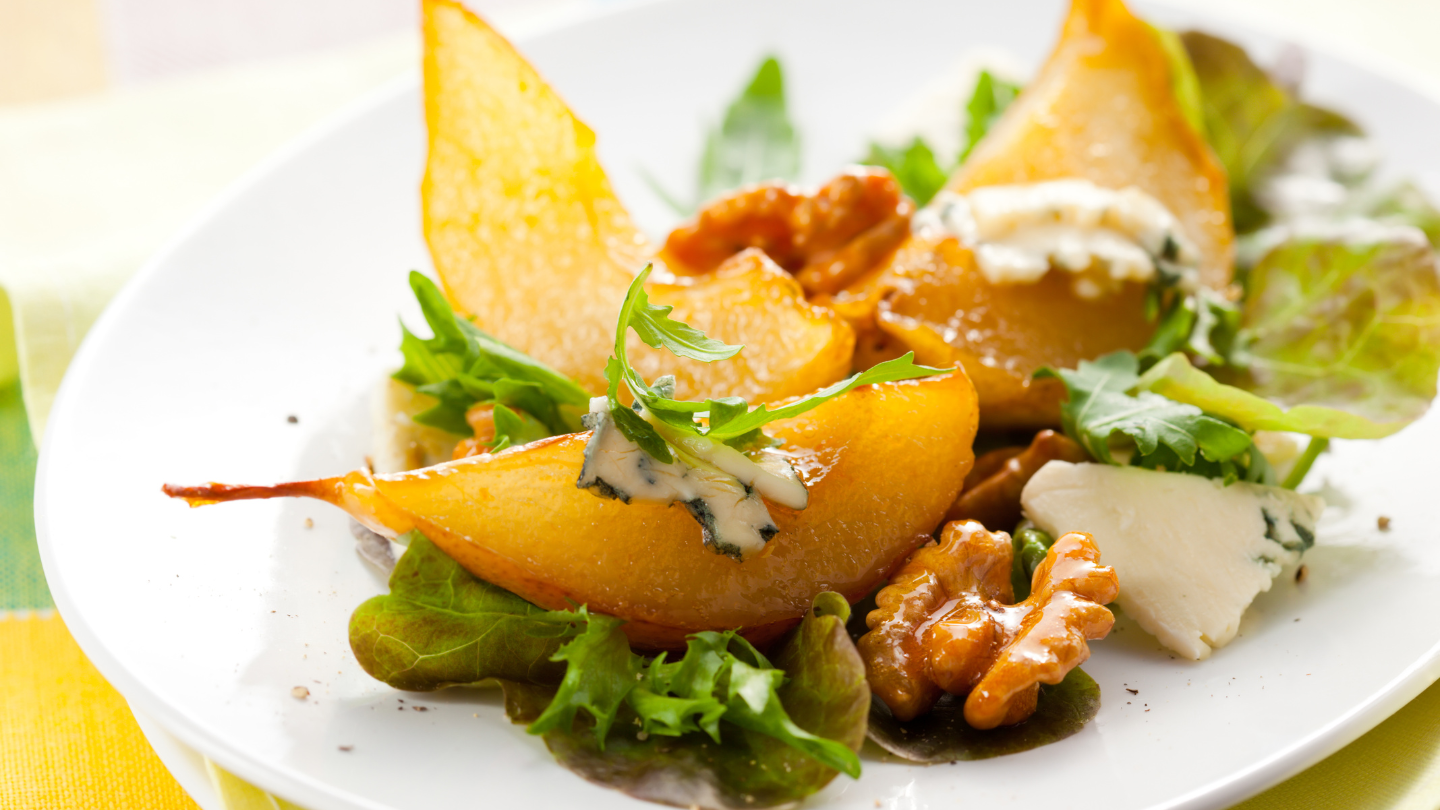 Ingredients
2 pears peeled cored and sliced into wedges (8 per pear)
50g Butter
1 tbsp light brown sugar
100g walnuts or pecans
200g blue cheese/gorgonzola
A generous bowl of mixed baby salad leaves
Fresh coriander leaves
Buy A Voucher
Method
Place the butter and sugar in a wide pan over medium-high heat.
Add pears once sugar is dissolved and reduce heat slightly.
Toss pears around until slightly softened and caramelized to a golden brown.
Remove from the heat and keep warm.
To make the dressing, place the balsamic vinegar in a saucepan with the icing sugar.
Bring to the boil and simmer until reduced, and syrupy. Test by placing a spoonful on a cool plate to see if thickened. Cool slightly before dressing salad.
Toast nuts in an oven at 180C for 7-10minutes, tossing once halfway through.
SERVING:
Arrange a small number of salad leaves on each plate. Place 4 caramelized pear wedges around the leaves then crumble some of the blue cheese/gorgonzola over each. sprinkle over some toasted nuts and fresh coriander leaves and top with a drizzle of balsamic dressing.
Visit Our Shop

You may also like
Irish Seafood Chowder

Bill Kelly is the fourth generation to head up this hotel, and we think it really sums up Rosslare. It has been such an integral part of this beachside location and now International Europort since 1895, that to imagine the place without it is unthinkable....

Tips for Cooking Irish Hereford Prime Steak

Farmer-led and owned, Irish Hereford Prime was founded in 1997 with the aim of promoting Irish Hereford Beef as a premium brand associated with quality and produced with sustainable methods. Since is formation, Irish Hereford Prime has gained a reputation...