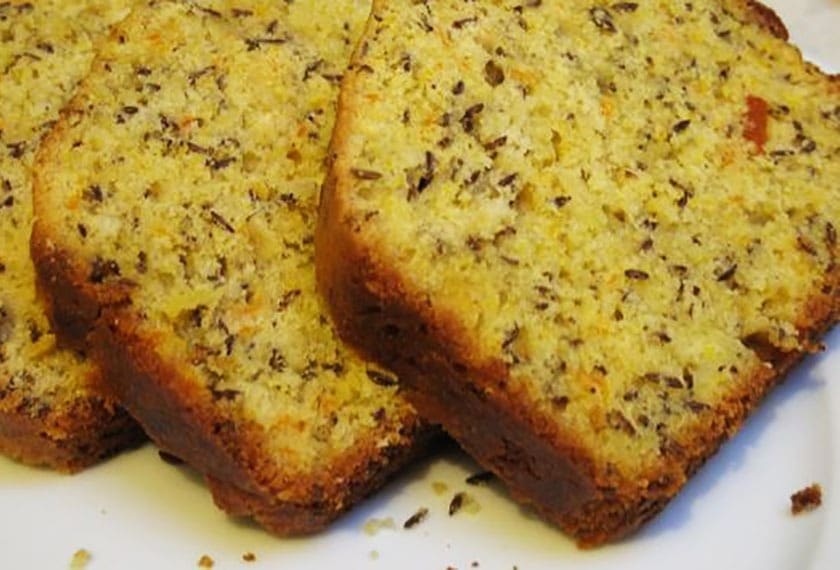 Ingredients
170g Self Raising Flour
170g Butter
170g Caster Sugar
3 Large Eggs
3 Rounded Teaspoons of Caraway Seeds
Method
Pre-heat the oven to 175°C/350°F/Gas 4. Grease an 18cm/7in round cake tin, line the base with greaseproof paper and grease the paper.
Cream the butter and sugar together in a bowl until pale and fluffy. Beat in the eggs, one at a time, beating the mixture well between each one and adding a tablespoon of the flour with the last egg to prevent the mixture curdling.
Sift the flour and gently fold in, with enough milk to give a mixture that falls slowly from the spoon. Fold in the Caraway seeds.
Spoon the mixture into the prepared tin and lightly level the top. Bake on the middle shelf of the oven for 30-40 minutes, or until golden-brown on top and a skewer inserted into the center comes out clean.
Remove from the oven and set aside to cool in the tin for 10 minutes, then turn it out on to a wire rack and leave to cool completely. Serve with some softly whipped cream.

You may also like
Rhubarb and Ginger Crumble

With Rhubarb in season and grown in Renvyle House's Kitchen Garden, this has wonderful flavours and a few levels of crunch with a delicious creamy rhubarb filling. Set on the edge of the Atlantic with its back to the mountains, Renvyle House Hotel is...

Ballymaloe Strawberry Shortcake

It's summer time and nothing evokes summer as much as a strawberry dessert. Myrtle Allen is a national treasure. Everyone who knows anything about proper Irish food knows that. She's a real culinary heroine without whom the food culture of this country...