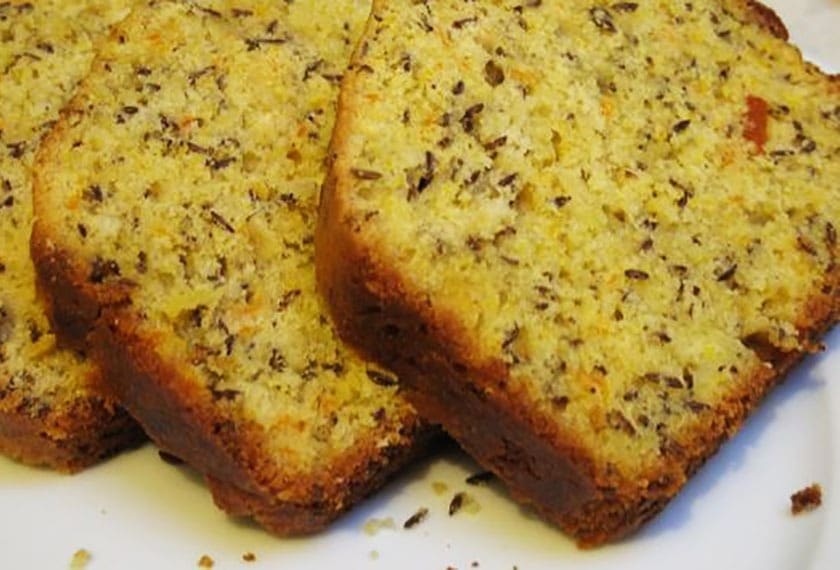 Ingredients
170g Self Raising Flour
170g Butter
170g Caster Sugar
3 Large Eggs
3 Rounded Teaspoons of Caraway Seeds
Method
Pre-heat the oven to 175°C/350°F/Gas 4. Grease an 18cm/7in round cake tin, line the base with greaseproof paper and grease the paper.
Cream the butter and sugar together in a bowl until pale and fluffy. Beat in the eggs, one at a time, beating the mixture well between each one and adding a tablespoon of the flour with the last egg to prevent the mixture curdling.
Sift the flour and gently fold in, with enough milk to give a mixture that falls slowly from the spoon. Fold in the Caraway seeds.
Spoon the mixture into the prepared tin and lightly level the top. Bake on the middle shelf of the oven for 30-40 minutes, or until golden-brown on top and a skewer inserted into the center comes out clean.
Remove from the oven and set aside to cool in the tin for 10 minutes, then turn it out on to a wire rack and leave to cool completely. Serve with some softly whipped cream.

You may also like
Simnel Cake

Ballymaloe House is home to the cooking dynasty of the Allen family, so you know you are in for a gastronomic treat when you dine here. This elegant country house has all the elements you will need to enjoy a relaxing full of great hospitality and of...

Traditional Roast Beef Dinner

The suburbs of Cork City are home to a little secret. Located near Douglas, just a short drive from the centre of the Rebel City, Maryborough Hotel and Spa is set in a private estate of mature grounds and gardens. You can sense the 300 years of history...