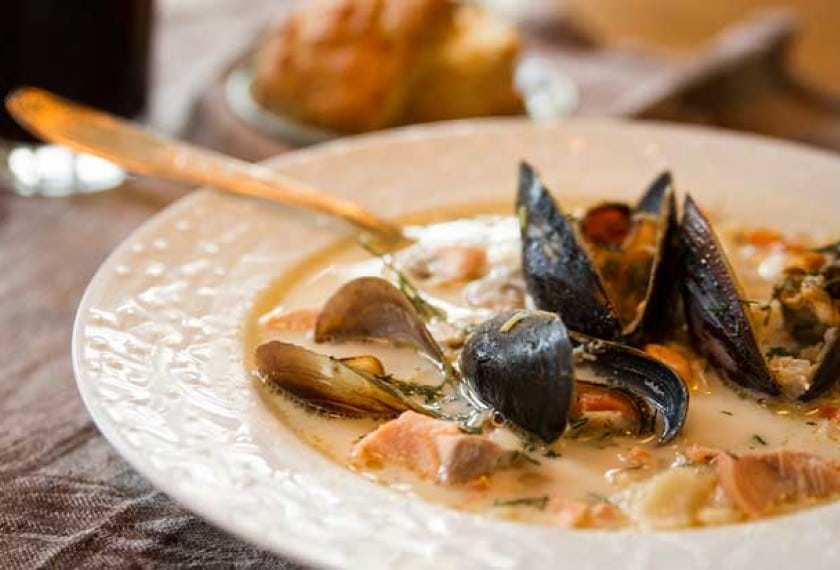 Ingredients
Seafood Chowder:
2 large tablespoons butter
2 medium Onions – finely diced
2 large Carrots – finely diced
4 sticks Celery – finely diced
1 Leek – finely diced
1 ½ Lt Fish Stock
Salt & freshly ground Black Pepper
Juice 1 ½ Lemons
750g Fresh Salmon – diced
500g Mussel Meat
500g Smoked Haddock
1kg Cod or similar white fish
400ml Double Cream
Chopped Dill
Fish Stock Ingredients:
50g Butter
200g Onions
2kg White Fish Bones (preferably sole or turbot)
Juice of ½ Lemon
6 Pepper Corns
1 Bay leaf
Parsley Stalks
5 lt Water
Serve with Cheese and Mustard Scones below:
600g Plain White Floor
135g Butter
350g Mature Cheddar
¾ pt Butter Milk
3 tbls Baking Powder
3 tbls English Mustard Powder
2 pinches Salt
Method
Seafood Chowder:
In a large pot heat the butter and sauté the onions, carrots, celery & leeks for about 5–6 minutes.
Add the fish stock, salt & pepper, gentle simmer for 15 minutes.
Add the haddock, salmon, cod and mussels, gentle simmer for 5 minutes.
Add cream and simmer for 5–6 minutes.
Garnish with chopped dill and serve.
Fish Stock:
Melt butter in a thick bottomed pan.
Add the sliced onion, the well washed fish bones and remainder of the ingredients except water.
Cover with greaseproof paper and a lid and sweat ( cook gently without colouring) for about 5 minutes.
Add the water, bring to boil, skim and simmer for 20 minutes, then strain.
Cheese and Mustard Scones:
Mix all dry ingredients.
Add butter & grated Cheese.
Add buttermilk and mix well.
Knead well and cut to size.
Brush with egg wash and cook for 12/15 minutes at 220°C.
Image Kindly supplied by Susan Holding of littlefrenchbakery.com

You may also like
Simnel Cake

Ballymaloe House is home to the cooking dynasty of the Allen family, so you know you are in for a gastronomic treat when you dine here. This elegant country house has all the elements you will need to enjoy a relaxing full of great hospitality and of...

Traditional Roast Beef Dinner

The suburbs of Cork City are home to a little secret. Located near Douglas, just a short drive from the centre of the Rebel City, Maryborough Hotel and Spa is set in a private estate of mature grounds and gardens. You can sense the 300 years of history...