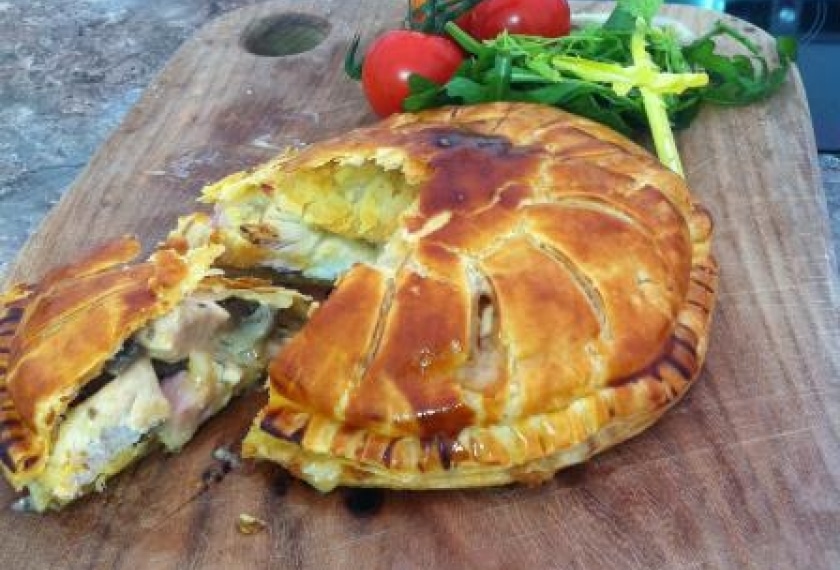 Ingredients
1 ½ cup Cooked Chicken (diced)
½ cup cooked Ham (diced)
50gr Mushrooms (Sliced)
2 tbsp Butter
3 tbsp Flour
1 cup Milk or Cream,
1 Packet rolled puff pastry
1 small bunch parsley
1 egg (for egg wash)
Method
Over a medium heat cook the mushrooms and butter in a heavy based pot. Add the flour and continue cooking for 1 minute. Slowly add the milk or cream, stirring until the mix comes back to boil.
Add the cooked chicken, ham and chopped parsley. Check for Salt & Pepper.
Take 4 bowls and line with cling film. Divide the chicken & ham mixture between the 4 bowls and place in a fridge to set. Once set you are ready to assemble the pies.
Cut 4 smaller discs of puff pastry as bases and 4 larger discs for top. Turn the set chicken & ham mix out and place one on each smaller pastry disc.
Brush the edges with the beaten egg before covering with a larger disc of puff pastry. Using a fork, press or crimp the edges together, brush the top with egg wash before cooking for 20 minutes in a hot oven (gas mark 6).
Serve warm.

You may also like
Rhubarb Martini

What a delight to see rhubarb fabulously starting to make its presence known in the garden. As we are leaving our caves, and with more sunny days, we decided to share this easy and seasonal drink with you.