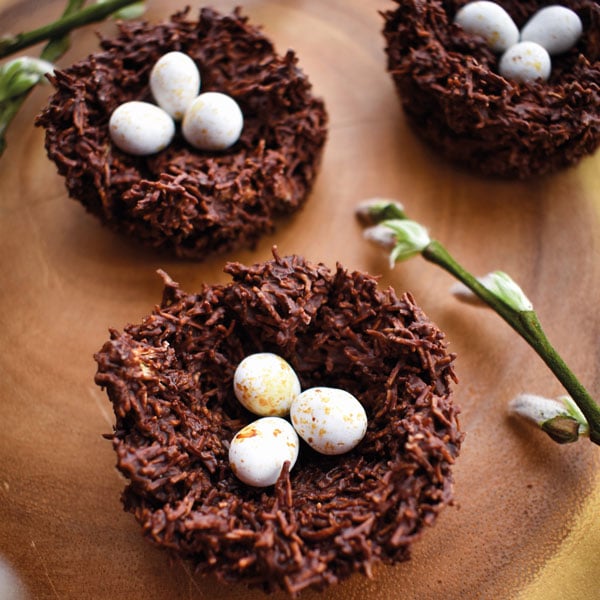 Chocolate Nests taken from Bread and Butter, Cakes and Bakes from Granny's Stove written and photographed by Ciara McLaughlin
Ingredients
200g milk chocolate
90g shredded wheat
1 packet mini sugar eggs (the really mini ones are the most realistic)
After a childhood spent rummaging in the hedgerows, Daddy is now the ultimate bird expert. Many a spring morning he spent ducked in mossy ditches, hopefully awaiting a glimpse of a brooding chaffinch or wren fledglings, and he knows a thing or two about building nests – even ones made of chocolate!

Method
Line a 12-hole baking tin with bun cases.
Melt the chocolate in a heatproof bowl over a pan of simmering water or carefully in the microwave.
In another bowl, bash the pillows of shredded wheat lightly with a rolling pin until broken, but not crushed.
Tip the scraggly strands into the melted chocolate and stir with a metal spoon until fully coated.
Spoon a few heaped teaspoons of the mixture into each bun case and press a small dip in the centre to make the nest. Avoid being overly neat, as you want to give a rugged, built-by-the-beak appearance.
Pop a few tiny sugar eggs into each nest to finish the brood.
Want to try out more delicious recipes from Ciara? Buy her amazing cookbook Bread and Butter, Cakes and Bakes from Granny's Stove. 
BUY NOW
*This Book is available from February 28th 2022

You may also like
Rhubarb Martini

What a delight to see rhubarb fabulously starting to make its presence known in the garden. As we are leaving our caves, and with more sunny days, we decided to share this easy and seasonal drink with you.