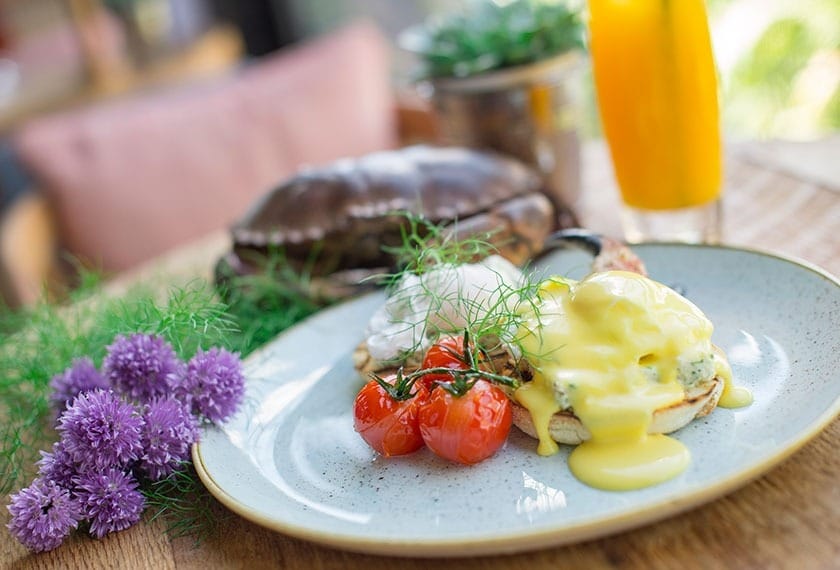 Ingredients
Crab Cakes:
Crab Meat – 0.5kg
Hake Fillets – 0.2kg
Dill – 100g
Yolks – 2
Brea White Sourdough – 100g
Free Range Eggs – 2 each
Hollandaise Sauce:
White Wine Vinegar – 45ml
Egg Yolks – 48ml
Kerrygold Butter – 120g
Table Salt – 6g
Ground White Pepper – 6g
Method
Mousse the hake with egg yolks.
Pick and strain the crab meat.
Add in the mixed herbs and lemon zest.
Then fold in the fish mousse, season with salt and pepper, to form a thick paste.
Form the cakes around @ 35g each (the mix should make 16 cakes).
Place a hot pan, turning, until both sides are golden, finish in the oven.
Poach the eggs and grill the bread at this stage.
Once cakes and eggs are ready place the bread on the plate, put on the crab cakes, top with the poached eggs and cover with hollandaise sauce.
Serve immediately.

You may also like
Simnel Cake

Ballymaloe House is home to the cooking dynasty of the Allen family, so you know you are in for a gastronomic treat when you dine here. This elegant country house has all the elements you will need to enjoy a relaxing full of great hospitality and of...

Traditional Roast Beef Dinner

The suburbs of Cork City are home to a little secret. Located near Douglas, just a short drive from the centre of the Rebel City, Maryborough Hotel and Spa is set in a private estate of mature grounds and gardens. You can sense the 300 years of history...