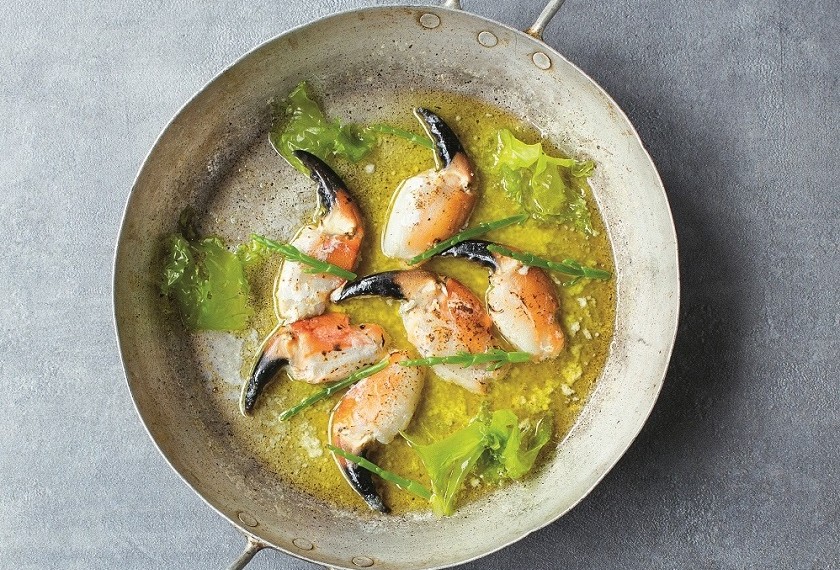 Ingredients
35 g/11⁄4 oz (2 tablespoons) butter
12 cooked crab claws, shells removed
Seaweed Vinegar (see page 352) or apple cider vinegar, to taste
50 g/2 oz (⁄1 3cup) samphire (sea beans)
25 g/1 oz (1⁄4 cup) fresh sea lettuce
Sea Salt
Method
Melt the butter in a large pan over a medium heat. When it starts to foam, reduce the heat, add the crab claws and heat for 3–5 minutes until the crab claws are warmed through.
Season with sea salt and Seaweed Vinegar.
Place the crab claws on a platter and garnish with the samphire (sea beans) and sea lettuce.
Credit: The Irish Cookbook by Jp McMahon is published by Phaidon. Photography & Styling: Anita Murphy and Zania Koppe

You may also like
Simnel Cake

Ballymaloe House is home to the cooking dynasty of the Allen family, so you know you are in for a gastronomic treat when you dine here. This elegant country house has all the elements you will need to enjoy a relaxing full of great hospitality and of...

Traditional Roast Beef Dinner

The suburbs of Cork City are home to a little secret. Located near Douglas, just a short drive from the centre of the Rebel City, Maryborough Hotel and Spa is set in a private estate of mature grounds and gardens. You can sense the 300 years of history...