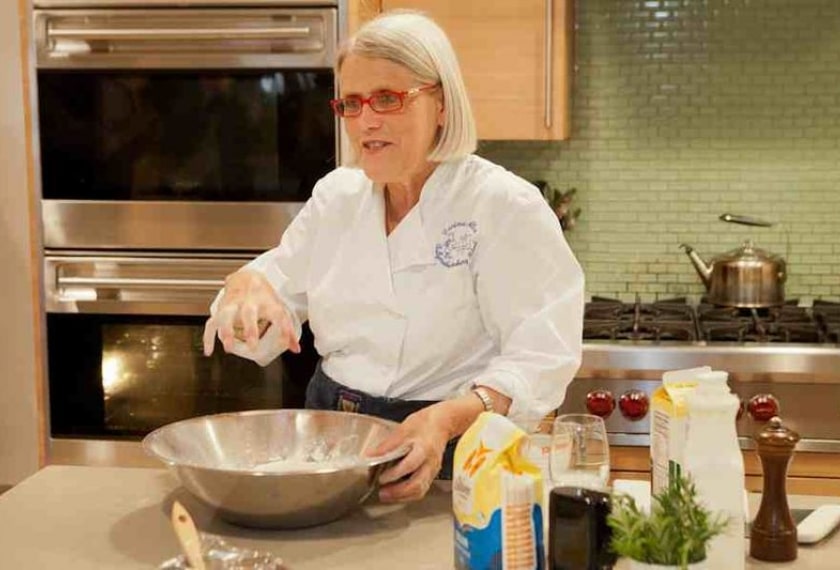 Ingredients
175g white flour
good pinch salt
2 large eggs and 2 egg yolks
200ml water
225ml milk (you could use 425ml milk instead of adding water)
6-8 teaspoons melted butter
Method
Place the flour in a bowl and add in the salt. Lightly beat the eggs in a separate bowl with the egg yolks.
Mix the milk and water together in a jug. Make a well in the centre of the flour and pour in the beaten eggs.
Using a whisk begin to draw in the flour from the edges. Gradually begin to add the milk/water a bit at a time continuing to whisk until a smooth batter is formed.
When you have whisked the batter enough, bubbles should be forming on the top of the batter. Place the batter in the fridge for at least 30 minutes to an hour.
When you are ready to begin cooking, heat a non-stick frying pan over a high heat on the hob. Melt the butter and stir it into the batter. Lift the pan off the heat and use a ladle to pour a thin layer of batter onto the pan swirling the pan so that the batter spreads out. Place the pan back on the heat and cook until the edges are starting to crisp up and little bubbly air marks appear in the batter. Use a spatula to turn the pancake over and the second side will cook even faster so be vigilant. You can stack the pancakes one on top of another on a plate as you cook them and they will peel apart easily later.
Tip from Darina Allen is invaluable : add 6-8 teaspoons of melted butter to the batter just before you cook the pancakes. This means that you do not need to oil or butter the pan in between making pancakes and speeds up the whole process.
Serves: 12 Pancakes

You may also like
Rhubarb Martini

What a delight to see rhubarb fabulously starting to make its presence known in the garden. As we are leaving our caves, and with more sunny days, we decided to share this easy and seasonal drink with you.