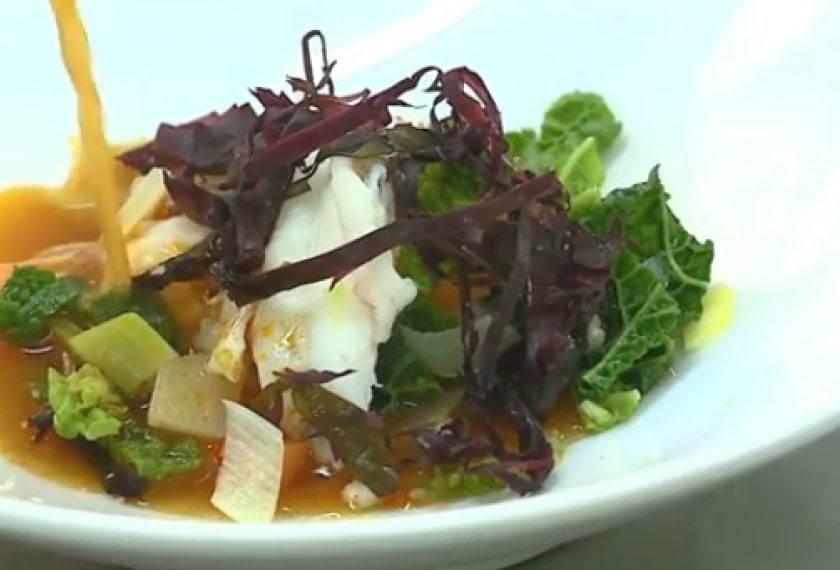 Ingredients
1kg Dublin Prawn Prawns
300g Onions
100g Carrots
100g Celery
100g Leeks
20g Garlic
80g tomato puree
1 Litre Fish stock
25ml Brandy
Vegetable oil
Garnish:
15g Diamonds of Leek (blanched)
15g Diamonds of Carrots (blanched)
15g of Dillisk Seaweed blanched and chopped
10g cooked Pearl Barley
20g chopped flat parsley
Peeled Prawn Tails (3 per portion)
Method
Peel the Dublin Bay Prawns and keep all the shells and heads. (Keep the raw tails in fridge until later).
Heat a large heavy-bottomed pan until very hot, then add the oil. When the oil is very hot add the prawn shells, and stir until golden brown. Add the vegetables (from the main list of ingredients only) and tomato puree and cook for 5 minutes. Add the brandy and tilt the pan to ignite. When the flames have died down, pour in the fish stock and simmer for no longer than 20-30 minutes. Pass through a fine sieve and season to taste. The prawn stock is ready to use now or cool then reheat thoroughly when serving.
Presentation: Gently poach the prawn tails in a little of the stock. Reheat the leek, carrots, seaweed and barley in remaining stock. Divide the prawns and garnish amongst the four bowls. Pour the remainder of the stock over and serve sprinkled with parsley.

You may also like
Realt na Mara Oysters with Mignonette Sauce

Realt na Mara Shellfish was founded in 2015 by Micheál Sugrue and Emmet Casey. From their farm just outside of Killorglin Micheál and Emmet produce a range of high quality Irish Mussels and Irish Oysters. The unique environment lends itself to the...

Realt na Mara Steamed Mussels with White Wine Sauce

Founded in 2015 by Micheál Sugrue and Emmet Casey, Realt na Mara Shellfish produces a delicious range of Cromane Irish Oysters and Cromane Irish Mussels. Nutrients, taste and texture from the MacGillycuddy Reeks and the local Laune, Caragh and Maine...