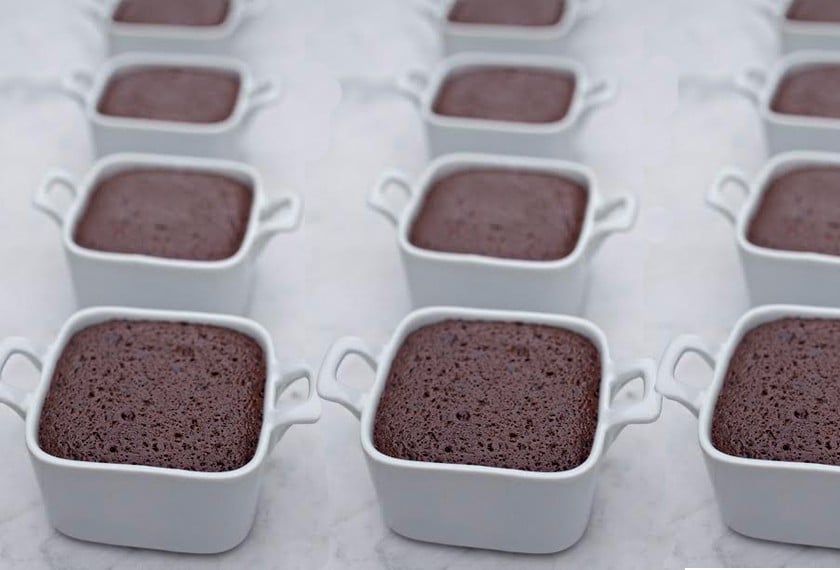 Ingredients
Equipment: 6 Ramekins
Equipment: 6 Ramekins
Preheat the oven to 160°C, 140°C Fan, 325°F, Gas 3.
160g dark chocolate, finely chopped
4 tbsp water
3 large eggs at room temperature
40g caster sugar
whipped cream or vanilla ice cream to serve
0˚C Fan, 325˚F, Gas 3.
Method
Place the chocolate and water in a heat proof bowl. Melt in the microwave on 600W for 1 minute and in short bursts after that. Stir each time you remove the bowl from the microwave. Alternatively, melt the chocolate in a bowl set over a saucepan of barely simmering water, stirring every so often. Remove as soon as the chocolate is fluid and allow to cool a little.
Place the eggs and sugar in a bowl and beat with an electric whisk or in a stand mixer (which will give more volume.) Whisk the eggs until tripled in volume. Fold a little of the egg mixture into the chocolate. Pour the chocolate mixture back into the whipped eggs and sugar and fold the two together. Pour the mixture into the ramekins and fill almost to the top. The chocolate pots may be made up to this point in advance and refrigerated, covered, for up to 2 days.
Place the chocolate pots in the ovenproof dish and pour boiling water to come half way up the ramekins. Place in a preheated oven and cook for about 14 or 15 minutes if they have been cooked from room temperature, 20 minutes if previously refrigerated. The pots should be soft and mousse-like. Serve while still warm topped with some whipped cream or ice cream.

You may also like
Simnel Cake

Ballymaloe House is home to the cooking dynasty of the Allen family, so you know you are in for a gastronomic treat when you dine here. This elegant country house has all the elements you will need to enjoy a relaxing full of great hospitality and of...

Traditional Roast Beef Dinner

The suburbs of Cork City are home to a little secret. Located near Douglas, just a short drive from the centre of the Rebel City, Maryborough Hotel and Spa is set in a private estate of mature grounds and gardens. You can sense the 300 years of history...