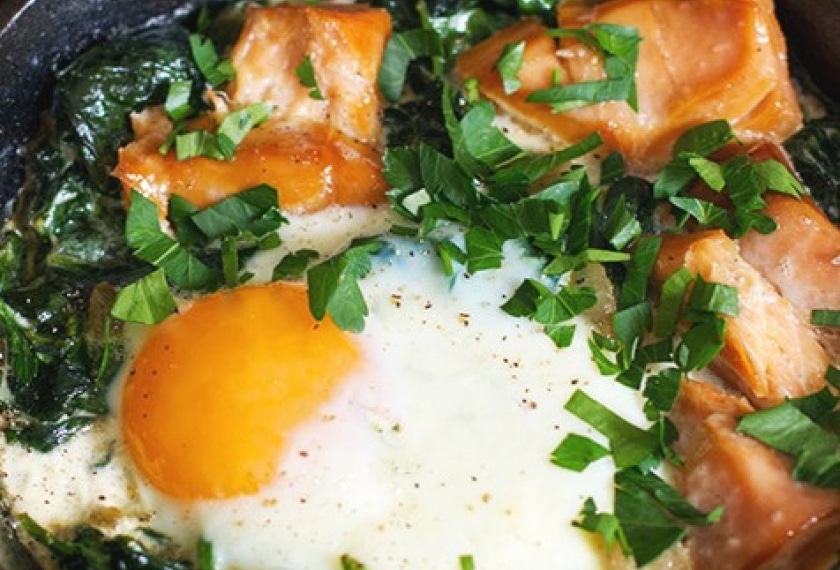 Ingredients
2 tblsp olive oil, divided among the four pans
2 tblsp unsalted butter
1 medium leeks trimmed, halved, and cut crosswise into half moons
10oz / 280g baby spinach (about 10 cups)
4oz / 110g Burren hot smoked Irish Organic Salmon, flaked into small pieces
4 large eggs
1/4 cup / 60ml heavy cream
1 tblsp finely chopped fresh parsley, chives, or dill
Buttered toast for serving
Method
Heat oven to 350°F / 180°C and arrange a rack in the middle.
Prepare 4 (6 to 9 inch / 15 to 22 cm) cast iron skillets by drizzling 1 of the tablespoons of oil between them and turning to coat the insides.
Heat remaining oil and butter in a large heavy skillet over medium heat.
When the butter foaming subsides, add the leek and cook until soft, about 4 to 5 minutes.
Add spinach, handful by handful, season with salt, and cook, turning frequently, until wilted, about 4 to 5 minutes.
Divide spinach mixture among the prepared cast iron pans, leaving any excess liquid behind and divide flaked salmon among the pans.
Make a deep indentation in centre of spinach in each skillet and break an egg into each hollow, trying your best to keep the yolks whole.
Pour about 1 tablespoon of the cream among each skillet, then bake until egg whites are set, about 10 to 15 minutes.
Top each skillet with some herbs and serve with freshly toasted bread.
You can also take 2 big skillets, and break two eggs in each of them.

You may also like
New Season Irish Carrot Cake

International Guest Chef Fred Cordonnier. Recipe baked by Aisling Boggan from team Good Food Ireland.