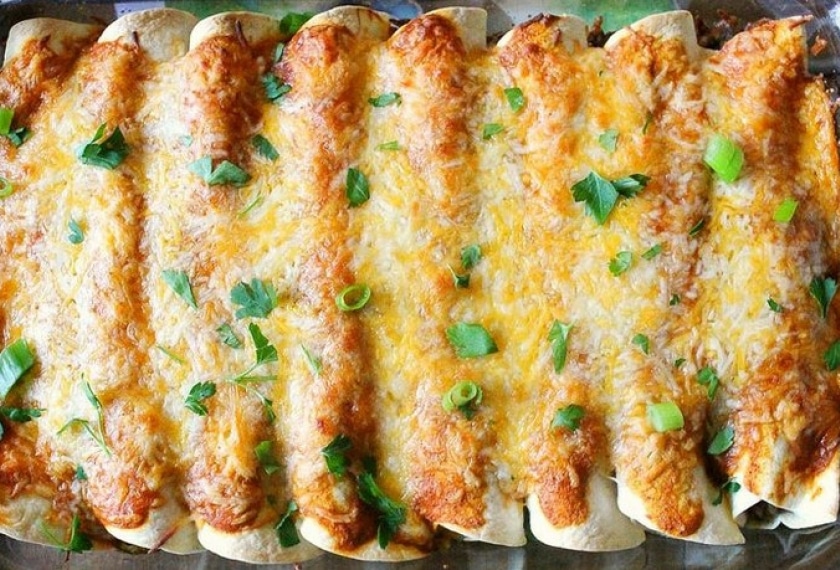 Ingredients
Enchiladas:
150g / 1 cup red onion sliced
110ml / 1⁄2 cup lime juice
340g / 3/4 lb Burren Irish Organic Hot Smoked Salmon
plain 110g / 1⁄2 cup/4oz cream cheese
8 corn tortillas (6-inch/15 cm in diameter)
120g / 3⁄4 cup chopped spring onions (green onions) including top parts
100g / 1⁄2 cup shredded Parmesan/cheddar cheese
Greek yoghurt for serving
Fresh coriander leaves for serving
Sauce:
approx. 400g / 14oz chopped tomatoes
500ml / 2.5 cups of broth
1 tblsp chili powder
1 garlic clove
1/2 tsp dried oregano
1/2 tsp ground cumin
Method
For the Enchilada Sauce:
In a small saucepan, make the broth and add the tomato pieces as well as the rest of the ingredients, and bring everything to a boil.
Reduce heat; simmer, uncovered, for 4-5 minutes or until thickened, stirring occasionally.
For the Enchiladas:
Heat the oven to 200°C / 400°F.
In a bowl mix red onion slices and lime juice.
Cut cream cheese into little pieces.
Pour 1 cup of the enchilada sauce into a shallow rectangular (22×33 cm or 9×13 inch) casserole.
Heat tortillas gently in a frying pan without any butter or oil. Don't let them go crusty or you won't be able to roll them up.
Dip tortillas, 1 at a time, in sauce in casserole and turn over to coat.
Stack on a separate plate.
Scatter 1/8 each of the smoked salmon, cream cheese, onion slices and green onions across center of the tortilla.
Roll up the tortilla and set, seam down, in the casserole. Repeat to fill remaining tortillas.
Pour remaining enchilada sauce mixture over and around filled tortillas. Sprinkle cheese over enchiladas.
Bake in oven until sauce bubbles and the cheese is nicely browned, 12 to 15 minutes.
Serve with a wide spatula.
Season to taste with the rest of the lime juice from the bowl.
Serve with Greek yoghurt and coriander leaves.

You may also like
Simnel Cake

Ballymaloe House is home to the cooking dynasty of the Allen family, so you know you are in for a gastronomic treat when you dine here. This elegant country house has all the elements you will need to enjoy a relaxing full of great hospitality and of...

Traditional Roast Beef Dinner

The suburbs of Cork City are home to a little secret. Located near Douglas, just a short drive from the centre of the Rebel City, Maryborough Hotel and Spa is set in a private estate of mature grounds and gardens. You can sense the 300 years of history...