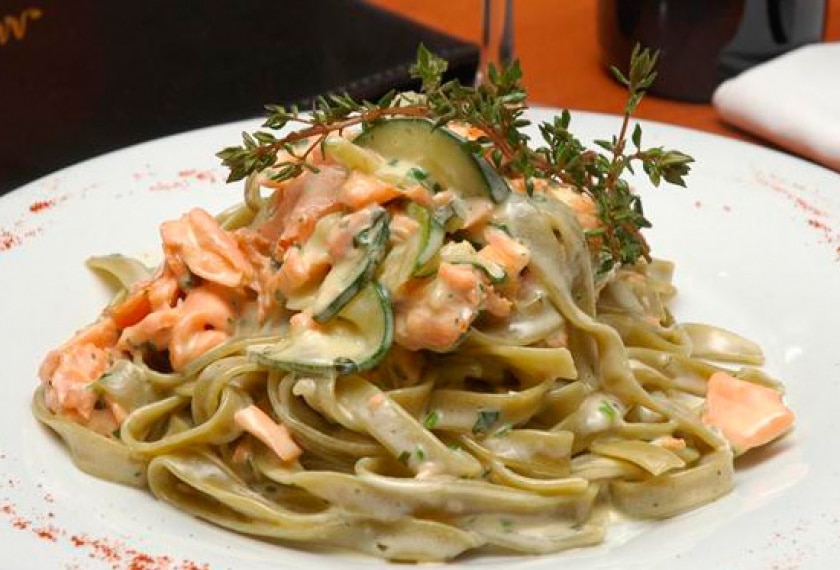 Ingredients
400g fresh fettuccine or dried pasta from Gragnano
250g fresh salmon fillet, cut into chunks, or smoked Irish Salmon, sliced
125ml fresh cream
100ml milk
2 shallots, finely sliced
1 courgette, diced
4 tablespoons of extra virgin olive oil
½ glass of dry white wine
¼ teaspoon of lemon zest
Knob of butter (optional)
Method
Cook the fettuccine or Gragnano pasta al dente according to the instructions on the packet and drain. Meanwhile sauté one shallot in a little of the oil and add the courgette, stir and add a couple of tablespoons of boiling water (from the pot where the pasta is cooking), cover and cook for 5 minutes.
In another wide saucepan, sauté the other shallot slowly in the rest of the oil over low heat. Add salmon and stir, add the wine and increase the heat momentarily to cook off the alcohol, and then return to a low heat.
Add the cream and milk and simmer for 5 minutes. Stir in the shallow and courgette mixture, the lemon zest and the butter if required. Add the pasta to the pan, mix lightly and serve immediately.

You may also like
New Season Irish Carrot Cake

International Guest Chef Fred Cordonnier. Recipe baked by Aisling Boggan from team Good Food Ireland.