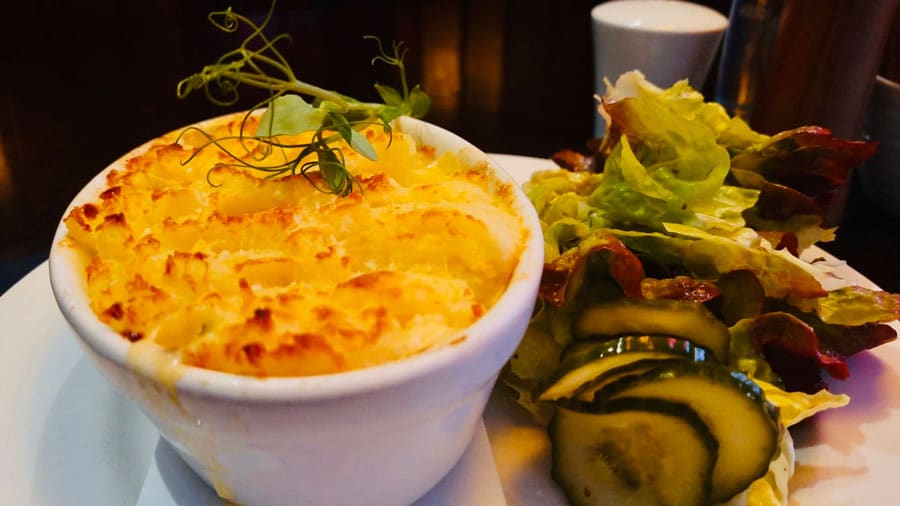 Ingredients
1kg fish (mix cod, haddock, hake, salmon)
salt and freshly ground pepper
1 onion
300ml cream
300ml milk
1 – 2 tbsp cornflour mixed with 1-2 tbsp cold water
1-2 tbsp freshly chopped herbs
1kg mashed potato

Method
Sweat the onion in a little oil with some seasoning.
Put the fish into a wide pan, cover with the milk and add a fresh bay leaf. Season with salt and freshly ground pepper.
Cover and simmer gently until the fish is just cooked, 5 minutes depending on the thickness of the fish.
Remove the fish to a plate with a slotted spoon. Discard the bay leaf.
Preheat the oven to 180ºC.
Bring the cooking liquid to a boil and thicken it by whisking in the cornflour.
Add the chopped herbs, onions and chunks of fish.
Spoon into 6–8 dishes and top with fluffy potatoes
To finish cooking, cook in the oven for 30 minutes.
Visit Our Shop

You may also like
White Chocolate Soup

Noel McMeel is a chef from Northern Ireland, who is the executive head chef at Lough Erne Golf Resort and Hotel in Enniskillen, County Fermanagh.

Chicken, Mushroom, Potato and Thyme Winter Stew

A perfect, slow-cooked chicken, mushroom, potato and thyme stew recipe, that feeds a party. Consider preparing this hearty dish, full of tender meat pieces and mouth-watering vegetables a day ahead to allow it to develop best, rich flavour.