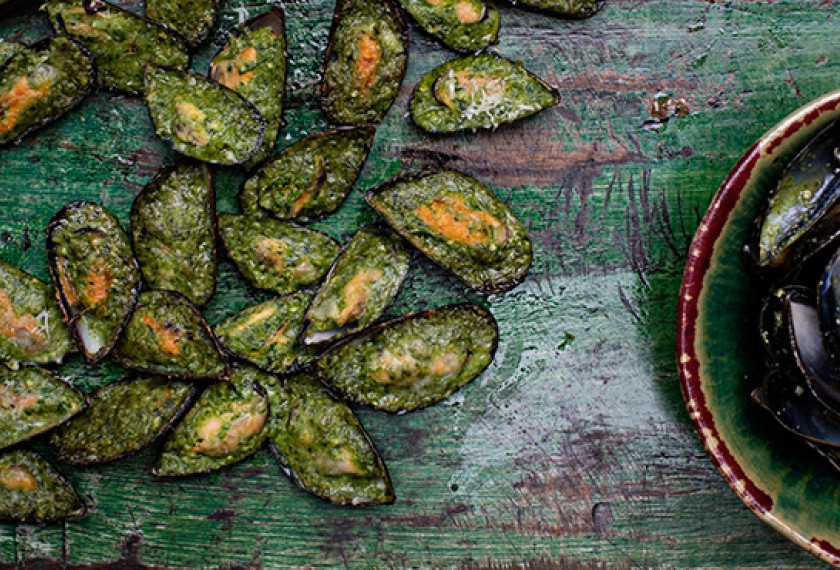 Ingredients
32 large fresh mussels
generous dash of white wine or dash of water
For the coconut & coriander pesto
25g fresh coriander leaves
1 small garlic clove, crushed
2 tbsp ground almonds
2 tbsp coconut cream
2 tbsp olive oil
2 tbsp freshly grated Parmesan
Method
To prepare the mussels
Knock off any barnacles that are attached to the mussels. Scrub the mussels thoroughly in several changes of cold water. Pull away any 'beards' which are attached to the shells. If any mussels are open, then press the top and bottom shell together. If they do not close tightly, then discard them. Any cracked mussels should also be rejected.
Put the mussels in a large saucepan with a generous dash of white wine or water.
Cover the pan with a tight fitting lid and steam for about 4 minutes until the shells begin to open. The flesh is always at its plumpest as soon as the mussels open, so remove them one by one as this happens. With continued cooking, they shrink and become tougher. Discard any mussels which remain closed.
When cool enough to handle, remove the top shell. The mussels may be cooked in advance, covered and refrigerated until ready to use.
To make the pesto
Put all the ingredients, except for the Parmesan, in a food processor and work into a rough paste. If you do not have a food processor, chop the coriander finely and add to the other ingredients.
Spread some pesto over each mussel and sprinkle each one with a little Parmesan (the mussels may be prepared up to this point in advance).
Sit the mussels on a baking tray.
Place under a preheated grill until hot and the cheese is bubbling.
Serve immediately.
NOTE: Store the mussels in a container covered with damp kitchen paper or newspaper. Never cover with clingfilm. The mussels will keep for several days in the fridge. The mussels should smell fresh and briny, just like the ocean.

You may also like
Simnel Cake

Ballymaloe House is home to the cooking dynasty of the Allen family, so you know you are in for a gastronomic treat when you dine here. This elegant country house has all the elements you will need to enjoy a relaxing full of great hospitality and of...

Traditional Roast Beef Dinner

The suburbs of Cork City are home to a little secret. Located near Douglas, just a short drive from the centre of the Rebel City, Maryborough Hotel and Spa is set in a private estate of mature grounds and gardens. You can sense the 300 years of history...