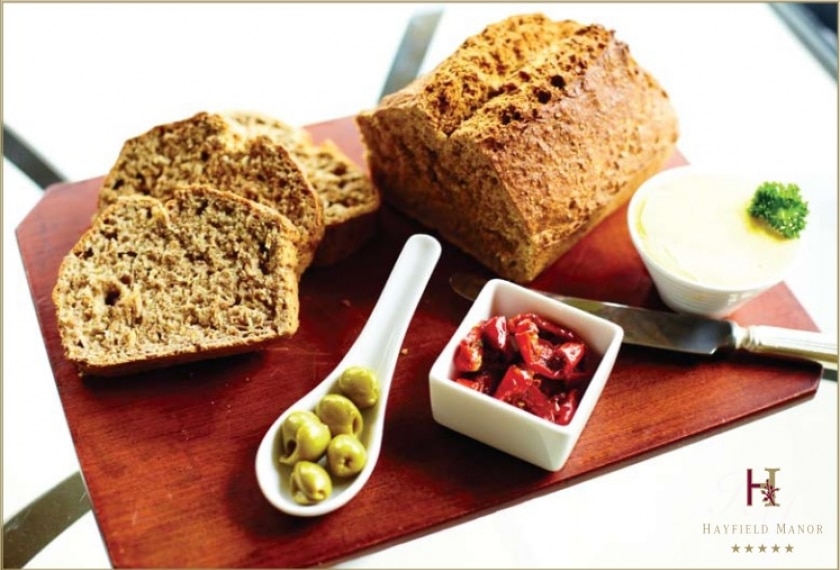 Ingredients
250g Wholemeal Flour
150g Cream Flour
5g Wheat Germ
3g Wheat Bran
5g Bread Soda
8g Salt
8g Brown Sugar
320ml Buttermilk
1 egg, beaten
Method
Measure out all dry ingredients and put them into a large bowl. Gently mix all dry ingredients together and make a small hole or well in the middle of the mix. Mix together the egg and buttermilk. Pour half of the liquid mixture into the hole in the middle of the dry mix. Work the dry mix from the sides of the bowl into the middle. The mix will start to stick together, then slowly add the rest of the liquid mixture and bind until all the liquid has gone into the mix. Take your baking tin and rub it with a little bit of soft butter all around to stop the bread from sticking. Put mix in tin and place in a preheated oven at 180°C/Gas Mark 4.
Bake for 30 mins then take the bread out of the tin and place back onto the oven rack and cook for another 20 mins. Take out and leave to cool on a wire tray then serve.

You may also like
New Season Irish Carrot Cake

International Guest Chef Fred Cordonnier. Recipe baked by Aisling Boggan from team Good Food Ireland.