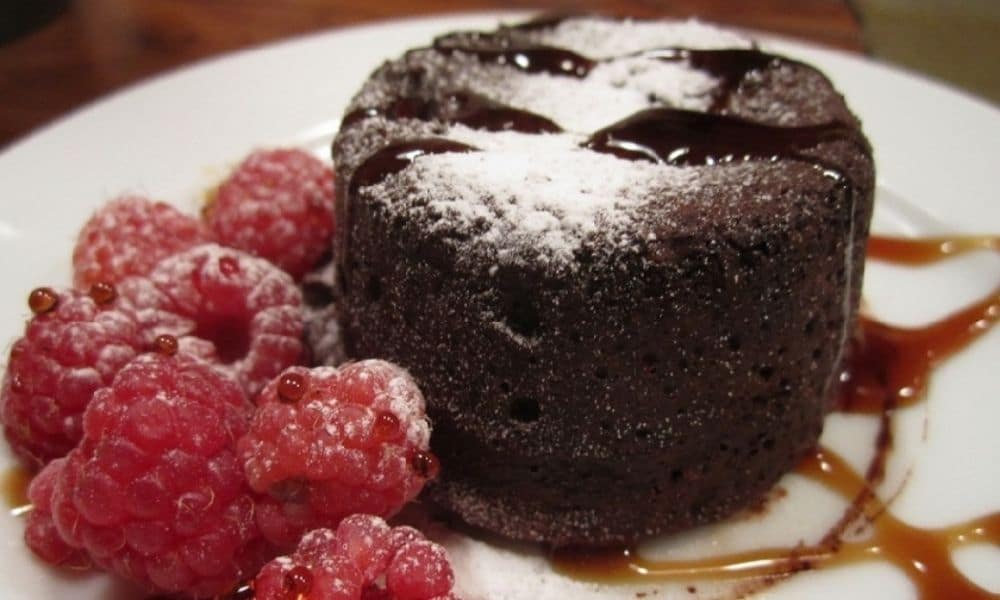 Ingredients
60 g flour**

60 g butter or olive oil*

60 g caster sugar

60 g dark chocolate

1 egg + 1 egg yolk
*For a dairy-free recipe substitute olive oil for butter
**For gluten-free recipe use spelt or gluten-free flour.
Buy A Voucher
Method
This perfect pot of molten chocolate, gooey in the middle and fluffy on the outside is always a winning dessert for special occasions. Serve this up and be sure to woo your audience, with its chocolate goodness. Best of all, it's extremely simple to make only requiring you to mix it up and pop it in the oven. See the ingredients for slight alterations if you are dairy intolerant/coeliac. 
For best results, it is recommended that aluminium baking moulds are used as the fondant will cook more evenly than in ramekins. Make sure to grease lightly before use.
Preheat the oven to 200°C. Grease pudding moulds well.

Melt chocolate and butter over Bain-Marie (method explained below)

In a separate bowl whisk sugar and eggs until light in colour.

Mix chocolate mixture with egg and sugar mix.

Sieve and fold in the flour

Tip the fondant into a jug, then evenly divide between the moulds.

Fill your moulds 3/4 way up and bake for 8 minutes until just set and risen.

Allow to rest for a minute or two, then turn the chocolate fondants out onto warmed plates and serve immediately.
TIP
Best served with a dollop of clotted cream.
BAIN-MARIE METHOD
Fill a saucepan with water about one-third of the way to the top. Bring it to a boil. Place a glass bowl that is slightly bigger than the saucepan. It is important that the bottom of the bowl is not touching the boiling water.
Visit Our Shop

You may also like
Realt na Mara Oysters with Mignonette Sauce

Realt na Mara Shellfish was founded in 2015 by Micheál Sugrue and Emmet Casey. From their farm just outside of Killorglin Micheál and Emmet produce a range of high quality Irish Mussels and Irish Oysters. The unique environment lends itself to the...

Realt na Mara Steamed Mussels with White Wine Sauce

Founded in 2015 by Micheál Sugrue and Emmet Casey, Realt na Mara Shellfish produces a delicious range of Cromane Irish Oysters and Cromane Irish Mussels. Nutrients, taste and texture from the MacGillycuddy Reeks and the local Laune, Caragh and Maine...