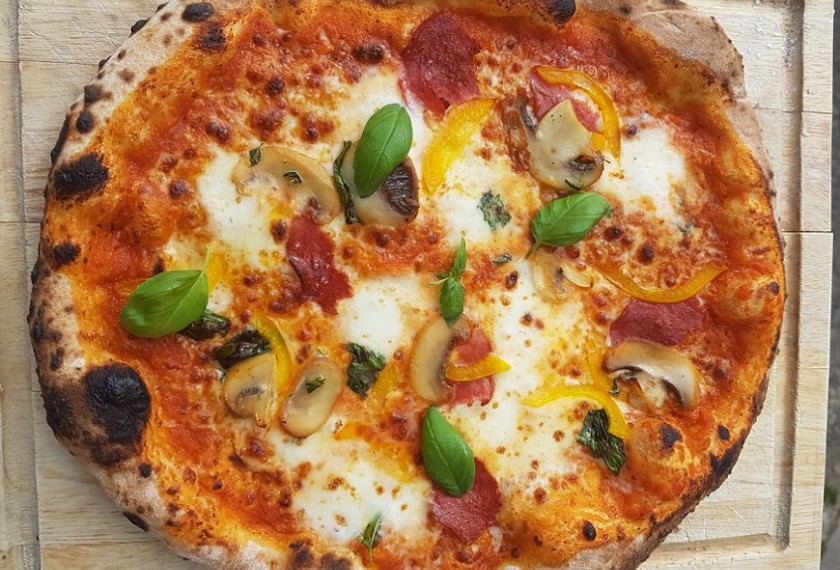 Ingredients
Pizza Dough (makes 2 balls)
200g water
1.5g instant yeast
4g of extra virgin olive oil
150 g plain flour
150g strong white flour
8g salt
Tomato Sauce
1 tin of good quality plum tomatoes
2 x teaspoon of tomato paste
5 sundried tomatoes halved (in oil)
1 teaspoon of olive oil
1 teaspoon of caster sugar
1 teaspoon of balsamic vinegar
Good bunch of fresh basil
Seasoning, you can also add tobacco if you want it spicy!
Toppings of your choice
Method
For the Pizza Dough
Make yeast as per packet instructions.
Mix dough ingredients together.
Knead for 3 mins.
Rest for 5 mins.
Knead for 3 mins.
Divide mixture in two.
Cover with Clingfilm refrigerate for 24 hrs or 8 hours at room temp, dough will double in size.
For the Tomato Sauce
Blitz all of the tomato sauce ingredients together.
For the Pizza
Choose your pizza toppings.
If dough was in fridge let stand at room temp for about 1 hour.
Roll dough using a floured surface.
Spread sauce on dough but not right out to the edges.
Spread your cheese (grated mozzarella) do not overload.
Add your favourite toppings (do not overload) we use salami, green chilli, mushroom, yellow pepper, shaved parmesan, fresh mozzarella & fresh basil leaves.
Pre heat oven to 250 fan.
Put base directly onto oven rack or use a wire rack, do not use a tray!.
Cook until base is nice and crisp and cheese is melted (Approx. 10 mins).

You may also like
Simnel Cake

Ballymaloe House is home to the cooking dynasty of the Allen family, so you know you are in for a gastronomic treat when you dine here. This elegant country house has all the elements you will need to enjoy a relaxing full of great hospitality and of...

Traditional Roast Beef Dinner

The suburbs of Cork City are home to a little secret. Located near Douglas, just a short drive from the centre of the Rebel City, Maryborough Hotel and Spa is set in a private estate of mature grounds and gardens. You can sense the 300 years of history...