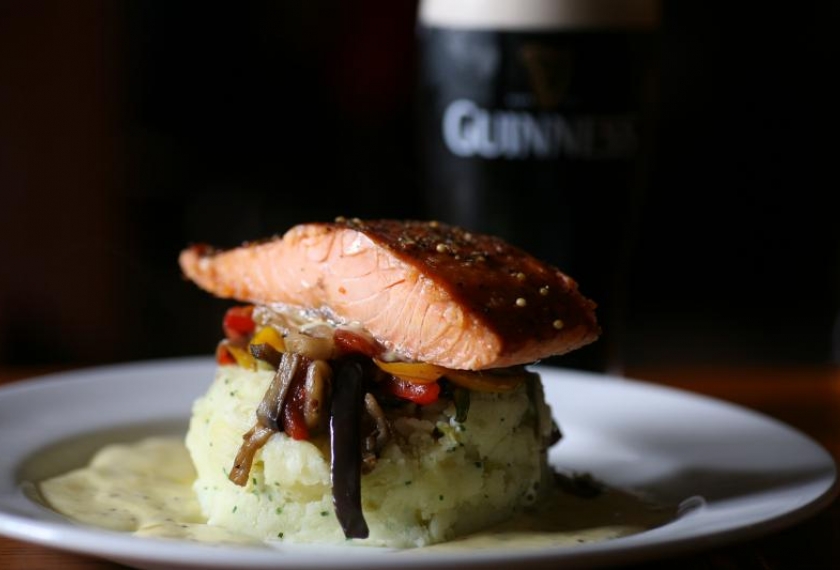 Ingredients
800g Burren Hot Smoked Organic Salmon plain
Colcannon:
1lb or 500g floury potatoes
4 cups shredded leaves of cabbage
2 tbsp chopped scallions (spring onions)
2 tbsp butter or margarine
50ml or ¼ cup heated milk
Salt and black pepper to taste
Stir fry Vegetables
1 red pepper
1 onion
1 courgette
8 mushrooms
1 tsp soya sauce
1 tbsp olive oil
Mustard Cream Sauce
Mustard Cream Sauce
1 tbsp whole grain mustard
500ml or 1 pint cream
2 tbsp white wine
Method
Colcannon:
Boil the peeled potatoes in lightly salted water until tender, then drain.
Boil the cabbage and onion for about 5 minutes.
Drain and set aside.
Mash potatoes with milk, butter, salt and pepper to taste.
Add the spring onion and cabbage mixture.
Stir Fry Vegetables :
Cut all vegetables in strips and stir fry in olive oil until they are soft.
Mustard Cream Sauce:
Mix all ingredients together and heat.
Salmon:
Cut the Hot Smoked Organic Salmon into 4 pieces.
Heat the Salmon in preheated oven for 5 minutes at 175°C or 350°F.
To decorate the plate start by placing the base of colcannon, add stir fry vegetables on top. Pour the mustard cream sauce over the vegetables, and top the dish with the Burren Hot Smoked Salmon

You may also like
Realt Na Mara Oysters With Burren Smoked Irish Salmon Purée

This delicious recipe is from Burren Smokehouse a highly acclaimed, award-winning traditional smokehouse located in the Clare village of Lisdoonvarna, close to the Cliffs of Moher.

Spinach & Irish Greek Style Cheese Rolls

This delicious recipe if from McCormack Family Farm, a Father and Sons team with a taste for excellence and passion for produce has excelled in creating a range of products that is both innovative and commercial in nature.