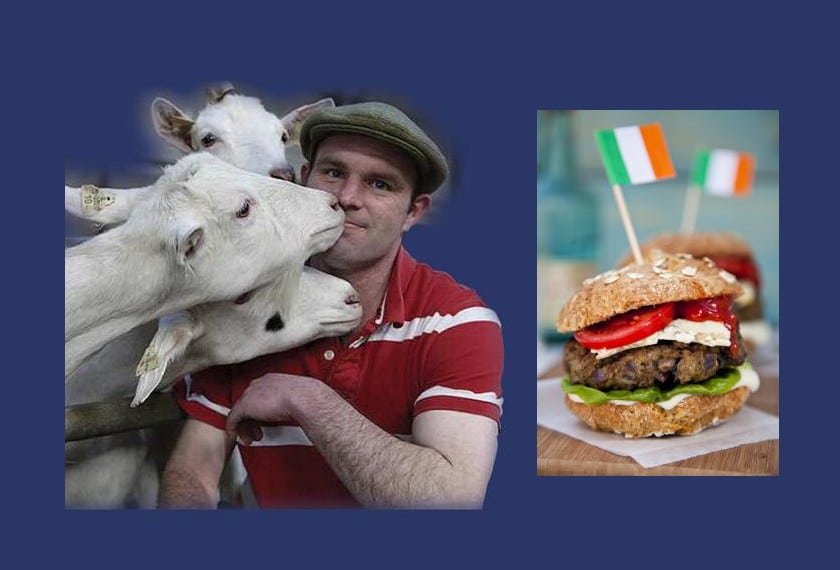 Ingredients
1 tablespoon of rapeseed oil
2 red onions, finely chopped
500g of Irish beef mince
1 heaped teaspoon of Dijon
1 tablespoon of Worcestershire sauce
1 large free range egg
A small handful of dry breadcrumbs
Sea salt and ground black pepper
60g of Boyne Valley Blue Cheese
2 baby gem lettuce, broken into leaves
2 large tomatoes, in slices
For the soda bread baps:
200g of wholemeal flour
250g strong white flour
1 teaspoon of bicarbonate of soda
1 large free range egg
350ml buttermilk
2 tablespoons of rolled oats
Method
Preheat the oven to 200˚C and dust a large baking sheet with flour.
In a large mixing bowl, combine together the flours and bicarbonate of soda and make a well.
Measure the butter milk into a pyrex jug and then crack in the egg, whisk to combine.
Pour the mix into the well and then using a wooden spoon, bring the mix together with the dry ingredients until you have a dough.
Form six little palm sized buns and place on the baking sheet and sprinkle with rolled oats. Transfer to the oven for 40 minutes.
Remove from the oven and set on a wire wrack to cool completely.
For the burgers, fry the red onion in a frying pan with a little oil over a high heat to start and then lower it once it gets a little colour and then cook gently for about 8 minutes until softed right down. Set aside to cool completely.
Combine in a large mixing bowl the beef, mustard, worcestershire sauce, egg, breadcrumbs, cooled onions and season with sea salt and ground black pepper.
Form the meat mixture into 6 burger patties and place on a plate, cover with cling film and set aside in the fridge until you are ready to fry them.
To cook the burgers, place a large frying pan over high heat and add a little oil. Fry the burgers for 4-5 minutes either side until they are cooked all the way through. When you turn the burgers on the pan, add a slice of blue cheese to each one.
To serve, split the soda bread baps and fill with baby gem lettuce leaves, sliced tomato, the burgers and a good dollop of ketchup!

You may also like
Simnel Cake

Ballymaloe House is home to the cooking dynasty of the Allen family, so you know you are in for a gastronomic treat when you dine here. This elegant country house has all the elements you will need to enjoy a relaxing full of great hospitality and of...

Traditional Roast Beef Dinner

The suburbs of Cork City are home to a little secret. Located near Douglas, just a short drive from the centre of the Rebel City, Maryborough Hotel and Spa is set in a private estate of mature grounds and gardens. You can sense the 300 years of history...