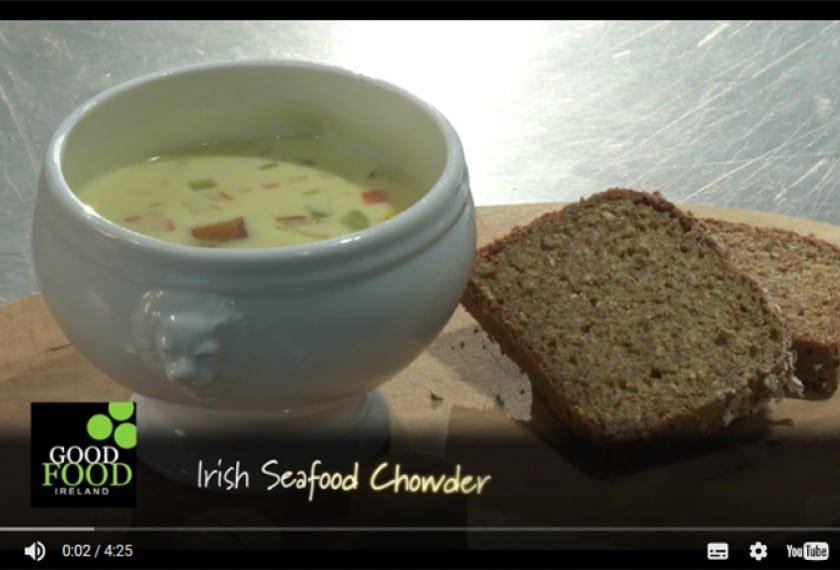 Ingredients
1 Medium Onion
1 Carrot
2 sticks of Celery
200g Peeled, Diced Potato
500g of Smoked Haddock
1kg of Mussels
1 glass of White Wine
½ l Cream
½ l Full Fat Milk
1 pinch of Saffron Strands (optional)
50g Butter
50g Flour
Method
Cut the carrot, celery & onion into small even dice.
Wash & pull the beards on the mussels before steaming in a large pot with white wine.
When the mussels are cooked, filter the resulting mussel juice & reserve the cooked mussels.
The mussel juice will be used like a stock in the chowder.
Meanwhile cook the diced vegetables gently in 1 tablespoon of Butter.
Make a Beurre Manie by mixing the remaining soft butter & flour.
Boil the cream, milk, mussel juice & diluted saffron, when boiling whisk in the Beurre Manie and bring back to a simmer stirring continuously.
When the mirepoix is cooked (5 mins) add the diced smoked haddock, followed by the thickened cream/mussel stock & the cooked mussels (out of the shell)
Bring the soup back to a simmer, check seasoning & serve in bowls with crusty or wholemeal bread.

You may also like
Realt na Mara Oysters with Mignonette Sauce

Realt na Mara Shellfish was founded in 2015 by Micheál Sugrue and Emmet Casey. From their farm just outside of Killorglin Micheál and Emmet produce a range of high quality Irish Mussels and Irish Oysters. The unique environment lends itself to the...

Realt na Mara Steamed Mussels with White Wine Sauce

Founded in 2015 by Micheál Sugrue and Emmet Casey, Realt na Mara Shellfish produces a delicious range of Cromane Irish Oysters and Cromane Irish Mussels. Nutrients, taste and texture from the MacGillycuddy Reeks and the local Laune, Caragh and Maine...