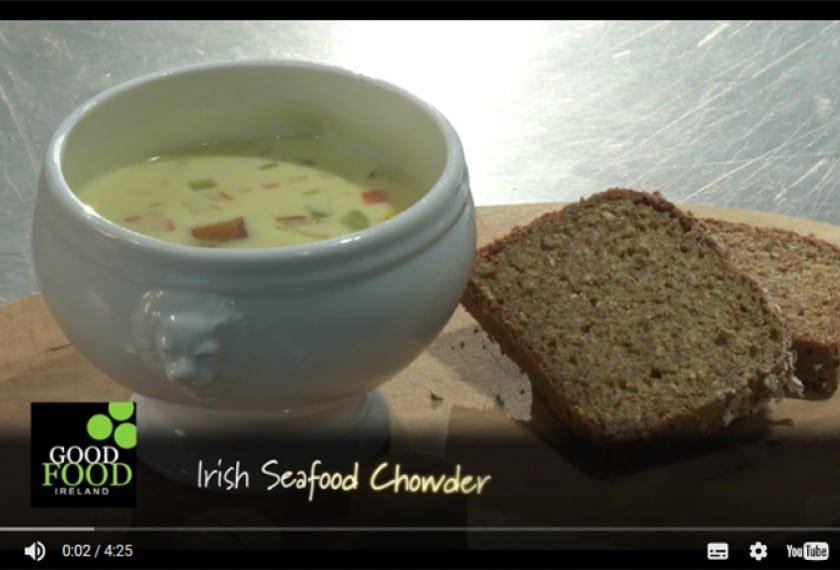 Ingredients
1 Medium Onion
1 Carrot
2 sticks of Celery
200g Peeled, Diced Potato
500g of Smoked Haddock
1kg of Mussels
1 glass of White Wine
½ l Cream
½ l Full Fat Milk
1 pinch of Saffron Strands (optional)
50g Butter
50g Flour
Method
Cut the carrot, celery & onion into small even dice.
Wash & pull the beards on the mussels before steaming in a large pot with white wine.
When the mussels are cooked, filter the resulting mussel juice & reserve the cooked mussels.
The mussel juice will be used like a stock in the chowder.
Meanwhile cook the diced vegetables gently in 1 tablespoon of Butter.
Make a Beurre Manie by mixing the remaining soft butter & flour.
Boil the cream, milk, mussel juice & diluted saffron, when boiling whisk in the Beurre Manie and bring back to a simmer stirring continuously.
When the mirepoix is cooked (5 mins) add the diced smoked haddock, followed by the thickened cream/mussel stock & the cooked mussels (out of the shell)
Bring the soup back to a simmer, check seasoning & serve in bowls with crusty or wholemeal bread.

You may also like
Simnel Cake

Ballymaloe House is home to the cooking dynasty of the Allen family, so you know you are in for a gastronomic treat when you dine here. This elegant country house has all the elements you will need to enjoy a relaxing full of great hospitality and of...

Traditional Roast Beef Dinner

The suburbs of Cork City are home to a little secret. Located near Douglas, just a short drive from the centre of the Rebel City, Maryborough Hotel and Spa is set in a private estate of mature grounds and gardens. You can sense the 300 years of history...